Musician on the Street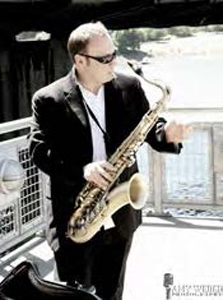 Pete Petersen
I'm fortunate to be able to travel a lot as a touring musician, performing in venues all across the United States, with great musicians from various other cities. Most musicians from other parts of the country have a very favorable opinion of Portland; the City of Roses has earned a good reputation nationally as a Jazz Town.
In my travels I have learned that every local music scene has some great players, and every great player has a local music scene that they're part of – but there aren't many local music scenes that have the depth of talented jazz players and jazz venues Portland does.
But even the most robust jazz scene cannot sustain itself without a community of listeners and fans. Even the greatest musicians won't find very much work without venues to perform in, and those venues can't keep their doors open without the regular patronage of people who are avid fans of the music. Individual musicians might gather a small following of fans on their own, but developing an audience base for jazz music in general is crucial to the continued existence of the overall scene; the Jazz Society of Oregon has done that and more.
The Jazz Society has been absolutely essential to building a community around the music we all love – and that community is part of what makes Portland such a wonderful place for musicians to live, work, and play.
---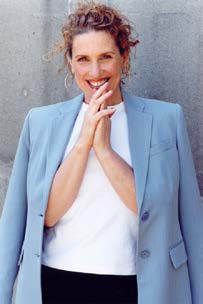 Mary Kadderly
I'm lucky. I play and sing jazz in my home state of Oregon, and I teach this wonderful music – in private lessons, in workshops with the inimitable Nancy King, and I'm on the faculty of the Portland Community College Cascade Professional Music Department.
Almost every Sunday, I sat in at jam sessions at either The Jazz Quarry or Remo's. That's how I got my jazz singing start – I sang with the band. At the Quarry, I met Eddie Weid, and at Remo's, Ron Steen. Eddie became my first piano teacher, and Ron gave me my first gig. Both of these superb musicians mentored me and brought me into the Portland jazz community.
The Jazz Society of Oregon is a vital part of that community, a great scene full of great players. This valuable, all-volunteer organization helps keep jazz music alive. I appreciate the support the JSO gives through sponsored events, scholarships, the Jazzscene Magazine and that fabulous JazzScene calendar. Thank you JSO! Our jazz community needs you.
And thank you Shelly Garrett, Jazzscene Calendar Coordinator extraordinaire, for your friendly monthly e-mails reminding me to send in my performance dates.
---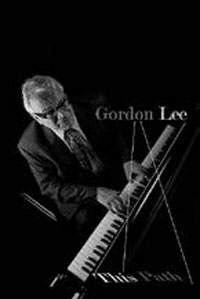 Gordon Lee
The JSO has had the most accurate calendar for more than three decades. So often the newspaper would print inaccurate information, but whatever was in the JSO was really what was happening. That's important -- because there's nothing worse than to think you're going to an event only to find that the information published was wrong. Plus, if you're trying to get people to your gig, the last thing you want is the printed information to be incorrect.
Having lived in New York and other cities, I feel the Pacific Northwest has an ideal lifestyle. It's not the best place to come to if you're trying to make a lot of money, but if you want to live a peaceful and supportive life where the things you value are important to others, like a beautiful and sustainable environment, then this is the place.
Artists want to live in a beautiful place like this. Sure there are artists and musicians who are just trying to push their careers, which is fine; but there's a deeper level if you're concerned about where you live. Personally, I think Portland is a paradise.
The JSO personifies a peaceful and supportive environment. It's a NW way of thinking. The survival of the world will be more dependent on people and organizations that think this way. I mean, look at how many people drive Prius cars in Portland! Oregonians think about this stuff, and I know other people in the world are not thinking about it at all. It's just one small indicator that there are a lot of people and artists who value this place and want to keep it beautiful too. The JSO is a big part of that long standing tradition.
---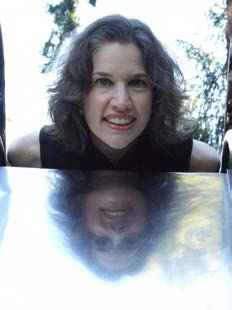 Carolyn Joyce
When I arrived in Portland from Chicago in 1994, the JSO newsletter served as my guide to the music scene in my adopted home town. The wealth of information in that publication confirmed that I had indeed landed well! Portland clearly sported a healthy jazz scene supported by an organization which tied it all together for both musicians and avid listeners. 
As a jazz vocalist, I was able to easily locate local jams, meet other musicians and be heard, thanks to the JSO newsletter. As a jazz fan, I quickly learned which local artists to seek out and where to go to listen to their live performances.
Over the years, I have appreciated feature articles about local musicians, concerts, festivals and special events in the area. The CD reviews helped guide me in selecting material for my personal collection, offering a trusted opinion. The focus on the work of local artists showed the organization's commitment to supporting Oregon-based jazz.
The JSO has helped me directly as an artist by listing my performances and offering a venue for reviewing my recorded work. When the JSO transitioned to an on-line format, I enjoyed writing several reviews for the "Club Scene" feature.
I am pleased to see the JSO change with the times, featuring our community's younger musicians, and shifting seamlessly to a web-based presence. A healthy jazz community such as ours needs the ongoing support of an entity such as the Jazz Society of Oregon!
---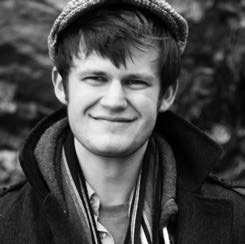 Matt Tabor
Like many others, I initially became aware of the Jazz Society of Oregon by way of it's comprehensive calendar cataloguing the wealth of great jazz performances available to us here in the Northwest. From the very start of my musical career, the JSO's calendar was my go-to source to find out about all of the great jazz going on in town. Then, in 2011, I had the great privilege of being the JSO's Featured Musician for the month of August.
More recently, I have learned about the other facets of the JSO, including their scholarship programs. Having been a jazz studies major at Portland State University, I can appreciate the financial challenges of pursuing a musical education and am glad to know that the JSO is providing help to those who need it.
Here in Portland, we are lucky to have a great, symbiotic relationship between the many world-class artists who call this place home and those who promote and support the wonderful scene here. The Jazz Society plays a crucial role in this relationship, and I am excited to see the many ways that it will cause our musical community to flourish in the future!
---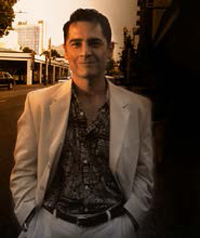 Tony Pacini
Back in the days of the JSO's First Jazz concert series, I played with my trio to open for headliners that included Bill Charlap and Kenny Barron. As a 20-year-old, those experiences afforded to me by the JSO helped me believe in my vision to be a full-time jazz musician. It put me center stage with the likes of Harry Allen (one of the great saxophonist of our day), with whom I've maintained a longtime musical friendship.
The JSO promotes the importance of jazz and plays an integral role in the jazz scene for the love and dedication to the art, not to profit from it, and that's beautiful.
Performers, radio hosts, educators, writers and, most importantly listeners, all contribute to jazz. Our role in the integrity, preservation and progression of jazz keeps Portland the "jazz oasis" that it is. The JSO is dedicated -- as I and many others are -- to serving the music. When we share our knowledge, love and enjoyment of the art form, we spread the joy. The JSO is the home in our "jazz oasis" where belief in jazz is revered.
Thank you, JSO.
---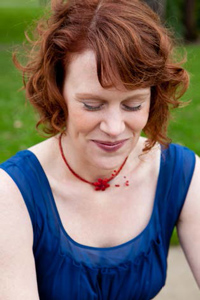 Bre Gregg
I have been singing all my life, but the majority of my professional career I've been a classical singer. Three years ago, I decided to take the leap into jazz and blues.
Since I grew up in a house full of blues musicians, it was an authentic choice for me. But sadly, I had no idea how to go about it! I remember going to my first Ron Steen jam and being so nervous that I was sure I was going to throw up.
After a while, I became more comfortable, but I still didn't know how to market my performances or get connected with the music community.
Thank goodness for the Jazz Society of Oregon. They've helped me get information out about my performances, and they've played a critical role in introducing me to great musicians to watch for and albums to listen to. For musicians just starting out, the JSO plays an important role in understanding the jazz scene. I've added a link to the JSO on my web-site. Thank you, JSO – you make a difference!
Visit www.MidnightHoney.com to check out my new band with singer Shelly Rudolph, Chance Hayden on guitar, Jeff Langston on bass, Paul Brainard on lap steel guitar, and Paul Ansotegui on drums.
---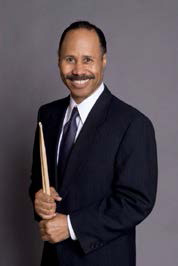 Ron Steen
We are so blessed to live in a jazz town like Portland. People here don't realize how unique it is for a musician to be able to play jazz seven days a week and play the music you want. Visiting musicians from other places tell me, "Club owners tell you what to play." In this town, you're artistically free. That's why you hear so many original compositions. It's not like that in other cities.
I talk to people from all over, like David Watson from Philadelphia, who tells me they don't have a Jazz Society in Philly or a 24-hour Jazz radio station. To have a Jazz Society dedicated to sponsoring jazz events, honoring those that contribute and providing scholarship money to needy individuals and schools is a blessing. I just found out that the JSO bought a drum set for Meadow View School in Eugene for their jazz band. Just one small example of what they do for the music community.
The calendar alone is invaluable. It's through the Jazzscene Calendar I find out what's going on around town. Not too long ago Jimmy Cobb was in town, Jimmy Cobb! He's the last one left from all the great cats he played with and I found out from the JazzScene.
Rob Shepps does the In Memoriam, I'm grateful for that too. To remember the jazz greats no longer with us makes you appreciate their contribution even more. It's so easy to take the JSO for granted. I would be deeply saddened if it were gone. I was honored several decades ago as a lifetime member and inducted into the Hall of Fame. The JSO means a lot to me -- that's why I put a link to it in my newsletter.
Drummer and JSO Hall of Fame member Ron Steen leads a jam session Sundays at Clyde's Prime Rib on NE Sandy Blvd. He has been leading jam sessions in Portland for more than 27 years.
---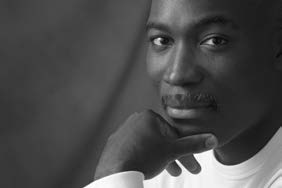 Darrell Grant
Back when I lived in NYC and would mention to friends that I was considering making the move to Portland, the response would generally be: "Portland, that's a jazz town from way back." I was curious about how this came to be. What makes a "jazz town?"
While there is still some mystery attached to the question, over the course of my now 16 years in Portland, I've come to better understand the complex ecology that shapes a thriving scene. Like all environments, there are many factors that come together to make it healthy, sustain it through droughts, floods, fires, and grow the next generation. Portland is blessed with an abundance of these. There are respected jazz elders who serve as mentors, examples and keepers of the tradition. There are many active, creative, working musicians, who perform, compose, educate and lead. There are the strong youth and college jazz education programs. There is a vibrant jazz radio station.
Over time I have come to appreciate something else that is crucial: a group of individuals committed to sustaining audience and community for the music. Portland is lucky to have the JSO to carry out this critical role. From their indispensable listings of jazz events, to the Hall of Fame and Musician of the Month awards that recognize the extraordinary talent in our community, to the events and gatherings that provide opportunities for people to share their love for the music, the JSO is an irreplaceable force in sustaining jazz in Portland. And like the other elements of the ecology, it needs to be stewarded, cared for and appreciated in order to continue to work.
In ecologies, we often don't recognize the significance of a resource until it's gone. I hope this is never the case in Portland, and that the next generation of musicians and audience can enjoy the benefits that the JSO provides. If so, then I have no doubt that Portland will remain a "jazz town."
Darrell Grant was awarded one of ten "Chamber Music America New Jazz Works" grants to compose and perform an extended work for nine musicians called "The Territory," which explores the connection between music and place.
---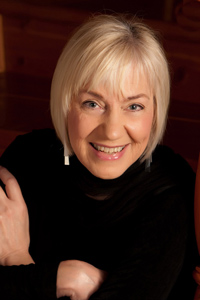 Rebecca Kilgore
Ever since I first moved to Oregon and became a professional musician, I always knew about the Jazz Society of Oregon. Back then I took it for granted as simply a convenient way to keep abreast of what was happening in the Portland jazz scene through their monthly calendar.
Since that time I've become aware of their sponsorship of musical events, scholarships, Hall of Fame (whose roster I joined in 2003), and recognition of local talent.
Jazz continues to change and evolve. Who knows what its future face will be? I worry that it will become extinct, or morph into something unrecognizable. But I foresee the JSO continuing to support and inform.
---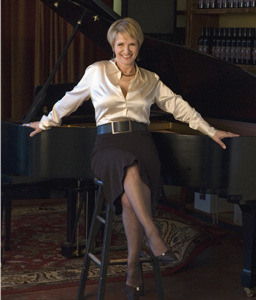 Mitzi Zilka
I've been a member of the JSO for many years and recently joined the Board to give back a little to this dedicated organization. The Jazzscene magazine keeps me abreast of what my fellow musicians are doing, where they're playing and what's happening in the world of jazz, I love that feature. I use it as my activities calendar to figure out what I want to do every week. Plus, I get to list my gigs for free. Heck, they even send an email reminding me to send my list.
Maybe what a lot of people don't know is that the JSO is not only The source for [news about] Jazz in Oregon, it also provides scholarships to individuals and schools who need assistance pursuing their jazz endeavors. They're doing their bit to keep our American music thriving. I appreciate what they do for me and my jazz peers so much that I added their link to my web page -- you might want to do that too!
---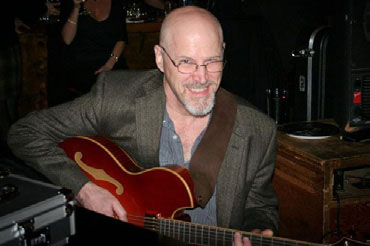 Mike Doolin
In my travels around the country and the world, I naturally am always on the lookout for live jazz. There are players and fans of jazz music nearly everywhere, from rural Ireland to downtown Tokyo, and all over this country. Each time I come back home to Portland, I'm struck by the beauty of our city; it truly is one of the most livable cities in America. And one of its best features is its music scene.
For a city its size, Portland boasts an impressive roster of world-class musicians, many of whom work in the jazz idiom. Any night of the week one can hear great live jazz, in venues from the venerable Jimmy Mak's down to tiny wine bars and coffee houses; that's a claim few cities smaller than New York or Los Angeles can make.
Any local music scene is like a three-legged table — without players, listeners, and media, the table can't stand. We certainly have the players here, and thankfully we also have the listeners, the audiences that feed the creative fire of live performance. But it is the media that bring the other two together, and that's where the JSO provides unique support to the jazz community.
Sure, there are the traditional newspapers and the various music rags, but the JSO's Jazzscene is solely dedicated to jazz. The Jazz Calendar alone is a goldmine of information, a comprehensive listing of jazz performances in the area. But the Jazzscene is much more than a calendar, [because it also contains] interviews of local and national artists, CD reviews, and feature stories of interest to jazz players and listeners alike. And the JSO, in turn, is much more than just this publication, with their scholarship program for college students studying jazz, and their support of local jazz festivals and events.
In my own musical career, the JSO has been invaluable, both as a source of information about the local scene, and as a place to get the word out about my own musical activities. My Musician of the Month feature article, and the listings of my various gigs in the Calendar, have been very helpful.
And in the spirit of getting the word out through the JSO, let me note that I'm releasing two CDs this month! One is a second collaboration with David Martin and Ward Griffiths, called "Tough Commute"; the other is a duo CD with my longtime musical partner, Mitzi Zilka, called "Lazy Aspirations." I'll look forward to submitting both CDs for review, and to listing both CD release parties, in future issues of Jazzscene.
Thanks, JSO!
---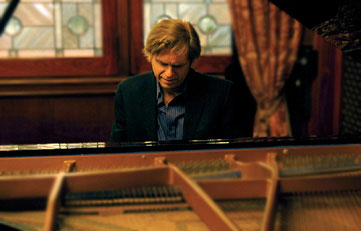 Bill Beach
Thank you JSO for decades of support!
Ever since I returned from Europe in 1984, joined the Ron Steen Trio and made Portland my home again, the JSO has been there. They publicized our local gigs and jam sessions as well as our concerts with national acts that came through town. I was also fortunate to be a featured musician in the days when stacks of the Jazzscene were distributed at every local jazz venue.
Since 2003, when I made the transition into writing and recording my own music, they have been kind enough to review all three of my CDs in the Jazzscene and even supported me in my efforts to write and sing in Portuguese!
Now, when I travel to Brazil or play out of town for months at a time, I can still keep up with everything on the local scene by connecting to the Jazz Society of Oregon online. I'd be lost without you!
---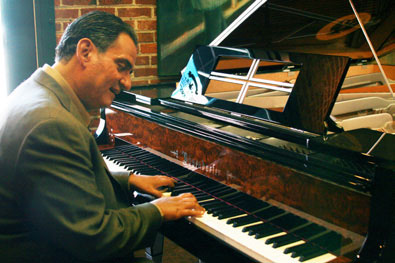 Mark Simon
Thanks to the JSO, I have learned a wealth of details about my friends in the local jazz community. When I speak of the local jazz community, I am not speaking only of musicians. The community also includes educators, club owners, fans, radio hosts, writers, and many more contributors. The JazzScene is a fantastic source of reliable information brought to you by people whose only motivation is to help the local scene thrive. It is a wonderful thing.
Throughout the years, the JSO has also helped boost my career. Here are a few highlights:
• The JSO brought Jeff Clayton to the Hobbit to perform a concert backed by the Leroy Vinnegar Trio. I was a steady member of the trio at that time, and the event made a deep impression on me. The whole event was extremely well-organized. At the end, I fielded an offer to lead my own group at the JSO picnic that year.
• When I released "Portland Nights" in 1995, my first CD, Nancy Tice gave me an insightful and flattering write-up in Jazzscene.
• When Debra Lee wrote about Mt. Hood Community College's contribution to the music scene, my point of view was well represented in her piece.
• "Bass 10," my second CD, was also reviewed in the Jazzscene, Thank you!
• Mitzi Zilka covered a Mark Simon trio performance for the Jazzscene magazine. It was excellent coverage, and I appreciated the insightful and knowledgeable way she described my music to those less familiar with my efforts.
• Of course Shelley Garrett's calendar listings make a positive impact on all of the performers. Thank you for your hard work and dedication, Shelley!
• Lynn Darroch has been helpful to me in so many ways, including using me as a major point of reference in an article about the naming of a building being built where the Jazz Quarry once stood. The building is to be named Sky3 as a tribute to Eddie Weid's house trio at the Jazz Quarry.
I am in the process of revamping my website, marksimonmusic. com, which currently does not have a page of links. When I add a page of links, the JSO will definitely be one of them.
Thank you, JSO!
---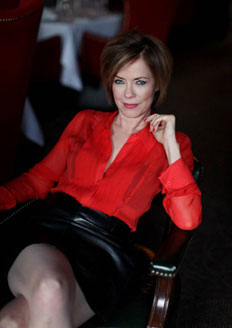 Barbara Lusch
Ten years ago, I started performing locally as a solo artist. JSO was instrumental in introducing me to the Jazzscene magazine. I was educated and inspired through their calendar listings, CD reviews and articles about Northwest talent. Over time I became privileged enough to have my own calendar listings, CD reviews, and became one of their featured musicians.
The reviews and articles helped me with promotion. The calendar listings continue to expand my fan base as well keep me up to date on the Northwest jazz scene.
JSO has supported and been an essential part of Portland's Jazz Community for the past 40 years. I 'm grateful for their dedication, contribution, and for their love of Jazz.
Thank you, JSO, for supporting youth and education. Thank you for supporting our clubs, and thank you for supporting us!
(Before her solo career, vocalist Barbara Lusch performed with Pepe and the Bottle Blondes at Oregon Symphony Pops concerts and other venues. Her CDs are "Barbara Lusch" and "Surprisingly Good For You.")
---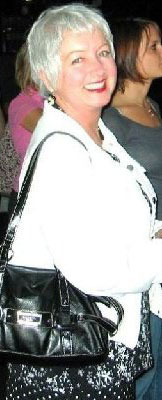 Carol Rossio
I first learned about the Jazz Society of Oregon while working for the American Federation of Musicians Local 99 as a musician organizer.
"My job was to go out into the community, meet as many musicians as I could, and find out what issues they were facing in their individual workplaces. I then encouraged them to consider joining the union so that by working together through collective action, we could improve our work environments. JSO was a valuable resource for me to learn about jazz musicians playing in our area, and to plan my scheduled visits to their gigs. I met a lot of jazz musicians through JSO!
"Later in my career, I was on JSO's Board of Directors. I wrote two proposals recommending a cultural tourism strategy, tying local and regional tourism to Oregon's world-class jazz and blues scenes ("Tuning Up For Tourism" and "Oregon's Jazz and Blues – A Cultural Tourism Strategy.")
"Again, my involvement with JSO was instrumental (ha ha) in connecting with key movers and shakers in the community who were great lovers of jazz and blues. This fledgling effort set important seeds within the tourism community, resulting years later in the creation of the Portland Jazz Festival."
---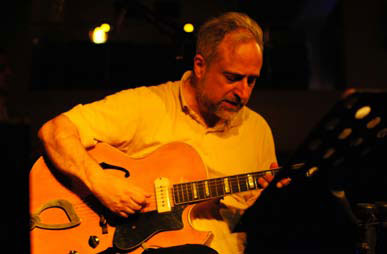 Matt Schiff
In reflection on my life and the many places I've been around the world, it's abundantly clear what a great place Portland is to learn and grow. Being a jazz musician entails several factors, but practice, perseverance, and a simple love of the ongoing process of development are some of the most important that easily come to mind. Working on various musical concepts, expanding repertoire, playing classical music, and lots of listening are ways I enjoy spending time.
All this becomes most gratifying when a musician has performance opportunities, and as a town known for it's jazz community, Portland is lucky to have the JSO as advocates. In my 36 years here, there have been ups and downs, but lately I'm happy to say it's an up! Any success is tough to maintain without support, and like many musicians I'm often lax in the area of self-promotion. I recently decided to step it up and got immediate response and support from the JSO.
As a community, we all benefit from JSO's monthly Jazzscene newsletter with it's various features and information about local and national artists, as well as news of new releases by the artists we care about. Needless to say, the calendar listings also provides us with crucial information about what is happening every night.
Going forward, it is my sincere hope the readers will continue to regularly go out and support the many fine local artists our city has to offer and, along the way, come say hello at one of my events.
---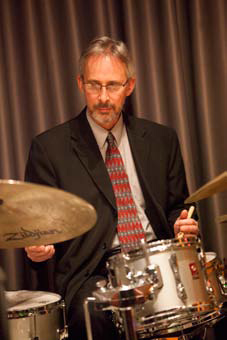 Dave Averre
Igor Stravinsky once said, "To listen is an effort, and just to hear is no merit. A duck hears also." 
I think he meant that an audience or musician has a certain responsibility to listen with discernment and intelligence. To me, it also means that we musicians long to be heard. Really heard. 
The other day, I received a flier in the mail from my old friend, jazz guitarist Kenny Wessel. We were in a band together in the late '70s called Cookbook. I have not seen these fliers in more than 35 years. They were part of our promo-package back then. We had them printed on heavy grey paper, neatly folded, with pictures and bios. 
Looking at the photos taken that long ago triggered some interesting memories and reflections. 
My immediate response was, "Wow, I had a lot more hair back then!" I remembered that this was our low-budget attempt to get the word out that we were a serious jazz band who would love for people to come and hear us. There was no internet back then, or a Jazz Society of New York supporting our promotional efforts. We were performing at local venues such as the Ground Round burger joint on Main Street. Our publicity was mostly stamp licking and foot-work. And as a band that performed original material, we hoped to draw a listening audience who would appreciate us. 
Now, as a musician working here in Portland, I am grateful for the Jazz Society of Oregon. It is their behind the scenes effort, support and true appreciation for the art of jazz that helps musicians be "really" heard. As we continue to support one another and are respectful of the art form, we can keep it happening. Thank you, JSO! 
Incidentally, in the flier, under Kenny's bio, he mentions Portland's own John Stowell as one of his instructors back in the '70s. You can listen to Kenny Wessel on recordings with Ornette Coleman and others. Thanks, John. 
Thanks again, JSO, and thanks to all who support the music. Portland is a jazz town. 
http://www.daveaverre.com/
---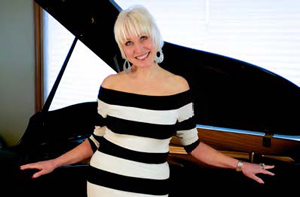 Linda Michelet
How do I love thee Jazzscene? Let me count the ways:
As a fledgling performer trying to get a toehold on the Portland music scene, I was fortunate to have Richard Lazere interview me about my singing style and passion for Peggy Lee, and publish it in Jazzscene. Shortly after that, I was featured in an Artist Spotlight. Those two articles gave a big push to my career, leading to appearances that included live performances on KMHD, and appearances on OPB's ArtBeat and Better TV.
Reaching out to audiences through ads in the Jazzscene has made a big difference in the attention my tribute shows for Burt Bacharach, Peggy Lee, and George Shearing and the Peggy Lee Big Band have gotten. Audience members tell me that they read about my gigs in Jazzscene, saw an ad, and/or read the calendar.
The publicity the Jazzscene has given me has opened doors that might not have ever been there. It helped me pursue my dream. I can think of no other publication in Portland that allows Jazz performers to tell their story. Many thanks JSO!
lindamichelet.com
---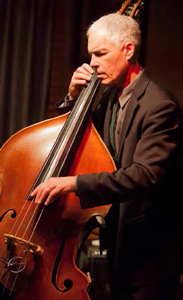 Craig Snazelle
The JSO has always been the go-to source for finding live jazz in our region, and for learning about the important players and bands here.

When I first moved to Portland in 1993, I saw a poster advertising a workshop for jazz listeners sponsored by the JSO. On that poster was a Who's Who of the best players in the area. It seemed like an ideal situation to meet these players, so I attended, and it was -- but it was also a great opportunity to meet the listeners who followed the music and were looking to enhance their understanding.

I was really impressed by the support from the listening community, and the appreciation the players showed that community in return. You can play great music, but you don't have a scene without the listener. It's a two-way street.

The JSO calendar has always been definitive. The local newspapers do not cover jazz the way JSO does. I used it in '93 to find the clubs where all these great players were playing, and I still reference it to this day.

The JSO is an outstanding resource that I credit with helping me getting started here, and a much-appreciated source of support of my own playing for the 20 years I've lived and played in Portland.
---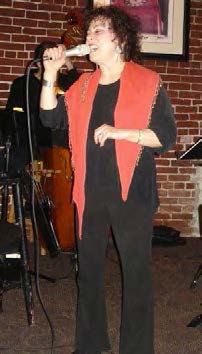 Shira Subotnick
Being a vocalist all my life, I realize how much The Jazz Society has contributed to the longevity and popularity of jazz in Portland -- a rare oasis of great jazz musicians and vocalists one can experience any day of the week.
In my singing career, I have traveled 'round the world performing with some of the greatest jazz musicians and big bands. I performed in Summer and Winter Pops series for 13 years as a featured vocalist with the Oregon Symphony with Norman Leyden as my conductor and arranger. I can think of no other profession that brings so much joy to not only the performer, but the audience as well.
I love to sing and create. I try to expand and grow artistically with each gig. Jazz allows me to share my most intimate feelings when interpreting a song. In this way, each song becomes me at that moment; never the same twice.
The Jazz Society helps people like me in their musical journey. I salute them for their unwavering commitment to all the venues of jazz. I am blessed to be in their company -- Portland has become a Jazz Mecca!
---
---
... Support the Jazz Society. Become a member now.
---