Clubscene Writer
In Memory of Steve Kullowatz
March 30, 1949- August 3, 2007
Steve Kullowatz, along with friend and colleague, Jim Corcoran, started Clubscene, a feature for the Jazz Society of Oregon's website. They collected a few writers who were also passionate about jazz and launched Clubscene in March of '06. It was Steve's passion to support and enjoy live jazz, and to get others out to do the same. Steve was our editor and it was a lot of fun working with him. He had a quick wit and a wonderful, self deprecating sense of humor. He was an eloquent writer and prolific poet. We could expect a "poem of the day" every day. Musicians loved seeing Steve walk in the room, knowing he was there to listen and appreciate their art. He had a warm and friendly presence. Steve died at the far too young age of 58, leaving a big hole in the jazz community and the hearts of many. He is very much missed.
---
Name: Steve Kullowatz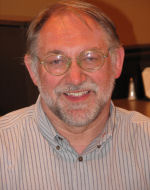 I grew up with all kinds of music in my household. My parents both loved music, and this included some jazz, but my real introduction to jazz was through a boyhood friend who had George Shearing, Henry Mancini and a growing jazz collection. I was in junior high at that time and was beginning to realize what "cool" was, and that jazz was cool. My first serious introduction to jazz was a concert in 1964 here in Portland featuring the Oscar Peterson Trio (Ray Brown, Ed Thigpen). That was incredible--Oscar did most of his Canadiana Suite and I fell in love with a tune called Wheatland. The funny thing about that concert was that the trio was the opening act for a group known as The Serendipity Singers, a folk group with a couple hits on the pop charts at the time. It didn't take long for me to become a jazz convert for life with that kind of comparison. In later years, I was lucky enough to have a conversation with Ray Brown and brought up that gig. He said they toured all over the country with that group of folk singers and that they were a lot of fun and great people. Ray impressed me with that bit of insight. What a fine gentleman he was.
In the early 70's, when I really started to buy a lot of LP's, I was into The Crusaders, Quincy Jones, Dave Brubeck, Bud Shank and most things brazilian. I loved Buddy Rich and his bands and I was discovering somebody new (to me) every day, it seemed. I was fortunate enough to be able to hear all of these guys live at one time or another, some many times. I also remember a great trip to San Francisco in '73 during which we saw The Quincy Jones band, with Cat Anderson (who blew everybody away), George Shearing, and Milt Hinton with a group of All-Stars . . . that same week we also saw Jack Sheldon with Blue Mitchell, Cat Anderson and four or five other great players at the Hungry Eye. It was a remarkable trip, solidifying a huge love affair with jazz that goes on to this day.
These days, my tastes have turned to local artists and their recordings. I still pick up the occasional classic jazz CD that has eluded me in the past or that I am replacing from vinyl, I really like what I'm hearing from all these great artists around town. Most recently I've been blown away by a CD from Grant Richards (a 15-year old whiz on piano and composition) and a beautiful effort from Farnell Newton and Marcus Reynolds called Sense of Direction. Tony Pacini's new solo piano CD is marvelous, as well. Too many to mention here.
I've come to enjoy the vibe at Blue Monk and at The Red & Black Café on Thursday nights. LV's Uptown is perfect for duo and trio configurations and Darrell Grant books fantastic talent. Looking forward to checking out the new and improved Jimmy Mak's on NW 10th . . . always liked the old place and this promises to be an improvement. Plus, it doesn't get much better than Mel Brown's various groupings. Jax on SW 2nd is starting to impress, and a number of places offer my kind of tastes in food and jazz, Abou Karim and Wilf's to name two.
My all-time favorite jazz experience and there have been countless, so this is based more on volume of talent than anything else, was a weekend festival in Concord, CA in either '82 or '83 (I forget which). I got the bright idea to put a catalog together of Concord Jazz label recordings for a mail order company I was working for at the time. Concord liked it so well that they made sure I got great tickets for the weekend festival (nice timing, no?). When I arrived with my travel buddy, we found ourselves seated in the front row at the new pavilion--one of the most beautiful festival settings I've ever been in--stationed directly behind the piano players back. In other words, I sat 15 feet from Dave Brubeck, George Shearing, Tania Maria, Nat Pierce, Hank Jones, and Count Basie. It was an amazing weekend, three evenings, three sets an evening. Other performers included Mel Torme and the LA 4, with a young Jeff Hamilton. There were three big bands: The Capp-Pierce Juggernaut Band, Count Basie Orchestra, and a dynamite all-star band from Japan. It was heaven.
I have so many favorite tunes it's ridiculous. I absolutely love any arrangement of Killer Joe, but the recent Benny Golson recording of it is my sentimental favorite. Everything on the Brubeck Time Out album is great. All Blues by Miles, Maiden Voyage, Herbie Hancock. Norwegian Wood on Buddy Rich's Big Swing Face album. This is like looking through a dessert menu to even list this stuff . . . I'm drooling.
For jazz singers, Mel Torme is my all-time number one favorite--maybe it was the years he recorded that great stuff on Concord Jazz, I don't know--Mel is the quintessential jazz singer to me. Getting to know his long time drummer Donny Osborne has been a real treat--especially since Donny was also a Buddy Rich protégé . . . wow! The Buddy Rich/Mel Torme album Together Again is a beautiful thing with a heart-wrenching Here's That Rainy Day for anyone with a romantic bone in their body.
A book by Geoff Dyer called But Beautiful is the best jazz book I've ever read, and it's fiction--only the names remain the same to show you they weren't innocent or perfect, but beautiful . . .
Helping to put out the Clubscene column has been a wonderful, enriching experience for me and I encourage everyone to check out the articles and learn about the musicians, and most of all, get out to the clubs and support live jazz. That's what makes this all work, your support.
Centerpiece - January 12, 2007
Portland Jazz Singers Showcase - December 29 & 30, 2006
Andrea Niemiec Quartet - September 28, 2006
Tall Jazz - September 24, 2006
Wednesday Night
Tenorman
Stan
Ben Fowler Quintet - August 19, 2006
Johnny Martin Trio - August 17, 2006
Mel Brown 3-B Organ Band - July 13, 2006
Mary Kadderly Trio - June 3, 2006
Tony Pacini Trio - May 19, 2006
Frishberg/Kilgore - April 29, 2006
David Valdez Quartet with John Stowell - April 20, 2006
Dave Friesen Trio - April 14, 2006
Kind of Blue
Grant Richards - March 30, 2006
Darrell Grant - March 17, 2006