Clubscene Writer
Name: Richard Lazere, Ph.D.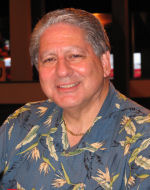 Q. How did you first become introduced to jazz and when was that?
A. I grew up in a home where all kinds of music were played including jazz. I fell in love with jazz as a teenager exploring the streets of Manhattan as I passed and then frequented jazz joints such as The Metropole CafÈ and Birdland, in addition to so many hangouts in Greenwich Village that featured jazz.
Q. What were your early jazz influences?
A. My parents stressed a love for all expressive forms and taught us a sense of responsibility to keep the flames of civilization burning by supporting the musical arts. I grew up with Benny Goodman, Glen Miller, The Dorsey Brothers, Count Basie (he and his wife, Catherine, were friends of our family, united in civil rights/anti discrimination work), and Artie Shaw.
Q. Who do you like to listen to now?
A. Love Robert Moore's work, Glen Miller, George Shearing, Dinah Washington, Johnny Hartman, Benny Goodman, John Coltrane, Dorsey Brothers, Stan Kenton, Count Basie, Chet Baker.
Q. What local artists are your favorites?
A. Robert Moore, Johnny Martin, Mary Kadderly, Rebecca Kilgore, Dave Frischberg, Louis Pain, Dan Balmer, Mel Brown, Jof Lee, Tony Pacini, Mark Simon, Steve Christofferson, George Mitchell, Andre St. James, Alan Tarpinian, Janice Scroggins, Dusty York, Nancy King, Shirley Nanette, Donny Osborne, Mitzi Zilka, Linda Daiber.
Q. Where do you like to hang out for jazz?
A.Wilf's, Jimmy Mak's, L.V.s, Mississippi Pizza, Pine St. Cafe, Bijou CafÈ, Jax.
Q. What is your favorite jazz experience?
A. The first Mt. Hood jazz festival finale set, which featured Mel Torme and Buddy Rich playing/singing together. It was magical and boosted to the highest heights the excitement of the launching of the festival.
Q. What are your favorite tunes?
A. The entire Glen Miller Play Book, Tangerine, Flying Home, On Broadway, Andrews Sisters Play List, and Sing, Sing, Sing, Flying Home, One Note Samba, Killer Joe.
Q. Who are your favorite jazz singers?
A. Joe Williams, Johnny Hartman, Dinah Washington, Sarah Vaughn, Diana Krall, Mary Kadderly, Johnny Martin, Janis Mann, Andrews Sisters, Billie Holiday, Robert Moore, Nancy King, Marlena Shaw, Marianne Mayfield, Shirley Nanette, Linda Michelet.
Q. What are your current endeavors?
A. Supporting the arts. Keeping jazz viable and healthy. Taking music appreciation courses on the structure of music and the history of jazz and blues. Writing musical reviews and feature articles for Clubscene & Blues Notes.
The Melody Lingers On - The Jerry Stuart Story - August 2009
First Jazz - April 5, 2008
Sandy Dennison - February 10, 2007
"A Weekend Swan Song" - January 1, 2007
Cleve Williams Birthday Bash - November 7, 2006
Interview with Annie Madison - November, 2006
"A Touch of Elegance" - October 5, 2006
"Jazz Dressed in an Evening Gown" - September 30, 2006
Brian Ward Trio - September 9, 2006
Interview with Darren Littlejohn - August 26, 2006
King, the Queen of Scat - August 25, 2006
Robert Moore & The Wildcats - August 17, 2006
Cathedral Park Jazz Festival (Lazere) - July 16, 2006