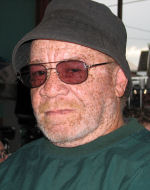 My infatuation with jazz is deep-rooted, starting with the rhythmic swing music of the 40's. At almost any hour my dad's collection of big band 78 RPM vinyls would resonate throughout the house.The sound emanated from a Victrola complete with a horn and tone arm, which closely resembled a chicken's head, with its silver beak, the stylus, riding the grooves of the spinning platters.
Not only did I listen to the likes of Krupa, Dorsey, Illinois Jacquet, Harry James, Harry "Sweets" Edison, to name a few; once or twice during the summer we neighborhood kids got the rare treat of listening to a neighbor, Johnny Hodges, rehearse on his front porch. He became our idol.
Additional shaping influences on my musical taste came from black and white autographed images, huge posters of Ellington, Count Basie, Jimmie Luncefored, and Benny Goodman, their publicized rivalries used to promote concert dates as if they were musical prizefights, like the "Battle of the Bands".
There is a lot Miles Davis, Bill Evans, John Coltrane, and Herbie Mann in my life and collection. It was this vitalizing sound of instrumentation that ensnared and held my thoughts, causing my body to pulsate and my fingers to tap the hell out of table tops.
Back East, music was a community affair. Sundays, before the advent of television and the sports channel, bandstands in local parks on hot summer afternoons were not always about John Phillip Sousa or Seventy-six trombones. Small combos performed rhythm & blues, jazz, banjo picking Hillbilly, and from the Caribbean came the Mambo.
Back then, too, when people went out, they dressed differently: it was zoot suits, pointed toe shoes, and ladies in short skirts kicking it up at ballrooms like the Savoy. After-hour jam sessions often ended at dawn's light.
My favorite jazz experience has to be the 1956 Newport Rhode Island Jazz Festival. Three days and nights along a stretch of beachfront property, the wetness intolerable, the frequent rain pasting your clothes to your body. But the music, the music: headliner Duke Ellington and company were in grand form, Paul Gonsalves blew long and hard for 27 choruses--a driven tenor player gone mad--provoking pandemonium, people dancing ecstatically, others standing on chairs and screaming like banshees. An appreciative crowd roared, 'encore.' July 7th 1956-- etched in my mind forever.
Most of the musicians and singers I grew up with are now sleeping peacefully, but their performances, their rhythmic, melodic gifts continue to inspire students and other professional musicians even today.
Sadly around Portland jazz venues are closing their doors. This art form which has meant so much to so many, which has been so vibrant and integral a part of the global society must not be allowed to wither. Jazz must keep expanding, its audience growing.