Clubscene Writer
Name: Pam Jones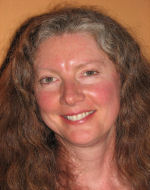 I came to jazz late, in my 40's. My kids were growing up and I started thinking about what kind of music I'd like to go out and listen to. My husband had collected a lot of music including jazz greats, Miles, Mingus, Monk and Coltrane, and I realized that this was the music I most liked. I saw an article in the Oregonian A&E about some local jazz groups and Darrell Grant's People Music Project sounded interesting to me. I checked it out and loved it. This led to learning about local groups and trying different clubs.
I started reading reference books and collecting music. I liked Bryan Dickerson's tributes at the Kennedy School because they were informative and he'd gather together many talented musicians. I also learned a lot from the Carlton Jackson/Dave Mills Big Band. I attended the end of the year concerts at PSU. One year Eddie Weid performed with the students, and the Old Cats, which became the Original Cats, another year. I used to frequent a music shop, Birdland Jazz, owned by Britton Brown, and he exposed me to a lot of great music. He even hosted live music in his tiny shop; Nancy King with Glen Moore and Rob Scheps. I feel fortunate I got to see Leroy Vinnegar perform at Atwaters, before he passed.
My favorite club was Darrell Grant's Typhoon. It was very cool, and intimate, on a corner across from the Benson. I spent many evenings listening to duos and trios, including David Friesen, Gary Versace and Randy Porter, as well as Darrell Grant and his students. Marilyn Keller and Brian Ward had a Wednesday night gig that I often went to. Pianist Jed Wilson played there when he was in high school.
My nephew, Nick Sweet, started playing trumpet in middle school and I'd invite him to see any visiting trumpet players; Terell Stafford at PSU, Dave Douglas at the Old Church . Once we left a family gathering at the coast early, to come back for the Mt Hood Jazz Festival to hear Nicholas Payton. Nick took advantage of opportunities, attending jazz camps, workshops and Port Townsend, and participated in PYJO, led by Ben and Michelle Medler. He switched to trombone and attended ACMA under Thara Memory, and then entered Berklee College of Music.
I went to the last four years of the Mt. Hood Jazz Festival, before they moved from Mt Hood Community College, and saw a lot of great musicians, including Joe Henderson, Kenny Barron, Regina Carter, Joe Lovano, Gonzalo Rubalcaba, Danilo Perez, Christian McBride and Joshua Redman. I've continued to attend and enjoy the smaller, city park festival. And the Portland Jazz Festival has had a fantastic lineup since it began in `04. They've brought wonderful, diverse groups here.
When I travel to other cities, I go out and listen to jazz. I saw McCoy Tyner with Terence Blanchard at Yoshi's in Oakland , and John Hicks at Blues Alley in DC. I've been to the Blue Note, Village Vanguard, Zinc Bar, Smoke and Small's in New York . I saw Ahmad Jamal and Roy Hargrove one year and Fred Hersch and Michel Camilo the following year. At the Chicago Jazz Festival I got to see Charlie Haden's Liberation Orchestra and the Mingus Big Band.
The highlight for me, was meeting up with my daughter for the Cape Town Jazz Festival in 2005, when she lived in Namibia . Dave Holland was one of the headliners and we sat in the front row. We saw the African Jazz Allstars, and there were a lot of groups from South Africa , as well as from the Congo , Mozambique , Tunisia , the UK , France and the Netherlands . My favorite was the Ramon Valle Trio from Cuba , a piano trio with Afro-Cuban and classical influences.
I like straight ahead best, but I'm open to most kinds of jazz. I love jazz piano. Monty Alexander is one of my favorite pianists, and I admire Jessica Williams. What I like about jazz is that it is full of surprises and musical ideas.
The local musicians I like are too numerous to mention, but I especially like Gordon Lee and Mel Brown's Septet. I like to support young musicians; pianists, Marcus Reynolds, Dan Gaynor, Ben Darwish and Andrew Oliver. Ji Tanzer and Drew Shoals are fantastic young drummers and I like the multi-talented Tim DuRoche. I follow the young saxophonists John Nastos, Marc Hutchinson, Reed Wallsmith, and Devin Phillips. I love anything trumpeter Farnell Newton does. Mary Sue Tobin has hosted up and coming groups at the Red & Black, and is a wonderful saxophonist herself.
I've met a lot of nice people out listening to jazz. Alice Brown got me started with the Jazz Society. Steve Kullowatz invited me to write for Clubscene and suggested I join the JSO board in '06. He has since passed and is very much missed by the jazz community.
The wonderful thing about jazz in Portland is that we have world class, local musicians, and the clubs are small and the cover charges, low. Musicians are usually willing to talk to fans during their breaks. Portland has a vibrant jazz scene and I hope people get out and support it and not take it for granted.
Toni Lincoln - March 14, 2009
Lynn Darroch, Jazz Stories & Beyond the Border - December 05, 2008
Hailey Niswanger, July 2008
Interview with Linda Daiber, May 07, 2008
John Nastos & E4 - March 3, 2008
Karla Harris - November 20, 2007
Noah Peterson CD Release - November 03, 2007
Deborah DeMoss Smith Interview - September 20, 2007
Annette Lowman - September 14, 2007
Phil Hattons Jazz Dingoes - January 30, 2007
Wade Kirtley Quintet - November, 15, 2006
Jason Butterworth Quartet - September 16, 2006
Jessica Schultz/Marcus Reynolds Duo - September 1, 2006
Portland Jazz Jam - August 22, 2006
Nancy King & Dan Gaynor - August 11, 2006
Farnell Newton/Marcus Reynolds Quintet - August 8, 2006
Farnell Newton/Marcus Reynolds Quintet - July 22, 2006
Mel Brown Septet - June 13, 2006
Glen Moore Trio - June 10, 2006
Andrew Oliver NW Continuum - May 25, 2006
Devin Phillips and the New Orleans Funk Project - May 25, 2006
Ben Darwish Trio - May 12, 2006
Dan Schulte Sextet - April 29, 2006
Jazz Singers Showcase - May 24, 2006
Fiction Junkies - April 14, 2006
Newton-Reynolds Quintet - April 7, 2006
Grant Richards - April 1, 2006
Ron Steen Jam - March 31, 2006
Devin Phillips and New Orleans Straight Ahead - March 24, 2006
Stephen Walker and The Few Chosen - March 23, 2006