Clubscene Writer
Name: Linda Daiber
Website: http://www.myspace.com/lindadaiber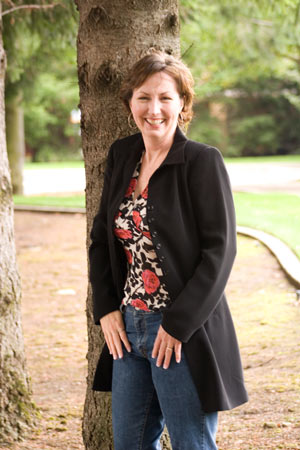 "Linda is an emerging talent with a captivating smile in her voice." Tom D'Antoni, The Oregonian A&E and KMHD Radio Host

"Linda has a pure clear voice and a fine appreciate for the melodic and lyrical end of the jazz spectrum. Excellent timing and intonation are her currency, and her jazziness comes from direct interpretation and communication, with little or no theatrics. Her powerful voice is relaxed and welcoming. She is the epitome of the natural singer." Jim Corcoran, Newland Jazz, and former President of The Jazz Society of Oregon

Like many jazz lovers, I grew up surrounded by jazz and it was contagious . . . Dad played piano, trumpet and flugelhorn, brothers took up drums, trumpet and sax. As a little girl, I sat in front of the old stereo console, with headphones bigger than I was, and sang along with June Christy and the Stan Kenton Orchestra, Nancy Wilson, The Singers Unlimited . . . anything I could get my hands on.

My first gig was at the age of 14 with a band called "Metro Fusion" (big brother was the drummer.) I sang 'Round Midnight, 500 Miles High and Downstairs at Danny's All Star Joint. I pursued singing jazz through high school and college, got married and raised my family and have just recently rediscovered my passion for the music.

KMHD is always on in my car, at work, and at home. I listen to everything, and love it when someone says, "Hey, you should do this tune!" It immediately goes on my list and is downloaded on Itunes.

I have been singing jazz professionally for the last 4 years, and have had the privilege of meeting and performing with many of Portland's amazing musicians at several of the great jazz venues in our area. I enjoy big bands (my first love), but can also be found tucked away in little wine bars with a duo or trio. I am working on my first CD, and am looking forward to what lies ahead.

Hope to see you around town!

Blake Lyman Trio - March 6, 2009
Hank Hirsh Interview - January 2007
Gene DeNardo Trio - January 13, 2007
Percussion Drum Clinic - October 27, 2006
Interview with Art Abrams - October 5, 2006
Hot Club Sandwich - August 30,2006