Clubscene Writer
Name: Carolyn Joyce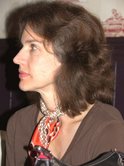 My parents were mostly classical music lovers, but my mother threw in a little early Sinatra once in a while as well as soundtracks to popular musicals. As a child of the 60's, I heard jazz everywhere. I loved the musical entertainment on the Dick Van Dyke show, and used to stay up late just so I could listen to the "Mannix" theme on TV. I didn't really know that this music was jazz, but it made me feel better than any music I had ever heard. It was not until I was a student at Indiana University that friends introduced me to jazz as an actual genre, and I've been listening ever since.
My early jazz influences were Wayne Shorter, Herbie Hancock, Miles Davis, Thelonious Monk, Red Garland, Joe Henderson, Clifford Brown, John Coltrane, Horace Silver, Charles Mingus, Ella Fitzgerald, Sarah Vaughan, and Lambert, Hendricks and Ross.
Currently, I like to listen to KMHD and enjoy mostly straight ahead jazz. Piano is my favorite instrument, and I'm a sucker for a Flugelhorn and for intricate big band arrangements.
Some of my favorite local artists include Randy Porter, Frishberg and Kilgore, The Tony Pacini Trio, Rob Davis, Dave Captein, Mel Brown, Dave Evans, Robert Moore, and Lee Wuthenow just to name those that first come to mind. Dick Titterington's group PDXV is a standout. I know that I am leaving out plenty of worthy Portland musician's I am the vocalist with the Mazel Tov Orchestra, and that band is comprised of favorite players as well – Dave Captein, Stan Bock, Reinhardt Melz, George Mitchell, and leader Sammy Epstein.
Wilf's and Jimmy Mak's are my favorite spots to listen to jazz. I also like LV 's if I'm making it an early night, and the Portland Jazz Singer's Series at Jax, put on weekly by my friend and fellow vocalist Mitzi Zilka.
My favorite jazz experience ever was hearing my idol, Mel Torme, at the Chicago Jazz Festival. I got there 8 hours early to get 5th row seats. He did not disappoint me - he was amazing -- such an energetic perfectionist. I was spellbound the entire time by his arrangements, persona, and spectacular instrument.
As to favorites tunes, I am fickle and do not even have a favorite color, let alone favorite tunes. At the moment, "Lullaby In Rhythm" is a favorite, but once I learn it inside out, it will join the ranks of other jilted songs which I like equally well.
It is easier to have favorite jazz singers and artists: Like everyone, I love Ella, but I enjoy many singers - Mel Torme, Blossom Dearie, Bob Dorough, recent Carmen McCrae for her sense of time and phrasing. I just discovered Jackie Ryan, and her singing makes the hairs stand up on my arms. I like music that excites me, or makes me feel deep emotion. Among the instrumentalists I enjoy are Oscar Peterson, The Ray Brown Trio, Wayne Shorter, Dizzy Gillespie, and Thelonious Monk. I enjoy listening to the young lions on KMHD, but the tried and true greats move me the most.
As well as being the vocalist with the Mazel Tov Orchestra, I am a local jazz vocalist, and am releasing my debut CD, "This is Carolyn Joyce" at Wilf's on Saturday, November 3rd , 2007 . I recorded with the swinging, always exciting and grooving Tony Pacini Trio. (Tony Pacini, piano; Ed Bennett, bass; Tim Rap, drums.) listening to Tony's Trio is fun and always makes me feel good, like a kid in the sixties. My CD will make you feel good too, and give you a lift which is what jazz is all about for all of us.

John Keyser's CD Release Party, April 26, 2008
Tony Starlight's Lounge - October 6, 2007
PDXV - November 14 and 30, 2006
Robert Moore & Friends - October 28, 2006