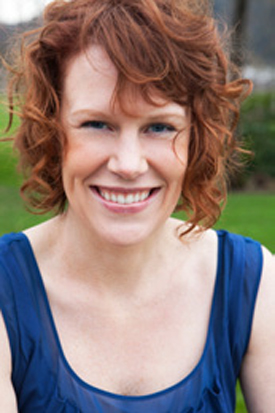 Name: Bre Gregg
Instrument: Voice; and now learning electric bass.
Early Years/Education: Grew up in an extremely musical family: my dad is a songwriter and amazing guitar player (trained at The Guitar Institute of Technology), my mom is a singer, and my little sister is a singer. I started taking voice lessons and performing in choirs and musical theater. Because my family was so focused on music, I saw many incredible live performances (Miles Davis, Bonnie Raitt, Sting, Ry Cooder, Eric Clapton, etc.) and constantly listened to wonderful recorded music at home – very eclectic blend of many genres, but all amazing musicians.
I always loved jazz, but it seemed that most schools focused on classical music if you wanted to move forward with vocal performance. So I went to school for vocal performance and music education focused on opera and classical music. During college I was in the opera chorus for several professional productions. During one in particular, I got the courage to approach a soprano named Sharon Spinetti, who was playing the role of Tosca in Intermountain Opera's performance. I nervously asked her if she would listen to me sing and tell me if I had any talent and whether she had any advice for developing a career. Turns out she liked what she heard because she invited me to come study at her young artist program in NYC (she ran an opera theater company called Teatro Felice), so I did! I spent each day studying vocal pedagogy and the Italian language and meeting with professional singers and going on auditions and performing.
Love to visit NYC but didn't love living there. Left, came to Portland, found a great classical teacher – Ruth Dobson — and began performing again at the Opera Theater Oregon and the Astoria Music Festival, and I decided to devote my life to it and get a master's. I was accepted and planned to attend the San Francisco Conservatory of Music (quit my job, house on the market), but I decided that I just didn't want to do classical music anymore – it wasn't my dream anymore.
I wanted to focus on more contemporary music, so I started going to jams and started performing – was doing a lot of shows at the Heathman, Benson and the Allison Inn – working three to four nights a week. When I started having babies, it was too much to work that often, and I started focusing more on the group Midnight Honey.
I learned most of my jazz studies on gigs, and I also received a grant from the Regional Arts and Culture Council to attend the Stanford Jazz Workshop, where I worked with Madeline Eastman and Dena DeRose, and also was greatly inspired by many of the teachers and professional musicians there as well, like Eric Harland on drums (actually blown away by his playing), Joshua Redman (sax), Larry Grenadier (bass) and Taylor Eigsti (piano).
There were several very kind musicians who took time from their busy lives to help me get established in the Portland music scene. Darrell Grant met me for coffee and gave me a coaching out of the goodness of his heart (I think I made him cookies or something lame!). Lisa Mann met with me and helped connect me with a couple people and told me about jam sessions. And Dan Stueber spent a great deal of time helping me create/ produce my first CD. In general, the musicians in Portland are wonderfully kind, almost without exception.
Bands: Midnight Honey is a band with Shelly Rudolph – she and I are both lead singers in the group – so it's a lot of fantastic, soulful harmonies in jazz-influenced R&B. It also really highlights the talent of Dan Gildea on guitar, Jeff Langston on bass, Charlie Doggett on drums, and Paul Brainard on the lap steel guitar. It's very typical of the kind of music I love; it's tough to put it in an exact genre – there are elements of soul, blues, gospel and jazz.
Here is a quote about Midnight Honey by Lynn Darroch after we played live on his radio show: "Tough and sweet, the soulful harmonies of Midnight Honey's jazz-influenced R&B are deceptively smooth; a blade wrapped in silk, straight to the heart. You'd die for this kind of love."
I also have my own quartet and I do mostly private gigs with that group. Then I have the Bonnie Raitt Tribute, a show I produced last year at the Alberta Rose, kind of a dream show for me because Bonnie Raitt was such an influence on me growing up. This year, we have a tour developing: the historic Everett Theater (in Everett, WA), Alberta Rose Theater, Columbia Center for the Arts (Hood River), and Craterian Theater (Medford). Singers involved are Lisa Mann (also on bass), Anne Weiss, Shelly Rudolph, Ara Lee and myself. Band is Mark Bowden, David Jacobs Strain, Mary Flower, Rich Landar, Lisa Man and Dan Stueber.
Musical Influences: Bonnie Raitt, Ray Charles, Nina Simone, Jane Monheit, Nancy Wilson, Billie Holiday, and my family.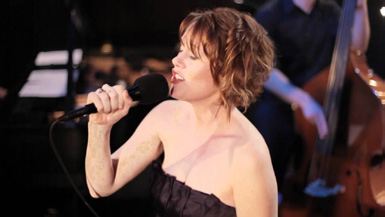 Most Satisfying Experience: Blues Festival last year with Midnight Honey, also performing before Lily Tomlin. Also I had the opportunity to do several trips to Italy with traveling choirs and got to perform at the Vatican. I also studied abroad in Sienna Italy and studied music history and Italian language.
Favorite Recordings: "Streelights," "Nick of Time," "Luck of the Draw," Bonnie Raitt; "Genius Loves Company," Ray Charles; "Blue," Joni Mitchell; "Journeyman," Eric Clapton; "Taking a Chance on Love" and "Surrender," Jane Monheit; "The Dream of the Blue Turtles," Sting; "Little Girl Blue," Nina Simone; and "How Glory Goes," Audra McDonald.
Discography: "On the Wind" (my jazz CD); "Midnight Honey" (EP release); back up vocals for Chance Hayden, "The Family Tree." In the planning process of a full length Midnight Honey CD and another Bre Gregg CD.
Future Plans: Well gosh, great question! I just had my second child, so now I have a two month old and two year old, so I work very hard and will continue to work at being the best mom I can be and raise these beautiful people. I would also love to continue performing regularly as it brings me great joy. I would also like to continue my studies on the electric bass and get good enough that I could play on the bass and sing live. Also, I would like to find the courage to share my originals.
I would also love to find a band that incorporates my background in classical music with a modern flavor – something similar to Pink Martini. I think my background could really add a lot of value and I would love to be able to work with that many musicians/orchestra approach. I had no idea how lucky I was in opera music to be backed by an orchestra. I love the intimacy of duos, trios and quartets, but I truly miss an orchestra!
I have been working on an idea with Ara Lee, another singer in town, about teaching a music theory and performance class for singers. I think there is a missing piece here – there are many singers who can't read music, and then they get gigs and hire players with thousands of hours of performance, education and experience, and then the singer often doesn't speak the same language as the players and [is] tentative, etc. I think it's a missing piece, and I would love to help fill in the gap.
Comments by Interviewer: Rose City audiences don't really know how lucky we are to have someone so well-educated, talented, and dedicated to improving her art, and passing her knowledge on to the next generation. I know I will make an extra effort to get out to see her live performances as soon as possible!

-- by Nancy Tice