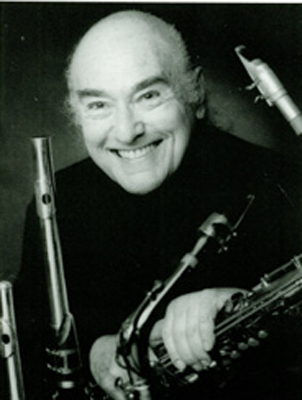 Name: Dick Saunders
Instrument: All saxophones, clarinet, flute, piccolo.
Early Years/Education: My musical career began in New York City, at the tender age of 4, as a singer on radio station WLTH. I went on to join Rainbow House Children's Hour on WOR, and continued there until I was 11 years old. At 14, I had my first band, and I played the Borscht Circuit (in the Catskill Mountains of New York), every summer through my first year at college, playing dance music and shows.
I graduated from the High School of Music and Art and from Manhattan School of Music and received a scholarship to Tanglewood in choral conducting. I met Lynora there, who was studying orchestral conducting under Leonard Bernstein. We were married a year later.
I joined the Air Force, and was stationed in Phoenix. There I played and conducted the band and choral group. Was also the Music Director of a weekly Air Force-sponsored variety show on local TV, and I played flute with the Phoenix Symphony. After three years in the service [ended], I remained with the Symphony and played clubs in Phoenix while obtaining a Bachelor of Music Degree from Arizona State University.
We then moved to Los Angeles, and I went on the road with my own Quintet for five years. We played mostly the Nevada circuit, which included Las Vegas, Reno, Tahoe, etc. The rest of the year, we crossed the country to the east coast.
Settling Down in LA: Following the road touring, we settled down to free-lancing in Los Angeles. Work included film, TV, radio, live shows, dance music, and commercials. I have worked at most of the major studios, including NBC, CBS, Warner Bros., and Paramount. Conductors I have worked with include David Rose, Nelson Riddle, Hugo Montenegro, Ferde Grofe and Van Alexander.
I have worked with many of the top people in the industry, including George Burns, Frank Sinatra, Sammy Davis, Ray Bolger, Steve and the late Edie Gorme, Milton Berle, Dorothy Lamour, Dick Stabile, Ralph Edwards, Vic Damone, Orrin Tucker, Dennis Day, Andy Russell, Pat Boone, Connie Haines, Henny Youngman, Jack Carter, Dick Shawn, Danny Kaye, George Fenneman, Redd Foxx, The Mills Brothers, Tony Bennett, Natalie Cole, and Mel Torme.
I also played at private parties in homes of entertainment industry and political celebrities, and at their country clubs. Also at large corporate accounts such as TRW, IBM, Hughes Aircraft, and for other corporate events and fund-raisers at Hugh Hefner's Playboy Mansion.
Most Satisfying Experience: My most satisfying experience has to be playing at the Los Angeles Friars Club "Roasts," no doubt about it! They were private "stag" shows, and hilarious beyond words. Milton Berle was always the host.
Favorite Influences: When [I was] a student at Music and Art, we would dress "older" so we could get into the clubs on 52nd St and listen to jazz legends such as Coleman Hawkins, Lester Young, Johnny Hodges, Dexter Gordon, Harry Carney, bari sax player with Count Basie, and of course, Benny Goodman and Artie Shaw — until the door man at 3 Deuces or Onyx asked us to leave.
Portland: I moved the family, my wife and daughter Melody, up to Portland in 1986. We wanted a cleaner environment to live in. By then, I could commute a few times per month and still play all the gigs I wanted to.
The first pianists I worked with when I came to Portland were Herbie Hall and Eddie Weid. Eddie and I knew each other from the '60s, when we were playing Las Vegas and he was conducting for The Modernaires.
Today, I am playing seven-eight times a month, mostly casuals. Also with Steve Boden's Jass Two Plus One. Our new CD is called "Jass For Fun." I work occasionally with a fine accordionist, Justin Franzino, at St. Honore in Lake Oswego. I also book all the music for the Lake Oswego Farmer's Market. Before his passing, I thoroughly enjoyed being the jazz tenor sax player for Norman Leyden in the Oregon Symphony Pops Orchestra.
Quote - Steve Boden, of Jass Two Plus One: "We are delighted to be working with Dick. Audiences just love him. Dick is a true virtuoso!"
Writers Note: I once asked family friends, each about age about 60 at the time, what kept them going, and they said, it is "that proverbial carrot." You must have an interest or activity to which you can devote your time and energy that makes you feel important and vital, and that helps you feel you are still making a difference in the world. I believe Dick Saunders left the Energizer Bunny in the dust years ago!

-- by Nancy Tice