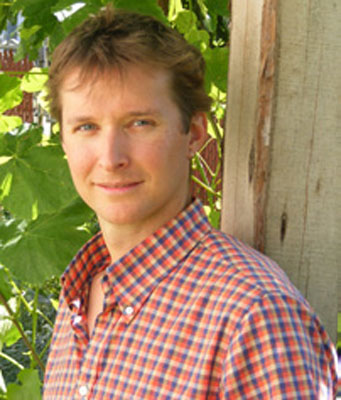 Name: Jesse Brooke
Instrument: Drum kit, congas and Cuban percussion, Brazilian percussion, Ghanaian percussion, marimba and mallets, orchestral percussion, cajon, Gamelan, and junk percussion.
Early Years/Education: From New Jersey, the Princeton area. Basically went to high school down the road from Princeton University. My mom was a Montessori teacher and taught music. I went to her school, so she was my first piano teacher when I was five. I studied piano until I was ten and quit. I started playing drums after that. I had a cousin and an uncle that were both drummers. In middle school I was discovering Pearl Jam and would rock a practice pad. I played along to recordings for the first three years, then took some lessons.
I went to Lawrenceville High School and was in the jazz band. Junior year I teamed up with some seniors to do a jazz quartet. I ended up booking us. At sixteen I was booking and had a regular gig in Princeton, on Sundays.
Senior year I auditioned for and got into the Princeton University jazz band. I also played in the big band and got into a Miles Davis combo class. We did a whole school year on Miles Davis's music, breaking down all the periods. The professor was trumpeter Anthony Branker, who was playing at Sweet Basil at the time.
Portland: I did a west coast tour of schools with my dad and just liked Portland. We went to the old Jimmy Mak's and heard the Alan Jones Sextet with Randy Porter and Rob Scheps. I later studied with Alan. I was trying to have a liberal arts education, so I went to Lewis and Clark College. The school had a full gamelan orchestra, which I was interested in. I studied classical percussion there with Mark Goodenberger [and] received a B.A. in Music Performance.
For my sophomore year abroad I went to Japan. When I was living there, I went to jam sessions frequently. You can tell the Japanese players that had been to the US. It wasn't that they sounded more American; they sounded more Japanese. They seemed like they had more of a sense of who they were, their approach was more personal because they had been to the states. At least that was my observation. I also went to Brazil with Galen for three months. I studied Samba Afro in Bahia in Salvador.
Bands: Basically, Galen Clark and I started Trio Subtonic. We had met at Lewis and Clark College. We did four CDs and toured for about ten years. I've played with the Lions of Batucada with Derek Rieth and Brian Davis. Also Jujuba (Afro Beat), Go Gringo Go, Dan Diresta, Sambafeat, Xevi Nova, What The Tango?!, Alex Krebs and also perform with Tango harmonica artist Joe Powers for the Bach Festival. It was actually Joe who got me into tango music. Over the years, I've worked with a number of world music groups at Andina Restaurant.
Musical Influences: Jeff "Tain" Watts, Carl Allen, Alan Jones, Anthony Branker, Mark Goodenberger, Gernot Blume, Obo Addy, Wieiyanto, Miguel Benal, Mulgrew Miller and Delfeayo Marsalis.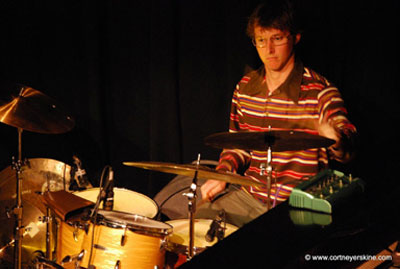 Most Satisfying Experience: Playing (tango music) with pianist Octavia Brunetti was amazing. Just being onstage with someone like that! We played four nights in a row for the Bach festival in 2012. I played percussion — elements of drum set with cajon and hand drums. We played Joe Powers' arrangements of traditional tango music for harmonica and ensemble.
Another satisfying experience was when I was with Trio Subtonic. It was the writing and what we did in the studio. Also, playing with Lady Rizo. She's so on point, funny, and an amazing singer. She's pretty magical onstage, she puts on this alternate personality, a slightly sadistic chanteuse, soul cabaret diva. Playing the (Eugene) Country Fair with Lady Rizo at The Ritz was a highlight.
Another experience was playing at Burning Man with the March Fourth Marching Band. I was on snare drum.
Favorite Recordings: "Third Eye," Ben Allison; "Colors," Avishai Cohen; "Rag Madhuvanti and Rag Misra Tilang," Skivkumar Sharma and Zakir Hussain; "Noche de la Rumba," Clave y Guaguancó," and "Tango Zero Hour," Astor Piazzolla; "The Legendary João Gilberto," João Gilberto; "Soul of Black Peru," compilation; "Homogenous," Bjork; "Portrait in Jazz," Bill Evans; and "Something Warm," Oscar Peterson.
Discography: Trio Subtonic: "The Aqueous," "Cave Dweller," "I'll Meet You There Tomorrow," "Night Runners"; "What the Tango?!" with Alex Krebs and Andrew Oliver; Crystal Bowersox: "All That For This"; The Quick & Easy Boys:" Follow Us Overboard"; Myshkin's Ruby Warblers: "That Diamond Lust"; Scott Pemberton: "Sugar Mama."
Gigs: With tango harmonica virtuoso Joe Powers and Friends (Randy Porter, Yosuke Onuma), The Old Church, July 9, and the University of Oregon, July 11 (Oregon Bach Festival). With my new crossover tango band, Mas Papaya, the Norse Hall, July 29. Andina's, the second and fourth Fridays, and in the summer with Pepe and the Bottle Blondes. Go to jessebrooke.com
Future Plans: I'm currently forming my own crossover tango group called Mas Papaya with Dan Gaynor on piano, Alex Krebs on bandoneon, and Megan Yvonne, vocals, with me on percussion. I'm developing this group, transcribing tango chamber music, writing instrumental groove music and picking covers for us. It's for listening and dancing too. I would like to get into the studio with this new group.
Other: There's a very strong tango scene in Portland; people fly here internationally twice a year for the tango festivals in February and October. In general, when you're dancing to music, the dance distracts you from the music. [But] Tango dancers are really listening while they're dancing. When I play for them, I get the sense they are responding to what they hear, interpreting the music right then.
Changes in Portland? The radio stations are playing more world music now. People will run into this music at Mississippi Pizza, for example, and discover "forro" for the first time and love it, even though they don't understand the words.

-- by Rita Rega