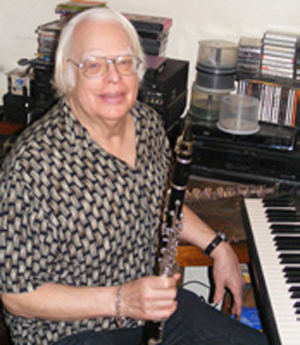 Name: Gary Guenther
Instrument: Clarinet, alto flute and alto saxophone.
Early Years/Education: I grew up in a musical family that was almost entirely in the classical form. My father had a Masters in Music, his younger brother got his Ph.D at Eastman and eventually headed up the music department at Texas Christian University. He was a top level flutist. My grandfather was into music too, and he could do things like play a tune on the harmonica. My family started me on violin at age seven, my sisters played piano. Back then boys didn't play piano, only the girls. Dad taught music and loved classical music. At one point we built a hi-fi system with a big speaker that was right in our dining room, which my mother didn't like. Every night he was either at a music concert or rehearsal or directing a choir.
I grew up immersed in classical music, but during dad's college years he was in a dance band and played alto sax and clarinet. At age 11, he gave me his old clarinet, and at age 15 he gave me his old saxophone. My father knew I was talented, so how he taught me to play the clarinet was by showing me the chromatic scale. After he realized I could play the chromatic scale fairly well, he said, "OK you can take it from there." As far as the flute, I was so intimidated by my uncle's skill, I had to wait until he died before I could take up that instrument.
A result of my dad's dance band experience was he had a few good Benny Goodman and Artie Shaw records. By the time I was 15, I was copying Benny Goodman solos. By age 17, I had basically quit reading music. I got very near-sighted during that time and couldn't see the music, so I played by ear.
When I was 11, we moved to Midland, Michigan, which was the headquarters of Dow Chemical Company. The company had it's own orchestra and chorus for the employees. The schools were well-funded, so dad moved us there so he could head up their music department. I had access to any instrument I wanted. I had my first gig when I was 15. A kid asked me to play the saxophone in his "rock-a-billy" band, and I did. At 17, someone got me interested in a dixieland band. After high school, I knew I wanted to play music but didn't know what I really wanted to do. My first improvisation was on a Bach partita, which my dad didn't encourage at all. I really wanted to improvise from a very early age and received no encouragement for doing that. After graduation from high school I went to the University of Michigan. There I played in a16-piece dance band and I played third alto, so I had to read charts but had no opportunity to solo. I was always doing the harmony lines.
Outside of music, I was a Ph.D candidate in psychology. At one point, my sister was working on her masters at Reed College and an opening came up in the psychology department.
They asked her if she knew of anybody who would be interested in the job. I applied, and they gave me an assistant professorship at Reed, which is how I came to Portland. I trained in clinical psychology and worked in mental hospitals, so I went into the mental health field.
Portland Bands: I got involved with the music scene here when I met Turtle Vandemarr, John Ward and Clark Huddleston. These guys were playing old skiffle music. My first Portland success was in a group called "Speakeasy" (mid-'80s and until mid-'90s). We played the Oregon Brewers Festival 11 times. We had Jim Goodwin, Turtle Vandemarr, Mike Rush and sometimes Dave Frishberg. "Fill'n The Blanks Spots" came before that ('73 to '74) with the same personnel plus Pam Bosworth, Richard Tyler and various bass players like Fred Hard. And even before that, around 1971, I was in a group called "Full Blast" with Paul Bissett on washboard, Rico on tuba, Clark Huddleston on tenor banjo, and me on clarinet. Basically, people called it dixieland, but we called it "hot jazz."
Kung Pao Chickens: The Chickens were started around 15 years ago by guitarist Pete Krebs. At that time there were three guitars including Pete Krebs and either Jason Okamoto and Tracy Kim or Jason and Jon Neufeld. Now, we have two guitarists, Tracy Kim and Jon Neufeld, plus bassist Tim Acott and myself on clarinet and saxophones.
How I got into this band is kind of interesting. I live two or three minutes from the LaurelThirst Public House where they play. I'd met the band hanging out at the tavern. I'd bring them cassette tapes of Hoagy Carmichael, Bix Beiderbecke and music they weren't familiar with. One night Pete asked me if I played. I said I played clarinet. I also had a copy of the original "Fake Book" from the 1950s which he appreciated. He invited me to sit in, and after a couple of times playing with them they hired me. Eventually, Pete dropped out of the band.
Over the years the audience has changed dramatically. Jason Okamoto was living with a swing dancer and she started bringing other students in to dance to the music. Now, some of the dancers are professionals and teachers. People come in to watch the dancing, it's an entertaining spectacle.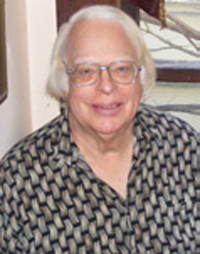 Musical Influences: On clarinet there was Benny Goodman, Artie Shaw, Woody Herman, Bill Smith (lives in Seattle and very under-rated), Eddie Daniels, Swedish player Stan Hasselgard, Art Pepper on clarinet and saxophone; other influences are Johnny Hodges, Stan Getz (he was a real genius who always followed phrases the singer would do, that would be supportive and play the minimal amount they needed), Chet Baker (his solos contain no note that's not necessary and no note that's superfluous), John Coltrane, Cannonball Adderley, Zoot Sims, Phil Woods (fantastic clarinet player too), Ike Quebec, Illinois Jacquet, Eric Dolphy, Boswell Sisters, Mills Brothers, Smoky Woods, etc.
Most Satisfying Experience: The hour or so I played with Art Pepper. I played with him once. It was the 11th anniversary of Synanon (the drug rehabilitation center), around 1969. I was at a psychology convention near Santa Monica and was going to Synanon to play. A friend was the musical director at Synanon and had invited me to come play for the celebration. I had my clarinet with me. I didn't know Art Pepper was going to be there. He was playing tenor at that point. I remember I watched him open up a closet to get his instrument out, and I recognized he had psycho-motor retardation, which is something that goes along with manic depression.
I had just spent three years playing along with all of his recordings and improvising to what he played. At one point we were doing the out-chorus, he was doing the head and I was playing parallel harmony with him. He just kind of looked over at me and put his head down. He could tell I had listened to him.
Other satisfying experiences include playing with Jim Goodwin and Dave Frishberg the last few times we played the Oregon Brewers Festival along with the other members of Speakeasy and now, every time I play with The Chickens, each time we play is better than the last.
Favorite Recordings: "Playboys" with Art Pepper and Chet Baker; Cannonball Adderley's "Chicago" with Coltrane (Cannonball more fluent than Coltrane at that time); Gil Evans "Into The Hot," "Out of the Cool"; all of Art Pepper's recordings; Django Reinhardt "Djangology" collection; Dave Frishberg recordings with Rebecca Kilgore including "Something Blue" and "Getting Some Fun Out of Life"; Glen Miller's recordings; the recordings of Dave Brubeck with Paul Desmond and the recordings of Brubeck with clarinetist Bill Smith; and Phil Woods on clarinet with Brazilian guitarist Illio de Paola on "In Contro."
Discography: with the Kung Pao Chickens - "Live at The Roost" (2007) and "Hot Ginger and Dynamite" (2001); with Speakeasy - "Live Jive" and "Dive Jive" (Frishberg is on this one); with the Fly By Night Jazz Band - "A Lot of Clazz"; with Paul Chasman - "There's an Elephant in the room" (just recorded); with Ashleigh Flynn - "A Million Stars" (just recorded, Dixie clarinet for one tune; numerous soundtracks for films and documentaries. What makes me attractive for this kind of studio work is I can do what they want really fast. I can hear the cut once or twice and just do it.
Gigs: With the Kung Pao Chickens Mondays, LaurelThirst Public House, 9 pm; Occasionally, sit in with Reggie Houston at Eat an Oyster Bar, 11 am-2 pm.
Future Plans: Just to keep playing with these guys. I am interested in exploring playing with a violinist or piano player; also interested in playing with a jazz group that really improvised. What I mean by really improvising is every time you play it, it's different. You substitute chords or change keys at will. I'd like to find players who feel comfortable doing that.
Other: A whole lot of what you do creatively has to do with nuance. That's what I enjoy about the band, everybody listens to each other and responds to each other.

-- by Rita Rega