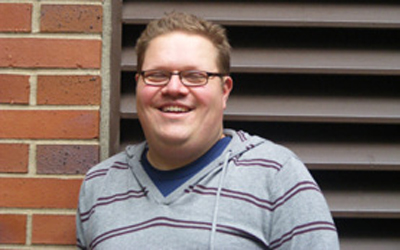 Name: Jeff Baker
Instrument: voice.
Early Years/Education: When I was in the seventh grade, I heard my first jazz recording — Dizzy Gillespie, "Live at the Village Vanguard" — and just loved it. I taught myself how to sing along with all the horn parts. A couple of years later, my dad took me to the high school in Boise, Idaho to hear a vocal jazz ensemble, and I realized you can sing this stuff too. Then, I started getting into singers...Chet Baker, Joe Williams, Mark Murphy, Mel Torme, etc. Even though I was a vocalist, I came into the music like an instrumentalist, learning primarily by ear, and I was good at improvisation early on.
I grew up hearing a lot of music. Most of the musicality comes from both of my grandmothers. My dad's mom was a torch singer, and my mom's mom was a wonderful singer who sang in choirs her whole life. While still in high school, I had the benefit of knowing Gene Harris. He'd do a Block Party every year in downtown Boise. One year he had his daughter, Nikki, singing with him. Here I was in the audience, a fifteen year old kid with his friends, rocking out to the music, and I started shouting out to her, "Sing it to me baby." She stops and says, "You, come up here," and pulls me up on stage and asks me to sing with her. After the concert, I got to meet Gene Harris. Two years later, I was the first musician in Boise to open for Gene at that same event, the annual Block Party.
All throughout my education I had great music teachers who understood the importance of giving students opportunities. My high school choir director presented me the opportunity to compete at the Lionel Hampton Jazz Festival Solo Competition. I was a junior, age 16. At that point in time, ten thousand students came through the competition over four days. Lionel Hampton was still alive, the solo competition had four thousand students competing, and they took two winners irregardless of your instrument. The winners got to perform before ten thousand people with the Lionel Hampton Trio, and you got a full scholarship to the University of Idaho. I entered and at that time was the youngest person ever to win it. I got to sing that night with Mulgrew Miller, Brian Bromberg and Elvin Jones. That was the moment I decided to become a jazz musician.
Portland State University: I hold a Bachelors of Music in Education with minor studies in vocal performance, conducting, and composing from Willamette University in Salem. After graduation, I put my first recording out on the Origin/OA2 label and spent seven years touring and performing. I then had the opportunity to create a jazz program for middle and high school students in Idaho. It was called the Arts West School for the Performing and Visual Arts.
Located just outside of Boise, a component of the school was a world class jazz club about one hundred yards from the school. We hired musician to move to Boise and be the house band for the club and teach at the school. One was Clark Sommers (Kurt Elling's bassist) from Chicago, and another was Kobi Watkins (Sonny Rollins' drummer). The club was called "The Blue Door." This was a huge success. We had students playing with the pros, it was magical. My students would come to Portland for competitions, so I knew Darrell Grant. I had also brought him into the club along with vocalist Valerie Day. It was around this time PSU was thinking of starting a vocal jazz program. I joined the faculty of PSU in 2012 to help with curriculum development and recruiting for the vocal jazz program. The first year we had two vocal jazz students. Last year that grew to 13, and this year we're at 16 students.
Vocal jazz is now part of the jazz performance degree program. You can get a degree in jazz performance with an emphasis in voice. There are only three schools on the West coast where you can do that: USC, Cornish College of the Arts in Seattle, and now PSU.
PDX Jazz Festival Vocal Competition: This past year we came up with the idea of holding a national competition called "Jazz Forward." The PDX Jazz Festival wants to expand into the area of jazz education. [So] High school students from across the country will submit recordings online in five categories — big band, vocal jazz choir, combos, instrumental soloists and vocal soloists. Those recordings will be judged by members of the PSU faculty. We'll invite 12 finalists in each category to the competition in February, which will take place during the Portland Jazz Festival. The finalists will compete during the day and we'll have the internationally renowned guest artists who will be appearing at PDX Jazz be the final judges. The winner gets $1,000 and will have the opportunity to open for the main stage concerts that night at the festival. Most of the entrance fees go toward the scholarship fund at Portland State University.
Bands: Like most of the other jazz musicians in town, I'm going to try and come up with creative ways to do my own thing. I'm going to do some concerts this year, probably at the Old Church. I'm also in Darrell Grant's group he started last year called, "He Said, She Said." It's myself, Marilyn Keller, John Nastos, Jason Palmer, Dylan Sundstrum and Chance Hayden. The material is built around music duets like Donny Hathaway and Roberta Flack, Lyle Lovett and Rickie Lee Jones, Ella and Louis, Kurt Elling and Cassandra Wilson, etc.
Musical Influences: My teachers: Ted Totorica, Dr. Wallace Long, Dr. Paul Klemme, and Connie Branton. Then there's Gene Harris, Ray Brown, Chet Baker, Mark Murphy, Johnny Hartman, Joe Williams, Dizzy Gillespie, Joni Mitchell, Eva Cassidy, Brent Jensen, and John Bishop, who I owe a lot.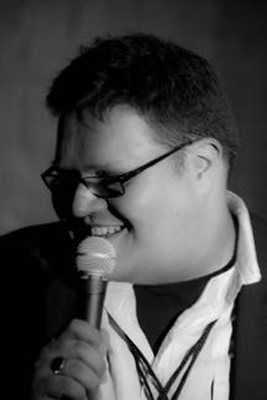 Most Satisfying Experience: I don't know if I've arrived there yet, but a couple of moments that were really profound for me were ... when I was able to walk into Tower Records in Times Square and find my CDs and see my name on the white plastic spacer. Another big one was when I was at the IAJE (International Association of Jazz Educators) conference in New York. I walked over to this gentleman who was standing at the Grammy Cares Foundation booth, and we talked for 45 minutes about music. I asked him how someone gets to become a Grammy voter, and he said you have to have so many album credits, you apply, there's a review board and they vote by region or a member of the board of directors can fast track you. He asked, "Why, are you interested in doing that?" I told him it was a dream of mine and I was very interested. He said, "Well, why don't I just do that right now." He stretches out his hand and says, "I'm the president of the board of directors of NARAS" (National Academy of Recording Arts and Sciences). So I became a Grammy voter! A couple of years later I got to go to the Grammys. All four of my records have made the nominating ballot, the final 32 before the nominations. And, of course, winning the solo competition at the Lionel Hampton Jazz Festival was another hugely satisfying experience.
Favorite Recordings: Joni Mitchell - Both Sides Now (Reprise); Johnny Hartman and John Coltrane (Impulse); Dizzy Gillespie - Live @ The Village Vanguard (Solid State, Blue Note); Eva Cassidy - Songbird (Blix Street); Darrell Grant - Truth & Reconciliation (Origin); Mark Murphy - Once to Every Heart (Verve); Nancy King - everything she's ever recorded; Ray Brown Trio - Live at the LOA (Concord); Keith Jarrett Trio - Whisper Not (ECM); and Brian Blade & The Fellowship Band Perceptual (Blue Note).
Discography: 2003 "Baker Sings Chet" (OA2), with fellow Origin OA2 artists Chuck Smith, piano, Jeff Rew, bass, Steve Hill, drums, Brent Jensen, alto saxophone, Rob Walker- trumpet & flugelhorn, Sandon Mayhew- tenor saxophone, and Stan Bock, trombone. 2005 "Monologue" (OA2), featuring Bill Anschell, piano, Doug Miller, bass, John Bishop, drums, Brent Jensen, alto & soprano saxes, and David Sabee, cello. 2007 "Shopping For Your Heart" (OA2), featuring pianist Bill Anschell, drummer John Bishop, bassist Jeff Johnson and saxist Brent Jensen. 2009 "Of Things Not Seen" (OA2), with Bill Anschel, Jeff Johnson, John Bishop, Brent Jensen and Dave Peterson on guitar.
Future Plans: I want to do another record next year collaborating with Darrell Grant. We'll use original material and original arrangements. Brian Blade has agreed to be part of the project. Another project will be me plus one. I'll be singing in a duo setting with four different pianists.
Other: The music doesn't have to "swing" anymore to be considered jazz. If there's a sophisticated melodic and harmonic concept and then improvisation, it still fits into the jazz category. I think jazz sometimes suffers from this need to be constantly stuck in its past. Because of that it can be held back as a genre. People aren't necessarily thinking of it as moving forward.

-- by Rita Rega