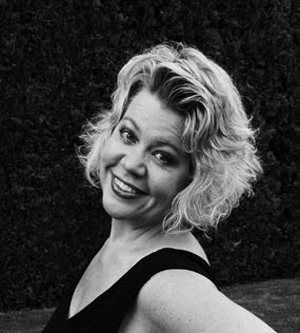 Name: Rebecca Hardiman
IInstrument: voice
Early Years/Education: Growing up in Salem, Oregon, I listened to jazz from when I was in the crib onwards. My dad played the trumpet in jazz bands in World War II and had the latest records. He really dug Charlie Parker. When I came around, he said, "Finally one of the kids likes jazz!" I'd go into the basement and listen to his stack of 78s ... Charlie Ventura with Jackie Cain and Roy Kral, Woody Herman, etc. I was always listening to it and memorized their vocalese and scatting. By the time I got into high school, I was in a jazz choir and felt comfortable singing in those jazz situations. While still in high school I won an "outstanding soloist" award copying Billy Eckstine singing "Body and Soul." I finally realized I was above average at something.
This gave me the confidence to try the things my high school choral director (Gary Frame) suggested, like trying out for Edmonds Community College (near Seattle).They had an excellent vocal jazz program under the direction of Frank Di Miero. Mr. Frame asked me to try it. I thought, "Really, me?" I was going to become a beautician and get married. Mr. Frame said, "Just try, you could always go to beauty school if you don't make it." Lo and behold, I got a slot in their vocal jazz group called Soundsation. Edmonds was like boot camp for vocalists — after two or three years I realized this is my comfort zone, being in a vocal jazz group. I didn't want to go out on my own as a soloist.
The Ritz: In my last year at Edmonds, they hired the group The Ritz, from Boston, to headline the school's jazz festival. My college group Soundsation opened for them. While The Ritz was performing, one of the guys called me up on stage to scat with them! I was at Edmonds for three years and [then] stayed in Seattle wondering what to do with my life. One day a representative from The Ritz called and asked me to come to Boston to audition for the alto part for a six month fill-in. They hired me! So I moved out there to sing with them.
Working with them gave me more confidence on stage and finesse. We performed at the Montreal Jazz Festival and around the Boston area. They said they liked my ability to scat, my ability to blend in with the other voices, and how I was able to quickly sing the words. It was supposed to be six months but it lasted a few years. I also ended up marrying the piano player for The Ritz, my husband Ray.
After The Ritz ended for me, Ray (who is also an engineer) and I moved to Oregon, which is where I'm from. That was 1990. A year later, I started a vocal jazz group here called Euphoria. At a Ron Steen jam at the Polo Club, I met drummer Kurt Deutscher, and the guys from Tall Jazz became part of the rhythm section with my husband Ray on piano. Euphoria lasted ten years. After Euphoria folded, we looked to the local churches to continue working. These churches didn't have any music at all until we contacted them.
Mid-Valley Jazz: After awhile we missed the jazz and decided to get back into it. We started doing a little gig in Silverton at first and slowly started coming back. One day, I thought, "I may be nervous to get back into a Portland club, but what I can do is contact Langdon Farms," which is across the street from my house. It has a restaurant, and I asked if they'd consider having jazz on Friday nights. It then occurred to me that the people 55+ who live in Charbonneau, Wilsonville and Salem like jazz too but didn't always want to drive to Portland. I can provide Portland quality music, just give us a chance. We started out with solo piano, and by summer 2012 we had the whole group playing and built up a following at Langdon Grill.
In an effort to get more jazz happening down here, I also contacted the Aurora Colony Vineyard. Only about another mile down the road, Aurora Colony Vineyard liked the whole concept, and now we do this on Saturdays. As a matter of fact, we're about to do a one-day summer jazz festival down here August 9, 2015. It will take place during the last day of the Aurora Colony Days festivities.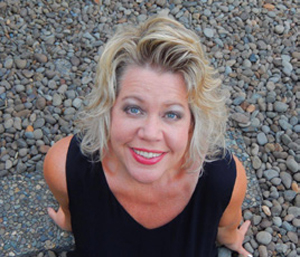 Musical Influences: Gary Frame from Sprague High School in Salem; Frank Di Miero from Edmonds Community College; Jackie Cain and Roy Kral for their scatting and vocalese; The Ritz for giving me confidence and poise; Ella Fitzgerald for her smooth sound and how she swings; Doris Day for a pretty and mellow sound; Sara Vaughan for creative scatting and style; and Nat King Cole, who almost speaks when he sings.
Most Satisfying Experience: I still have to go back to being hired by The Ritz and the feeling, "I can do this!" I tried and made it in Boston. I felt I really achieved something. And to go along with that, recording a CD in New York City on Denon. My husband plays piano on it, and it was one of the first CDs recorded live "direct to digital."
Favorite Recordings: "For Those in Love" - Dinah Washington; "Birth of the Cool" - Miles Davis; "Presenting Cannonball Adderley" - Cannonball Adderley; "With Jackie Cain and Roy Kral" - Charlie Ventura; "Freshman Favorites" - The Four Freshmen; "Jarreau" - Al Jarreau; "Mecca For Moderns" - The Manhattan Transfer; "Cole Porter Songbook" - Ella Fitzgerald; "Love Me or Leave Me" - Doris Day; and "The Misty Miss Christy" - June Christy.
Discography: "I'll Remember April" (2013), "My Father's Business" (2009), "The Ritz" (reissue 1993), "Anytime, Anywhere" (1995), "Swing Into Christmas" (1997), "Euphoria"( 1995), "Euphoria Live, Front Row Seat" (1998).
Gigs: December 19, Bijou Cafe, w/ Ray Hardiman; December 31, Aurora Colony Vineyards Tasting Room, Rebecca Hardiman & Friends; January: Fridays 6 to 8:30 pm, Langdon's Grill at the Langdon Farms Golf Club for "Dinner and Jazz" (January 16 - "January Jazz Explosion" featuring Tom Grant, Ron Steen, Dave Captein and Mike Winkle); January 17, Arrivederci's, w/ Ray Hardiman, Ron Steen and Dennis Caiazza.
Future Plans: Continue developing jazz opportunities down here. We want to expand the jazz around Wilsonville/Aurora. Also, I'd like to do another recording soon. The last recording was done in 2013, and I'd like to get something else out there. I'd also like to play out of town in Washington or California. I never know how why or when, somehow it just unfolds.
Other: The musicians like playing with me, they say I'm different to work with, easy to play with. I let the musicians do their own thing. I let them be themselves, and they let me be me.

-- by Rita Rega