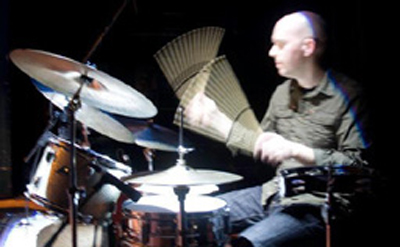 Name: Randy Rollofson
Instrument: Drums.
Early Years/Education: I started on snare drum in concert band when I was ten in Triangle Lake, Oregon, a small town about forty-five minutes outside Eugene. In the sixth grade, I got a real drum set. My dad played the trumpet and has a music education degree, so I got exposed to music around the house but not jazz. I didn't get into jazz until I went to South Eugene High School. There were a lot of really good players there like Tim Willcox, Ricky Swim and Toby Koenigsberg. Jason Palmer had just graduated. Jason was my first real drum set teacher; I studied with him for awhile in high school. Later, we were together in the percussion department at the U. of O. I was a freshman, he was a senior. Another great player there was Greg Goebel. We played all through high school and college. I learned from these guys. As a freshman, showing up at South Eugene High from a tiny little town was interesting. These guys were playing Charlie Parker solos in middle school. I showed up knowing nothing. Tim Willcox, who was this monster player, and I were in a combo after school. He showed me the ropes. He'd give me albums to check out. I'd listen and try and figure out what's going on and we'd play. In college, I studied with Chris Lee and then Gary Hobbs. I went to the University of Oregon music school and got a degree in jazz studies which was relatively new there at that time. After I graduated, I moved to Portland. That was 2002.
At the moment I'm not gigging very much. I went back to school part-time this fall to study computer science. I've been in Portland for 13 years, and this has been the hardest time for me to make a living as a musician. I'm hoping to pursue my other love (technology) and see if I can combine that with my love of music.
Although I'm not playing much, I teach drums at Lane Community College, work as a consultant for Yamaha, am producing a music project, writing arrangements for Trixy and the Nasties (a Motown/Soul band I play with) and have a big band project of my own that I work on. I'm also recording a trio CD with Mike Pardew and Dave Captein in a few weeks.
Writing computer code is surprisingly a lot like music, like reading a lead sheet. I was talking to the department head of computer science at PSU, and he said musicians do really well in computer science. Their brains are used to repetition, used to practicing things over and over; it's similar to taking repeats, jumping from different sections. It seems our brains are used to dealing with that kind of stuff. There's an opportunity to put your personal stamp on things too. There's different ways to do it, it's like an art. It would be cool to mix the two somehow, develop a music app or something.
Musical Influences: My main guy is Elvin Jones. I feel I understand his approach to the drums. After that I really got into Max Roach, Tony Williams, Jack DeJohnette and Roy Haynes.
Most Satisfying Experience: During my last year at the U of O, we went to the Reno Jazz Festival. I had worked on an arrangement of "Solar" for probably six months. At the festival, I won the outstanding drummer award and our band got to play the final concert. The director said, "We're going to play your arrangement of 'Solar.'" That was most satisfying.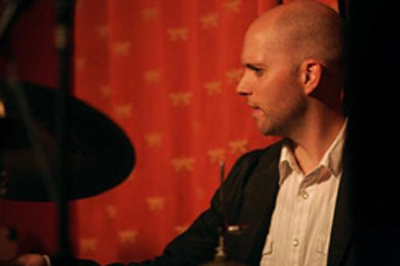 Another really satisfying experience was in 2002, when I went to the Banff International Jazz Workshop. That was the most inspiring three weeks — hanging with your idols and getting to play with other students from around the world. The directors were Kenny Werner and then Dave Douglas. The next year I got accepted to the Betty Carter Jazz Ahead program in Washington D.C. They chose four drummers from around the country. I got to play at the Kennedy Center. Nathan Davis, Winard Harper, John Clayton and Curtis Fuller were the teachers. That program was all about original composition. Everybody brought two original tunes, and you'd pick the players you wanted to play your music. I met a lot of amazing players.
Favorite Recordings: Steve Reich – "Tehillim"; John Coltrane –" A Love Supreme"; D'Angelo – "Voodoo"; Ahmad Jamal – "Live at the Pershing"; Kurt Rosenwinkel – "Heartcore"; Bach – "Art of the Fugue" (Glenn Gould); Wynton Marsalis – "Black Codes from the Underground"; Keith Jarrett – "Personal Mountains"; Sonny Rollins – "A Night at the Village Vanguard"; and Frank Sinatra – "Live at the Sands."
Discography: With Chris Mosley – "Outside Voices" (2007, Diatic); with PDXV – "Vol. 2" (2008 Heavywood Music); with Tim Willcox – "Sound Architecture" (2008 Diatic); with Ben Darwish – "I Don't Want to Live on the Moon" (2010 Ben Darwish Music); with Shannon Day – "Saioule" (Mynx Media LCC); with Kelsey Lindstrom – "The Old Way Home" (2014 Boost Frequency LLC); Go By Train – Transmission (2011 Go By Train Music); Echo Helstrom – "Paper Airplane" (2010 Echo Music), "Run With Me" (2011 Echo Music).
Gigs: April 2, Byno's in Vancouver with Trixy and the Nasties; June 11, Jazz Station in Eugene with the Lane Community College Faculty Combo.
Future Plans: I've been working on a big band project on and off for years. I just want to record my own big band music. I've got two pieces done already. I learned arranging at the U. of O. from Gary Versace, Steve Owen and Tim Clark. I want to put together my own group playing my own music. This is starting as a recording project but eventually I'd like to get gigs doing it. My goal is to get five or six completed songs and then record them. I've been a sideman for years, never really led my own group, so when I do lead my own group, I want it to be something special, something I've spent a lot of time on, to show what I've done my whole life, something meaningful to me.
Other: My parents maybe had a talk with me once about how difficult making a living doing music was going to be. That was a subject that never came up at the University of Oregon. I think their music department is different now. They are doing more to prepare students to make a living. Back then (1996 to 2001), there wasn't a lot of focus on that.

-- by Rita Rega