Musician on the Street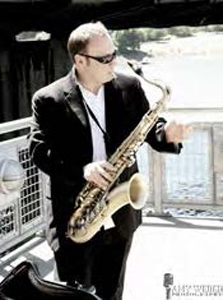 Pete Petersen
I'm fortunate to be able to travel a lot as a touring musician, performing in venues all across the United States, with great musicians from various other cities. Most musicians from other parts of the country have a very favorable opinion of Portland; the City of Roses has earned a good reputation nationally as a Jazz Town.
In my travels I have learned that every local music scene has some great players, and every great player has a local music scene that they're part of – but there aren't many local music scenes that have the depth of talented jazz players and jazz venues Portland does.
But even the most robust jazz scene cannot sustain itself without a community of listeners and fans. Even the greatest musicians won't find very much work without venues to perform in, and those venues can't keep their doors open without the regular patronage of people who are avid fans of the music. Individual musicians might gather a small following of fans on their own, but developing an audience base for jazz music in general is crucial to the continued existence of the overall scene; the Jazz Society of Oregon has done that and more.
The Jazz Society has been absolutely essential to building a community around the music we all love – and that community is part of what makes Portland such a wonderful place for musicians to live, work, and play.
---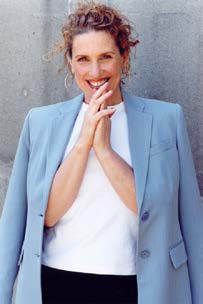 Mary Kadderly
I'm lucky. I play and sing jazz in my home state of Oregon, and I teach this wonderful music – in private lessons, in workshops with the inimitable Nancy King, and I'm on the faculty of the Portland Community College Cascade Professional Music Department.
Almost every Sunday, I sat in at jam sessions at either The Jazz Quarry or Remo's. That's how I got my jazz singing start – I sang with the band. At the Quarry, I met Eddie Weid, and at Remo's, Ron Steen. Eddie became my first piano teacher, and Ron gave me my first gig. Both of these superb musicians mentored me and brought me into the Portland jazz community.
The Jazz Society of Oregon is a vital part of that community, a great scene full of great players. This valuable, all-volunteer organization helps keep jazz music alive. I appreciate the support the JSO gives through sponsored events, scholarships, the Jazzscene Magazine and that fabulous JazzScene calendar. Thank you JSO! Our jazz community needs you.
And thank you Shelly Garrett, Jazzscene Calendar Coordinator extraordinaire, for your friendly monthly e-mails reminding me to send in my performance dates.
---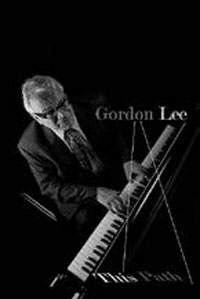 Gordon Lee
The JSO has had the most accurate calendar for more than three decades. So often the newspaper would print inaccurate information, but whatever was in the JSO was really what was happening. That's important -- because there's nothing worse than to think you're going to an event only to find that the information published was wrong. Plus, if you're trying to get people to your gig, the last thing you want is the printed information to be incorrect.
Having lived in New York and other cities, I feel the Pacific Northwest has an ideal lifestyle. It's not the best place to come to if you're trying to make a lot of money, but if you want to live a peaceful and supportive life where the things you value are important to others, like a beautiful and sustainable environment, then this is the place.
Artists want to live in a beautiful place like this. Sure there are artists and musicians who are just trying to push their careers, which is fine; but there's a deeper level if you're concerned about where you live. Personally, I think Portland is a paradise.
The JSO personifies a peaceful and supportive environment. It's a NW way of thinking. The survival of the world will be more dependent on people and organizations that think this way. I mean, look at how many people drive Prius cars in Portland! Oregonians think about this stuff, and I know other people in the world are not thinking about it at all. It's just one small indicator that there are a lot of people and artists who value this place and want to keep it beautiful too. The JSO is a big part of that long standing tradition.
---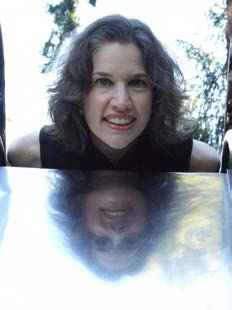 Carolyn Joyce
When I arrived in Portland from Chicago in 1994, the JSO newsletter served as my guide to the music scene in my adopted home town. The wealth of information in that publication confirmed that I had indeed landed well! Portland clearly sported a healthy jazz scene supported by an organization which tied it all together for both musicians and avid listeners. 
As a jazz vocalist, I was able to easily locate local jams, meet other musicians and be heard, thanks to the JSO newsletter. As a jazz fan, I quickly learned which local artists to seek out and where to go to listen to their live performances.
Over the years, I have appreciated feature articles about local musicians, concerts, festivals and special events in the area. The CD reviews helped guide me in selecting material for my personal collection, offering a trusted opinion. The focus on the work of local artists showed the organization's commitment to supporting Oregon-based jazz.
The JSO has helped me directly as an artist by listing my performances and offering a venue for reviewing my recorded work. When the JSO transitioned to an on-line format, I enjoyed writing several reviews for the "Club Scene" feature.
I am pleased to see the JSO change with the times, featuring our community's younger musicians, and shifting seamlessly to a web-based presence. A healthy jazz community such as ours needs the ongoing support of an entity such as the Jazz Society of Oregon!
---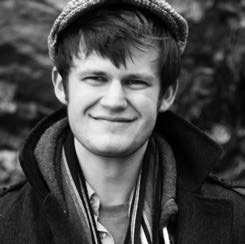 Matt Tabor
Like many others, I initially became aware of the Jazz Society of Oregon by way of it's comprehensive calendar cataloguing the wealth of great jazz performances available to us here in the Northwest. From the very start of my musical career, the JSO's calendar was my go-to source to find out about all of the great jazz going on in town. Then, in 2011, I had the great privilege of being the JSO's Featured Musician for the month of August.
More recently, I have learned about the other facets of the JSO, including their scholarship programs. Having been a jazz studies major at Portland State University, I can appreciate the financial challenges of pursuing a musical education and am glad to know that the JSO is providing help to those who need it.
Here in Portland, we are lucky to have a great, symbiotic relationship between the many world-class artists who call this place home and those who promote and support the wonderful scene here. The Jazz Society plays a crucial role in this relationship, and I am excited to see the many ways that it will cause our musical community to flourish in the future!
---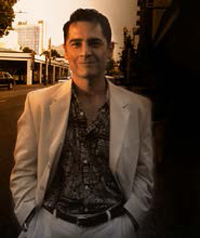 Tony Pacini
Back in the days of the JSO's First Jazz concert series, I played with my trio to open for headliners that included Bill Charlap and Kenny Barron. As a 20-year-old, those experiences afforded to me by the JSO helped me believe in my vision to be a full-time jazz musician. It put me center stage with the likes of Harry Allen (one of the great saxophonist of our day), with whom I've maintained a longtime musical friendship.
The JSO promotes the importance of jazz and plays an integral role in the jazz scene for the love and dedication to the art, not to profit from it, and that's beautiful.
Performers, radio hosts, educators, writers and, most importantly listeners, all contribute to jazz. Our role in the integrity, preservation and progression of jazz keeps Portland the "jazz oasis" that it is. The JSO is dedicated -- as I and many others are -- to serving the music. When we share our knowledge, love and enjoyment of the art form, we spread the joy. The JSO is the home in our "jazz oasis" where belief in jazz is revered.
Thank you, JSO.
---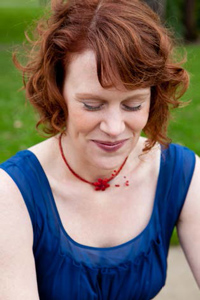 Bre Gregg
I have been singing all my life, but the majority of my professional career I've been a classical singer. Three years ago, I decided to take the leap into jazz and blues.
Since I grew up in a house full of blues musicians, it was an authentic choice for me. But sadly, I had no idea how to go about it! I remember going to my first Ron Steen jam and being so nervous that I was sure I was going to throw up.
After a while, I became more comfortable, but I still didn't know how to market my performances or get connected with the music community.
Thank goodness for the Jazz Society of Oregon. They've helped me get information out about my performances, and they've played a critical role in introducing me to great musicians to watch for and albums to listen to. For musicians just starting out, the JSO plays an important role in understanding the jazz scene. I've added a link to the JSO on my web-site. Thank you, JSO – you make a difference!
Visit www.MidnightHoney.com to check out my new band with singer Shelly Rudolph, Chance Hayden on guitar, Jeff Langston on bass, Paul Brainard on lap steel guitar, and Paul Ansotegui on drums.
---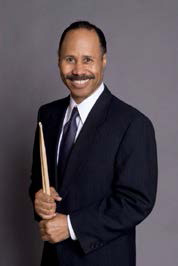 Ron Steen
We are so blessed to live in a jazz town like Portland. People here don't realize how unique it is for a musician to be able to play jazz seven days a week and play the music you want. Visiting musicians from other places tell me, "Club owners tell you what to play." In this town, you're artistically free. That's why you hear so many original compositions. It's not like that in other cities.
I talk to people from all over, like David Watson from Philadelphia, who tells me they don't have a Jazz Society in Philly or a 24-hour Jazz radio station. To have a Jazz Society dedicated to sponsoring jazz events, honoring those that contribute and providing scholarship money to needy individuals and schools is a blessing. I just found out that the JSO bought a drum set for Meadow View School in Eugene for their jazz band. Just one small example of what they do for the music community.
The calendar alone is invaluable. It's through the Jazzscene Calendar I find out what's going on around town. Not too long ago Jimmy Cobb was in town, Jimmy Cobb! He's the last one left from all the great cats he played with and I found out from the JazzScene.
Rob Shepps does the In Memoriam, I'm grateful for that too. To remember the jazz greats no longer with us makes you appreciate their contribution even more. It's so easy to take the JSO for granted. I would be deeply saddened if it were gone. I was honored several decades ago as a lifetime member and inducted into the Hall of Fame. The JSO means a lot to me -- that's why I put a link to it in my newsletter.
Drummer and JSO Hall of Fame member Ron Steen's newest Jam Session is at LV's Restaurant, 3530 N. Vancouver, Tuesdays, 8 to 12 pm. He also leads a jam session Sundays at Clyde's Prime Rib on NE Sandy Blvd. He has been leading jam sessions in Portland for more than 27 years.
---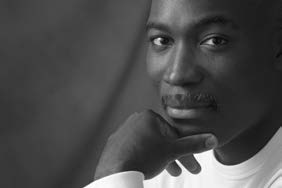 Darrell Grant
Back when I lived in NYC and would mention to friends that I was considering making the move to Portland, the response would generally be: "Portland, that's a jazz town from way back." I was curious about how this came to be. What makes a "jazz town?"
While there is still some mystery attached to the question, over the course of my now 16 years in Portland, I've come to better understand the complex ecology that shapes a thriving scene. Like all environments, there are many factors that come together to make it healthy, sustain it through droughts, floods, fires, and grow the next generation. Portland is blessed with an abundance of these. There are respected jazz elders who serve as mentors, examples and keepers of the tradition. There are many active, creative, working musicians, who perform, compose, educate and lead. There are the strong youth and college jazz education programs. There is a vibrant jazz radio station.
Over time I have come to appreciate something else that is crucial: a group of individuals committed to sustaining audience and community for the music. Portland is lucky to have the JSO to carry out this critical role. From their indispensable listings of jazz events, to the Hall of Fame and Musician of the Month awards that recognize the extraordinary talent in our community, to the events and gatherings that provide opportunities for people to share their love for the music, the JSO is an irreplaceable force in sustaining jazz in Portland. And like the other elements of the ecology, it needs to be stewarded, cared for and appreciated in order to continue to work.
In ecologies, we often don't recognize the sig­nificance of a resource until it's gone. I hope this is never the case in Portland, and that the next generation of musicians and audience can enjoy the benefits that the JSO provides. If so, then I have no doubt that Portland will remain a "jazz town."
Darrell Grant was awarded one of ten "Chamber Music America New Jazz Works" grants to compose and perform an extended work for nine musicians called "The Territory," which explores the connection between music and place.
---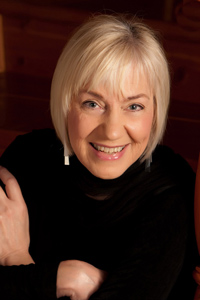 Rebecca Kilgore
Ever since I first moved to Oregon and became a professional musician, I always knew about the Jazz Society of Oregon. Back then I took it for granted as simply a convenient way to keep abreast of what was happening in the Portland jazz scene through their monthly calendar.
Since that time I've become aware of their sponsorship of musical events, scholarships, Hall of Fame (whose roster I joined in 2003), and recognition of local talent.
Jazz continues to change and evolve. Who knows what its future face will be? I worry that it will become extinct, or morph into something unrecognizable. But I foresee the JSO continuing to support and inform.
---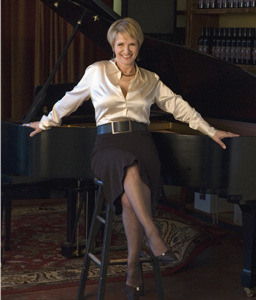 Mitzi Zilka
I've been a member of the JSO for many years and recently joined the Board to give back a little to this dedicated organization. The Jazzscene magazine keeps me abreast of what my fellow musicians are doing, where they're playing and what's happening in the world of jazz, I love that feature. I use it as my activities calendar to figure out what I want to do every week. Plus, I get to list my gigs for free. Heck, they even send an email reminding me to send my list.
Maybe what a lot of people don't know is that the JSO is not only The source for [news about] Jazz in Oregon, it also provides scholarships to individuals and schools who need assistance pursuing their jazz endeavors. They're doing their bit to keep our American music thriving. I appreciate what they do for me and my jazz peers so much that I added their link to my web page -- you might want to do that too!
---
... Support the Jazz Society. Become a member now.
---