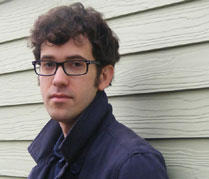 Name: Tyson Stubelek
Instrument: drums, all classical percussion (including timpani and marimba), and voice.
Early Years/Education: Grew up in Portland, parents are from the east coast. Dad was a drummer and sound engineer, Mom is a teacher. Early on Dad got me learning grooves. I do remember getting a first drum set at Christmas. It was a kids' set, and I was very young, age three. Dad was really into rock, but at some point he got exposed to fusion music, which led to Tony Williams' Lifetime band, which led to Miles. Growing up, I was definitely exposed to jazz.
By the time I entered middle school, I was in all the youth symphonies, like the Metropolitan Youth Symphony and the Portland Youth Philharmonic. I remember one time, my dad was driving me to school and I heard Coltrane's "My Favorite Things," by the classic quartet. That was the first time I remember being like, "Whoa!" It was all jazz after that. Doing the drum set was my main priority, but I continued with the classical stuff. Not long after that, around twelve years old, I started studying with Alan Jones.
I got involved at Portland State University really early, around age 16. I graduated from high school a year early and started over there after school. I had lessons with Alan Jones, hung around and practiced, sat in on his combos, and also walked in the arboretum a lot. There's something about being around Alan Jones that makes you want to practice a lot and walk in the woods. I also had lessons with Mel Brown at Allegro. I had a lot of exposure to the music.
I became consciously aware I was going to be a musician in middle school. It seems I was in school all the time. I have a B.M. in Music, a B.S. in Communications, and a B.S. in Art and Letters, all from PSU. For graduate school, I went to the New England Conservatory and hold a Masters in Music from them. I wanted to stay longer and continue to study with Danilo Perez, so I also got a Graduate Diploma from NEC as well. Bob Moses, Billy Hart, Jerry Leake and Ran Blake were some of the other professors I studied with at NEC.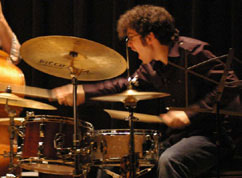 Leaving Portland: ... having spent the last eight years on the east coast [made me] … more nostalgic for it. New York is very difficult, and [after] experiencing it, I could not see myself there beyond my thirties. Quality of life and maintaining a relationship is important to me. The jam sessions start at two am and are over at dawn. None of the gigs pay very well, either. You're there to meet the people who you'll hopefully make money with elsewhere.
For me, most of those contacts were the result of attending the Banff Center Program in 2009. Andrew Oliver and I have known each other since elementary school, and formed a group while we both attended the Banff Jazz Workshop called Tunnel Six. It's composed of three Canadians and three Americans. Thanks to the touring schedule of Tunnel Six, I get to return to Banff every year.
Singing: I also sing. Vocal music resonates with me. It's a great way to plug into what the composer intended by the harmony [when you] understand the lyrics. It's a not-so-secret secret that every legendary drummer could sing well ... Tony Williams, Elvin Jones, Roy Haynes, Brian Blade, etc.
When I was 12 years old, Alan Jones asked me to learn a song and sing it for next class. He went out into the hallway and found the prettiest girl he could find and had me sing it to her.
Musical Influences: Elvin Jones, Tony Williams, Roy Haynes, Paul Motian, Jon Christensen, Brian Blade, Bill Stewart, Jeff Ballard and Keith Jarrett.
Most Satisfying Experience: Certainly having the experience of touring all across Canada is a high point. Getting to play Darrell Grant's "The Territory" is a life's achievement for me. Playing in a trio with Danilo Perez in a classroom setting. The way he plays is so clear in where it's leading you. You feel you have no control over what you're playing, and it just happens. You think, "Of course, how could it have been anything else?" That's a rare feeling.
Favorite Recordings: Coltrane - Transition; Miles - Nefertiti; Jazz Messengers - Free For All; Wayne Shorter - Footprints, Live, Without a Net; Chris Potter - Gratitude; Keith Jarrett - Belonging, Personal Mountain; Billie Holiday - Lady in Satin; Paul Motian - I Have the Room Above Her; Chet Baker - But Not For Me; Brad Meldau - House On Hill, Where do you Start.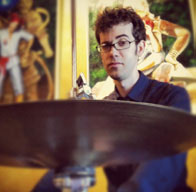 Discography: Tunnel Six: Lake Superior, Alive; Andrew Oliver Trio: NW Continuum; Dan Bennett: Clock Head Goes to Camp; Mark Zaleski Band.
Gigs: Portland Jazz Festival, in Darrell Grant's ensemble for "The Territory," Friday, February 21, 9:30 pm, Winningstad Theatre. Darrell is another mentor of mine, we met when I was 15. I love chamber jazz music, too. You never get to do it, [however,] because they're so difficult to organize and few have the budget to do it. It takes a special person like Darrell to pull it off.
Future Plans: I've really only been back in Portland for four months and am playing currently with Devin Phillips, David Valdez, and hope to form a group with Dan Duval and Tom Barber. I am now teaching over at Portland Youth Jazz Orchestra and at the Alan Jones Academy of Music, which is currently expanding it's program.
Other: It's kind of cool coming back home now and seeing how the Portland lineage has developed. My musical "soul mate," Andrew Oliver, and I met as little kids at the Chamber Music Society of Oregon music camp — the same "Chamber Music Society" that Esperanza Spalding named a record after. And she was there too.

-- by Rita Rega