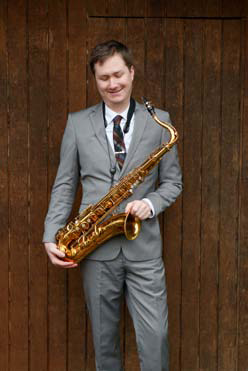 Name: Joe Manis
Instrument: tenor saxophone (also sopranino, soprano, C-melody and baritone saxes as well as piccolo, flute and clarinet.)
Early Years/Education: I grew up in Dexter, Oregon, which is very rural with a small high school that had a 90-person graduating class. Took piano lessons when I was little but didn't practice. We had a piano at home. The fifth grade was when band started. My dad still had his clarinet from when he grew up, so I started on clarinet. He wasn't a musician but a music appreciator. There was always music around the house and the shop, so I'd heard a lot of music growing up. Once I started band, he started taking me to jazz concerts around Eugene (30 minutes from Dexter). He'd occasionally bring me up to Portland to go to the Mt. Hood Festival of Jazz. Part way through fifth grade, I switched to saxophone.
It was around this time that I decided music was what I wanted to do. I got the idea watching Jay Leno and the Tonight Show Band with Branford Marsalis and Jeff "Tain" Watts. My parents had a satellite dish, so we'd watch it three hours earlier than network TV. Seeing those guys on The Tonight Show having so much fun, it seemed ideal. I thought if you could do that, why wouldn't you do that?
My high school was really small, but it had a strong jazz program. Pleasant Hill High School even had it's own jazz festival. They had two full jazz bands, and there were more people who wanted to be in the jazz band than they had spaces for — kind of unusual for such a small school. My first private saxophone teacher was the high school band director, Mike Wiggins. He was always looking ahead to his future needs in these jazz bands, so he switched me to tenor. I played in the all-state jazz bands my junior and senior years of high school.
Eventually, I started studying with Carl Woideck, who lives in Eugene and probably taught every sax player to come out of Eugene. Carl was a good teacher for me. He stressed the history of the music and got me into transcribing solos. He was a big influence.
After high school, I went to the University of Oregon, since I already knew the guys there. I'd been gigging around Eugene since age 16. I was also in a group made up of kids from South Eugene High School who I had met at the U. of O. jazz camps. We went to the Reno Jazz Festival together. It was at the jazz camps that I met drummer Kevin Congleton, who is on my CDs. He was 14 at the time, and I was 16.
At the U. of O., I was a jazz studies major. When I graduated, I went to the Eastman School of Music in Rochester, New York, to get a Masters of Music. I was there from August until December and decided to transfer to the New England Conservatory in Boston. Saxophonists Jerry Bergonzi and George Garzone were my teachers there. I lived in Boston for two and a half years, got my Masters, and moved back to Eugene just as the economy tanked.
Bands: I've had my own trio since 2001, and have just released an organ trio album featuring George Colligan on organ and my close friend Kevin Congleton on drums. I'm in a big band called the Emerald City Jazz Kings, I play in bassist Mike Waissman's trio (sax, bass and drums), and I spent six and a half years with the Cherry Poppin' Daddies, whom I toured world-wide and recorded with. I continue to do orchestra work at the Hult Center and, academically, I teach jazz and rock history at Umpqua Community College in Roseberg, where I'm a faculty member.
Musical Influences: Saxophonists: Sonny Rollins, John Coltrane, Joe Henderson, Wayne Shorter, Warne Marsh, Dave Leibman, Steve Grossman, Joe Lovano, Chris Speed, and my teachers — Jerry Bergonzi, and George Garzone. Non-saxophonists: Thelonious Monk, McCoy Tyner, Elvin Jones, Miles Davis, Chick Corea, Tony Williams, Freddie Hubbard, Lennie Tristano, Roy Haynes, Booker Little, Kevin Congleton and George Colligan.
Most Satisfying Experience: This new recording; it turned out really well. It was nice to play with a close friend (Kevin Congleton) and connect with Colligan and get picked up by SteepleChase. I own quite a few SteepleChase albums from high school and college.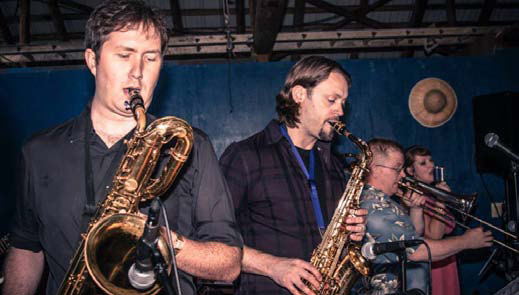 A lot of my teachers are on this label. If you look at their catalog, it seems like everybody has been on this label at one time or another. Just the fact that the first person they ever recorded was Dexter Gordon!
Another highlight was last October, when I played at Carnegie Hall with singer/songwriter Thomas Mapfumo from Zimbabwe. He's exiled from his country because his music is political and lives in Eugene. I've been playing with him on and off since 2003. We had one rehearsal and played with no set list. That was exciting.
Favorite Recordings: John Coltrane - "Coltrane" (the one on Impulse!, but the Prestige one is great too); Wayne Shorter - "Speak No Evil"; Sonny Rollins - "Way Out West" (the first album I ever bought); McCoy Tyner - "The Real McCoy"; Chick Corea - "Now He Sings, Now He Sobs"; Eric Dolphy - "Out To Lunch"; Joe Henderson - "In 'N Out"; Miles Davi - "Miles Smiles"; Elvin Jones - "Live at the Lighthouse" (Vol. 1 & 2); Larry Young - "Unity"; Thelonious Monk - "Brilliant Corners"; and Branford Marsalis - "Trio Jeepy."
Discography: "Evidence" (2009, 8 Bells) w/Dave Captein and Kevin Congleton; "North By Northwest" (2013, Steeple- Chase) w/George Colligan and Kevin Congleton. Also with Thomas Mapfumo - "Rise Up!" (Real World), and the Cherry Poppin' Daddies - "Susquehanna," "Skaboy JFK" and "White Teeth, Black Thoughts."
Gigs: The Sapphire Hotel (Portland) w/Mike Waissman Trio, October 6 and November 24; w/the Emerald City Jazz Kings — The Shedd (Eugene), October 10; LaSells Stewart Center (Corvallis), October 11; The Shedd (Eugene), October 13 (1:30 pm); and Florence Events Center (Florence), October 19 (1:00 – 3:30 pm); The Shedd (Portland) Presents Joe Manis and Siri Vik play John Coltrane and Johnny Hartman and Ballads, March 13.
Future Plans: Doing what I'm doing now, but hopefully better and at a higher level. I want to write more original material, do another recording, keep developing as a teacher and continuing to play with new people in new settings. I like playing with guys I find really inspiring. And continuing to be a dad and husband.
Other: I've always liked more aggressive jazz. So it made perfect sense for me to study with George Garzone. The first time I saw him in Boston, I was walking down the street and I came around the corner and heard this sound. I just didn't know what I was hearing. As I got closer to the venue, I realized it was him! His sound is huge. It was kind of a realization for me. That's what changed me — going to the East Coast and hearing guys like him on a regular basis. It was a "duh" moment, realizing the sound is what people hear. It doesn't matter what kind of cool stuff you're playing, if the sound is not good, it's not good.

-- by Rita Rega