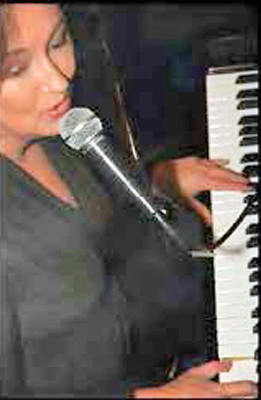 Name:: Cheryl Hodge
Instrument: voice and piano
Early Years/Education: I was born in Pasadena, California. My family kept moving north and we ended up in Oroville, California, which is where I went to high school. My sister and I sang harmony and my mother played the ukulele, but for the most part my family was non-musical. Had my first gig at 16; it was a lounge gig. At age 19 I joined a rock band called "Pride and Joy," that was my first commitment. After I left the rock band I went to Europe in my twenties, busking and playing folk in clubs all over northern Europe. Went to Europe on a one-way ticket, a guitar and no money. On my own, I found it pretty easy to make a living playing folk and blues. Played in England, Holland, Belgium, Germany, etc. After I went to a few countries, they said, 'Can you come back in a month?' so I had a circle going.
While I was touring over there I hooked up with a composer/ electric violinist named Mike Levine (who later made a fortune on the Kit Kat theme), and the two of us decided to tour together. He had just graduated from Berklee College of Music in Boston, where he'd received the composer's award. So he talked me into going to Berklee. I went there mostly on scholarships and grants. I was there for four years and graduated with a degree in traditional (classical) composition with voice as my instrument.
After graduation, they asked me to teach. That was in 1981. I taught at Berklee for nine years, teaching voice and sight reading. In Boston I was known as a jazz singer, having sung with the Bo Winiker Big Band for ten years.
Actually, my first real break in jazz was when I sat in with 70-year-old drummer Bunny Smith at a famous club in Boston called the "1369 Jazz Club." I had never thought about being a full time jazz singer, but they asked me to be their house singer. Bunny fused together jazz and blues so beautifully -- it formed who I am. It gave me a place to go musically I hadn't thought of. The whole time my love was songwriting, that was my thing, I also had a rock band called "The Editors" that came close to being signed by Atlantic records.
Canada: After Berklee I almost moved to Manhattan. I had been singing commercials for three years and was told I could expect more work, but at the same time I was offered a job to be the head of the vocal department at a college in Canada. I went up there and fell in love with it. So I headed up the vocal and song writing department at Selkirk College in Nelson, British Columbia, a Berklee affiliate. They flooded me with courses, so I also taught composition, business and music, etc. I actually taught eight college courses for 21 years.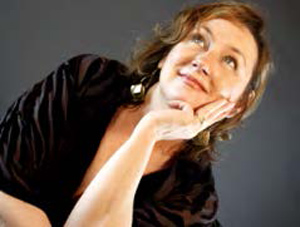 The beauty of that job was, I got four months off so I could tour and perform, which I did. I'd come to Portland and perform quite a bit with John Stowell. I met John in '98 at the Moscow, Idaho jazz festival. I was booking clinicians and wanted to bring John up to Nelson, B.C. to inspire the guitar students. Anyhow, we hit it off musically in a big way. We'd play at Jazz de Opus and started co-writing. This was a new thing for me; I'd never had the chance to work with a master musician in jazz before. I'd played with them, but never had a mentor like John.
Currently, the Cheryl Hodge Group is number one on Reverbnation's Portland chart. We're number 42 on the national chart and 52 on the world chart. Reverbnation (www.reverbnation) is an engine that connects fans to musicians and musicians to musicians. It's the Facebook for musicians. Their chart has to do with how many people go to your site, how many go to your gigs, how visible you are. It's a combination of all three, it's the top musician site right now.
Musical Influences: Betty Carter, Ella Fitzgerald, Andy Bey (he brings his knowledge of gospel and blues into his jazz singing), Nancy King, Billy Holiday, Bill Evans, McCoy Tyner, Keith Jarrett, Chick Corea, Herbie Hancock, and Ernestine Anderson, to name a few.
Most Satisfying Experience: Two musical high points -- the first time I jammed with guitarist John Stowell.; the first time I sang "Joy Spring" with him. Second, when I shared a stage with guitarist Mike Stern. Both happened in Nelson, B.C. at Selkirk College. I got to hang out with Mike Stern for three days and wrote words to one of his songs. It was like a full circle experience, since I'd first met Mike at Berklee and worshiped him when I was much younger, and then got to perform with him. This really meant a lot to me musically.
Professionally, what always will stick out for me was when I worked on the 1990 The Raindogs' album, "Lost Souls" with Pete Henderson, who produced The Beatles. It was the 1990 album of the year for Atco records. Rolling Stone put it in the top 50 "greatest produced" albums list published in 2000. I did the background vocals. Mark Cutler was the lead singer-songwriter.
Favorite Recordings: Viva Brazil (Tania Maria); Kind Of Blue (Miles Davis Sextet); Gaucho (Steely Dan); Simple Pleasures (Bobby McFerrin); John Coltrane & Johnny Hartman; Intuition (Bill Evans & Eddie Gomez); You Won't Forget Me (Shirley Horn); Virtuoso Duets (Christopher Parkening & David Brandon); For the Roses (Joni Mitchell); New York Rock & Soul Revue (w/Donald Fagen, Phoebe Snow, Michael McDonald, etc.).
Discography: Tonight I'm Wearing Basic Black (1989), I'm Not Scared - The Raindogs (1990), Strings, Necks & Chords (1997), Live and Alive (1998), Original Article (2006), Heres Or Theres (with John Stowell - (2007), Indigo (*song Indigo nominated for Best Jazz Song in 2010 by the Hollywood Music In Media Awards - (2008), Souvenir (2009), Roots Don't Lie (*song "That's Why I'm Here" nominated for Best Blues song in 2011 also by H.M.M.A. - (2010).
Gigs: July 25, 7:30-10:30 pm, Ivories Jazz Lounge with pianist Tom Grant; second half of the evening features Tom w/ vocalist, Robert Moore. August 23, 8:00-11pm, Ivories Jazz Lounge with her quartet.
Future Plans: Seven or eight month ago the creative bug came back. I decided to go into the studio with my boys: Charlie Doggett on drums, Dave Captein on bass, John Stowell on guitar, myself on piano. I'm hoping for an October release. It's yet untitled, but I've written songs about saving the planet ("Tree People") and saving our own human spirit ("Blessed Be The Day"). I've been nominated a few times for best song at the Hollywood Music in Media Awards and they're waiting for my next thing.
On scat singing: I learned a lot about scat singing at Berklee my first year. It does involve learning scales to a point. It's more about getting inside the harmony of the chord that you're on at the moment and where that chord is going. It's hard to explain, but you create these things called "guide tone lines," and you do a study of the song, harmonically. Surprisingly, the very last thing they teach you is to scat syllables.
Other: I'm really disappointed in the Seattle jazz scene ... people are not going out for jazz, and there's a lack of gigs. I expected so much more from Seattle; it's a big city. Vancouver is pathetic -- there's The Cellar, and attendance is usually very low during the week but better on the weekends. They do have good festivals, though. Portland is much better. There's lots more clubs like Wilf's, Jimmy Mak's, and now Ivories, which is everything that a real jazz club should be.

-- by Rita Rega