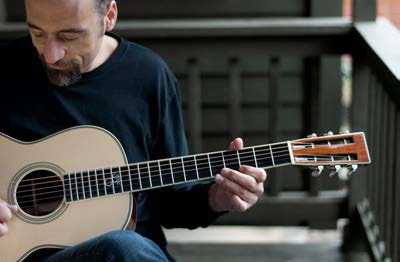 Name: Eric Skye
Instrument: guitar
Early Years/Education: When I was seven, my grandmother gave me and my sister guitars. My sister was 10 years older, and hers was an actual classical guitar, which I quickly took over. I soon became a selftaught noodle-er. I then started listening to her music and to artists like Neal Young. That got me into records.
Then my sister started dating guitar players. There was this nerdy guy who played guitar pretty well who was into the blues. He showed me stuff left and right. I learned a whole Chuck Berry lick, which I practiced for hours. The next one she dated was a serious classical guitar guy. A terrible teacher, he tried to teach me how to read music. I had just learned all these blues licks, and now he's trying to teach me how to read music, shape my fingernails and sit up straight.
I got my first guitar teacher when we relocated from Pennsylvania to the Silicon Valley in 1980. My father wasn't very supportive -- he said he'd only pay if I took classical guitar lessons. So at age 13, I started cleaning fish tanks in dental offices to earn enough money to pay for my second lesson a week learning rock and jazz.
My mother was super supportive. I'd play in nasty blues bars in the Tenderloin in San Francisco, and I'd look out in the audience and see all these bikers and then I'd see my mom. She'd driven more than 50 miles to see me -- she loved it.
Portland: Spent all of the '90s in San Francisco, and around 2001 moved up here to Portland. We wanted a more family friendly place for our children. After the move, I got re-focused on solo acoustic guitar and/or acoustic music in general. It's more conducive to being a family man. It's not unusual for me to walk my kids to school on a Friday, hop a flight back East for a Saturday night gig and return in time to walk my kids to school on Monday. I must have had 35 flights this year for gigs. When I return home, I really appreciate Portland.
Santa Cruz Guitar Company: I'm fortunate to be in the position that a major guitar company issued a signature model guitar for me which I co-designed. It debuted about a year and a half ago at the NAMM show in Los Angeles. It's a vintage style, small-bodied steel string guitar from the Civil War era. Because I play steel string, I'm more accepted in the folk world, more than other jazz artists. I just got back from doing a jazz guitar workshop in Oklahoma for grad students, I do Guitar Society gigs for the classical guys, and for my folk alliances I mostly do house concerts.
House Concerts: House concerts are more of a common thing in the folk world than in the jazz world by far. These concerts are put on by people who range from just being a fan to others who have built stages and lighting in their homes. You can hear a pin drop, it's a very quiet audience.
And the music changes dramatically. What starts to really matter is what you can hear in the lower twenty percent of what we normally hear ... like string squeaks. That's what really brings it to life and makes it a visceral experience. I deliberately go after these kinds of listening experiences. The house concert scene is really great, I probably do about 10 of these a year.
Musical Influences: McCoy Tyner, Bill Evans, Ahmad Jamal -- I listen to more piano than guitar. Ralph Towner, Bill Frisell. And I'm a closeted blue grasser: I like Tony Rice, David Grier. On my latest CD, you can hear blue grass licks; I like Chris Thiele, Edgar Meyer, Bella Fleck; I'm interested in people who straddle both worlds. I [also] love the bluesy jazz guys like Grant Green, Kenny Burrell, Joe Pass and Wes Montgomery.
Most Satisfying Experience: With my newest album, "A Different Kind of Blue," I feel this is the first time it captured me playing like it doesn't matter when it did. In the past I've struggled with capturing [on a recording] what I can do in my living room.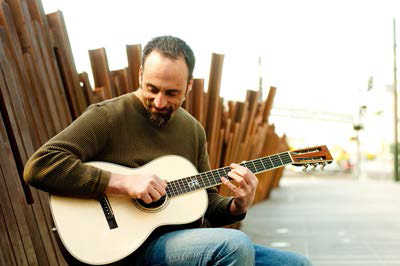 Also,very recently I became an artist endorser for the D'Addario String Company. They are far and away the biggest name in instrument strings.
There have also been some great headlining performances this year, like at Yoshi's in San Francisco, the Healdsburg Guitar Festival in Santa Rosa, Alberta Rose Theater in Portland, and last weekend at The Freight and Salvage in Berkeley, CA.
Other really satisfying experiences include getting featured at the NAMM show in Los Angeles and Nashville; getting a spread in Guitar Player magazine; and being interviewed by Fretboard Journal, The Guitar Note, The Guitar Show, The Guitar Bench and others.
Favorite Recordings: Ralph Towner - "Anthem"; McCoy Tyner - "Guitars"; Glenn Gould - "The Goldberg Variations"; Led Zeppelin -"Physical Graffiti"; Kenny Burrell - "Midnight Blue"; Bill Frisell -"Floratone"; David Grisman and Tony Rice - "Tone Poems"; Miles Davis - "Kind of Blue"; The Rolling Stones - "Exile on Main Street"; Bill Evans and Jill Hall - "Undercurrent"; Alex De Grassi - "Slow Circle"; The JB's - "Pass the Peas"; David Grier - "Live at the Linda"; Bela Fleck and Edgar Meyer - "Music for Two"; and Ahmad Jamal -"Live In Paris."
Discography: "A Different Kind of Blue" (July, 2012) -- a solo acoustic guitar re-imagining of the 1959 Miles Davis "Kind of Blue." Acoustic Groove Trio, "Slow Moving Dog" (2010) -- combining acoustic guitar with drummer Bruce Robertson and bassist Brian Casey on 10 originals.
Gigs: Saturday, November 10 - house concert in Beaverton in a trio setting with Carlton Jackson, drums, and Dan Schulte on bass. Email david@nashfamily.net for reservations. Saturday, November 17 - CD release for "A Different Kind of Blue" at Tabor Space, 5441 SE Belmont. Every Saturday (when I'm not on the road) - a low-key, solo, all-acoustic, open rehearsal at the Flying Cat Coffee, on SE Division St., 10 am to noon.
Future Plans: I'm determined to do more national touring. I've decided I'm comfortable with travel, comfortable with performing; people seem to like it, more and more people are coming out to see the shows.
Personally, I don't think there's much of a future for any of us in the selling of recorded music except for all but the very few. There will always be a premium on performance. Possibly even more so in the future, as the on-line world takes over more and more of our conscientiousness. There may be a premium for having an actual experience. Also, I hope to find a manager and hopefully make more in-roads in Portland, my hometown.
Other: I teach two days a week in Portland. As a teacher, I tell my students to first find your voice, that's the biggest piece of advice. People are so concerned about being a technically great musician. First find your own voice. As a listener, the fundamental way you perceive music is the way it feels. So secondly, can you groove or not? Do you have great tone? Do you have something to say? Are you just playing, or are you going from A to B?

-- by Rita Rega