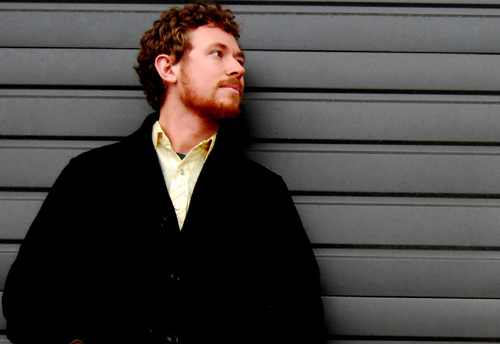 Name: Galen Clark
Instrument: piano
Early Years/Education: I'm from Western Massachusetts and mostly grew up in a town called Great Barrington in the southwest corner of the state. From the age of five to eleven, we lived on Martha's Vineyard. I definitely grew up in a musical household. My Dad was an architect, but he was also a jazz pianist. In his twenties, he did a lot of gigging, and when I was growing up he was still playing. He was constantly listening to Bill Evans, Monk, lots of great music. I was really young, but it had an influence for sure. I was one of four kids, and everybody plays. Both my sisters are artists. My first gigs were in high school when my school hired me to play events, like the headmaster's private parties or alumni events. I went to Berkshire High School in Western Massachusetts, a private school. They did have a jazz band but didn't put any effort into the arts. I studied music privately, started off like everyone else on classical pieces but at thirteen started taking jazz piano. Always wanted to take jazz and tried to teach myself; I'd grab Dad's Monk book and try and play it.
Portland: I came to Portland to go to Lewis and Clark College. I had visited at age 17 to look at the school and was impressed with the grandeur of the West. At Lewis and Clark, I studied composition with Forrest Pierce and jazz piano with Randy Porter. It was where I met drummer Jesse Brooke, and together we started Trio Subtonic. It was Randy Porter who recommended bassist Bill Athens to us. Within months of meeting Bill we were in the studio. In 2005 Jesse and I traveled to Brazil. It was an amazing experience. Both of us were on a mission to study and absorb it all. Music is so important in Brazil. They're bigger consumers of good music than we are. Everybody plays and sings; it's part of the culture, a bigger part than other places.
Trio Subtonic: The sound of Trio Subtonic is in the same vein as John Scofield, Medesky, Martin and Wood, and the Bad Plus. Their music is taking a rock and funk aesthetic and bringing it to jazz, making it like groove music. We like the idea of bridging audiences, maybe pulling a younger dance audience in as well as people who appreciate high art. I'm also in a duo with opera singer Hannah Penn. We do the music of Nina Simone, Edith Piaf, etc.
Ethos Music Center: I teach music to any age student. You learn so much about music when you sit down to teach. When you're teaching a six-year-old and have to break it down to the simplest concepts, it's really difficult, especially when you've been studying for years. I just slowly figured out what works and what kids grasp. I find out what my student is really into. I like teaching jazz because you can teach theory, it's more interesting, more advanced. I have plenty of beginning students, and in some ways it's more challenging to teach beginners.
Musical Influences: Bill Evans, The Beatles, John Coltrane, Miles Davis, Monk, Jimi Hendrix, Keith Jarrett, Buena Vista Social Club, Antonio Carlos Jobim, Medeski, Martin and Wood, John Scofield, Tom Waits, Radiohead, Nina Simone, Ray Charles and Hermeto Pascoal. John Medeski is a family friend. His band was a huge influence on me in high school.
Most Satisfying Experience: I just got back from five weeks in Budapest. I took time off from everything and rented a piano over there and stayed with a friend. I worked on music six to eight hours a day, I wanted to have a sabbatical and take the time to write and practice. I got totally inspired. What I did was finish a commission from my uncle, who is a classical pianist in Washington D.C. He asked me to write a piece for him and a violinist. They wanted something jazz influenced. The piece is called "Faedo." It will premier in Washington on July 1. Another satisfying thing was getting to arrange one of my pieces for the Portland Composers Ensemble and getting to hear it live. Andrew Oliver asked me to arrange something for the 14-piece ensemble, so I used my new piece, "Faedo." It debuted here lin May, and it was well received. Having the opportunity to write something sort of epic felt out of my comfort zone at first, and writing for the Portland Composers Ensemble ... who gets to write for a 14-piece band?
Favorite Recordings: Brad Mehldau: "Live in Tokyo"; Jimi Hendrix: "Axis Bold As Love"; John Scofield: "A Go Go"; Marisa Monte: "Meu Universo e um Redor"; Medeski, Martin and Wood: "End of the World Party"; Abdullah Ibrahim: "Cape Town Revisited"; Bill Evans: "Waltz for Debbie"; Keith Jarrett: "Whisper Not"; The Beatles: "Abbey Road"; and Radiohead: "In Rainbows."
Discography: Trio Subtonic has three CDs out. 2007 - "The Aqueous"; 2009 - "Cave Dweller"; and 2012 - "I'll Meet You There Tomorrow."
Gigs: We're about to go on tour to Norristown, PA (6/1); Great Barrington, MA (6/2); Burlington, VT (6/3 and 6/4); Martha's Vineyard, MA (6/5); Portland at The Goodfoot (6/13); and Bellevue, WA at Bake's Place (7/25).
Future Plans: Besides the East Coast tour, we're doing some West Coast stuff this summer. Also plan on doing an all-acoustic Trio Subtonic recording; want to record with Hannah Penn (opera singer); and the big goal is to get Trio Subtonic to Europe. I'm also writing tons of music and getting material ready for a new CD.
Other: Now, I feel I'm more connected to more people the longer I stay here. It's kind of generational -- there's all these musicians I'm friends with. We all started in the clubs at the same time. Who do I call to play a double bill with us? It's my friends, like Andrew Oliver, The Blue Cranes, etc.
Interviewers note: What fascinates me about jazz is, each generation has something new to contribute to the art form. Bottom line, that's what keeps me listening.

-- by Rita Rega