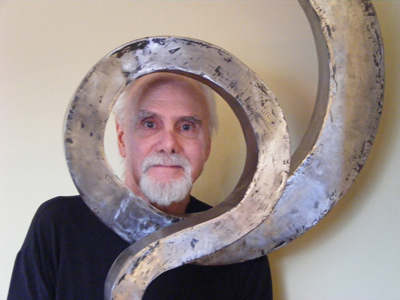 Name: Art Resnick
Instrument: piano/composer
Early Years/Education: Grew up in Minneapolis with my mother who had no musical talent whatsoever. On my father's side, his sister was a classical pianist, but I never saw her play. One of the earliest things I can remember was my mother taking me down the block to a woman who gave me piano lessons, but we didn't have a piano. I could have been eight or nine years old. That didn't last long. During a later period we must have had a piano, because I took lessons from a guy who had his own method or style of playing popular standards. That's probably the basis of my jazz harmonic knowledge. I also had a friend in high school who was a classical prodigy. He played with the Minneapolis Symphony when he was very young. He could also play jazz; he was a monstrous pianist named Sanford Margolis. He teaches at Oberlin now.
In high school, I do remember getting my own piano. I didn't know anything about jazz but got involved in an R&B band. When I was a senior, I remember hanging out with a friend at her house and she put on an album of Coltrane's Blues and I was blown away, I fell in love with it. I had heard about Ramsey Lewis and Ahmad Jamal. My uncle was the manager of Basin Street East in New York, which is where Jamal played, and he had an autographed copy of an Ahmad Jamal LP. I started taking piano lessons from my friend Sanford Margolis when I was 21.
I guess I had always done my own style of improvising; I kind of grew into it. The only reason I'm a pianist is because -- who else would play an unknown's music? I was much more into composition of jazz at that time, and I was into experimental music also. I had one foot in classical and half of that foot in experimental classical music; the other foot was in jazz. I've always been ping-ponging back and forth between the two.
New York: I left my hometown and moved to New York with a sax player friend of mine, Bob Rockwell. I was there for five years. In New York I was very busy. I went there to learn and get to the next level of playing. I learned faster in New York than anyplace else. You could go to Bradley's and see the duo of Jimmy Rouser and Ray Bryant. You could sit right there and feel how they swung; I didn't even miss the drummer, they'd cook so hard! Bob and I wound up playing with bassist Rufus Reid and drummer Victor Lewis. (We knew Lewis from Minneapolis.) We called the group "Expedition," because of an Alaska tour we did funded by the National Endowment for the Arts and Arts Alaska. Working with Rufus Reid, I was able to play most of the major clubs in New York.
I left New York to assume a six night a week jazz trio gig in San Diego and teach at San Diego State University. While there I was able to play with many prominent LA musicians who'd come down for gigs. During this time, I decided to complete my degree and study piano with Karen Follingstad from the classical department, eventually getting a BA in Piano Performance.
Portland: I played with Alan Jones in Europe, and he encouraged me to hang out in Portland. So I came for a visit and decided to move from Paris to Portland in 1990. When I first came here, there was a lot of jazz going on ... lots of clubs, jam sessions, etc. At first I was working and doing gigs. My first quartet here included Rob Thomas on violin, Dave Captein on bass and Carlton Jackson on drums.
Classical Composer: I've always loved classical music; way back in Minneapolis I was fooling around with experimental music. My writing had a lot of improvising in it, but it was not jazz-based. I've always listened to classical music, and it's the only thing I've studied, I've never studied jazz (formally) outside of listening. I'm a member of the Cascadia Composers, which is a regional chapter of a national association of composers. I get more play as a classical composer now than I get gigs as a jazz pianist.
Currently, I'm writing a ballet in collaboration with (dancer) Luciana Proano. It's a modern dance piece called "Tsunami." This is exciting for me; I've never written for dance before. I'm also submitting a few classical piano pieces for the next Cascadia Composers concert. Everything I write is influenced by my personal life, which is as a jazz pianist. I have a box of fragments of jazz tunes I wrote years ago that I can expand into a modern classical pieces. In addition to music, I also make metal sculptures. About eight years ago I became interested in it and took a welding course at Mt. Hood Community College and another class specific to aluminum welding. The sculptures represent my mentors: Miles Davis, John Coltrane, Ahmad Jamal, etc. There's a large Beethoven sculpture in the garden. Photography is another one of my passions.
Musical Influences: Ahmad Jamal, Bill Evans, John Coltrane, Herbie Hancock, Wayne Shorter and Wynton Kelly, to name a few.
Most Satisfying Experience: One was playing with "Expedition," that's the best band I've ever been part of. The other has to be my concert this past November for Cascadia Composers. For the past twenty years it was the highest peak I've reached, a real milestone for me. It was a benefit for them, where the first set was my chamber music played by various classical musicians. I ended the set with something called "Jazz Sonata For Soprano Sax and Piano," with Blake Lyman on soprano sax and myself on piano; it was structured like a classical piece but there's improvising in it. The second half was my jazz trio with myself on piano, Dan Schulte on bass and Jonas Oglesbee on drums. The music exceeded my expectations, the food was great and we had a crowd of around eighty people. The audience stayed for the whole thing and were so invigorated at the end I couldn't get them to leave.
Favorite Recordings: Bill Evans: "Undercurrents" with Jim Hall, "Portrait in Jazz" with Scott LaFaro and Paul Motian, "Waltz for Debbie" (same trio), "Conversations with Myself" (solo overdubbing - won a Grammy). John Coltrane: "Coltrane Plays the Blues," "Impressions," "Duke Ellington and John Coltrane," "My Favorite Things" or "Ole." Miles Davis: "Kind of Blue," "Sketches of Spain" (w/Gill Evans Orchestra), "ESP." Duke Ellington: "Money Jungle" with Charles Mingus.
Discography: 1991 – "Try It, You'll Like It," Rob Thomas- Art Resnick Collective, Loose Goose Productions; 1991 – "My Heart," Jeff Johnson Quartet, Jefson Music; 1989 - "Nat Adderley Quintet in Switzerland," In and Out Records; 1988 – "A Gift," the Art Resnick Trio, Capri Records; 1983 - "Trumpets No End," Bobby Shew and Chuck Findley, Delos Records; 1981 - "Conversations," Art Resnick and Peter Ponzol, View Records; 1981 – "Looking East," Kenny Horst Sextet, KNUTone Records; 1976 - "Classical Cartoon Music," Blegen & Sayer, Creation Records; 1975 - "For the Record," Roberts Davis, Cook House Records; 1974 - "Jungleopolis," The Art Resnick Quartet, Symposium Records; 1969 - "Gypsy Carnival Caravan," Salvation, ABC Impulse; 1968 - "Salvation," Salvation, ABC Impulse.
Gigs: January 7 & 14, 5:30-8:00 pm, solo piano, Ivories Jazz Lounge & Restaurant; February 11, 8:30 pm, The Art Resnick Trio, Ivories Jazz Lounge.
Future Plans: My dream and wish throughout my entire life has always been to play more in front of people and to share my innermost creative process with others. Anytime I've done that the response has always been very positive. Now I just want to write more music and get it played. I feel appreciated and well received by the contemporary classical audience. If I could get more jazz gigs, I'd take them.
Other: I learned how to play through a lot of hard knocks. I remember when I was around 18, in Minneapolis, I wanted to sit in. The old guys would call a tune like Cherokee at a really fast tempo, you'd better know your stuff!
Interviewer's note: Let's face it, Portland has an overabundance of great piano players. Art Resnick gets my vote for artist deserving wider recognition.


-- by Rita Rega