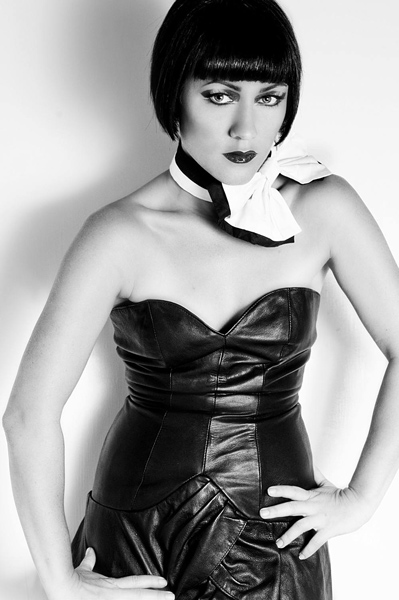 Name:Gretchen Mitchell
Instrument: Voice
Early Years/Education:
I started singing in grade school in Molalla, Oregon. My music teacher played at weddings on the side, and I have a big family, so I asked him to accompany me while I sang at weddings. We didn't listen to much music at home. Dad played a little accordion, and I listened to country in high school. We didn't even have a record player at our house. My parents put me in dance at an early age. I just loved to perform. Music and dance were my two passions. Right out of high school, I got an offer to front a band, so I decided not to dance anymore. I went to Clackamas Community College and performed with their vocal jazz group. Then I went to Portland State University and met some musicians who had a band called "Succotash"; they asked me to front their band, which I did. I studied music at PSU as a vocal major. After meeting with one of the professors, I told her I just wanted to perform, and she suggested I get a general degree, then get out and perform. Great advice! I finished with a liberal arts degree.
Early on, I was a back-up singer with Richard Arnold (see March Musician of the Month). He was the first to put me out there, and he introduced me to Norman Sylvester. Norman has been the "father," he gives everybody their start. He's such a good teacher; he's a good business person, too. There were things I saw him do that I really admired, and I took a lot of that with me; that just made me a better leader. Spending four years with him really helped me.
Gretchen Mitchell Band: We've been together almost five years. Once I started writing songs and they were working, I couldn't stop writing. My keyboard player, Danny Barnett, and I have a system. I come up with an idea for a song and sing it on his voice mail. He'll work it out in my key and come up with the arrangement. I've taken pieces of "neo-soul" and pieces of what I've leaned in jazz and blues, and developed this into my sound. That, mixed with Danny's very '70s style, is our band sound.
Wardrobe Stylist: In 2007, Liv Warfield (Portland vocalist) and I had a shop where we did fashion consulting. As a result, we started a business called "Listen To Your Look". Now, I work in closets ,"editing" your wardrobe. I believe in working with what you've got. I get as much joy at seeing the transformation in these women as I do singing. My advice to other performing artists is — your image is really important, you have to find your "look." Liv sings back-up with Prince now, and I sent her this '80s floral dress that I had altered. Prince saw her in it and asked her to wear it on-stage. What a thrill for me!
Musical Influences: Music inspirations are just too many, but here are a few: Stevie Wonder, Joni Mitchell, Bette Midler, Bonnie Raitt, Sade, Fiona Apple, Michael Jackson, Tina Turner, Mary j, Lalah Hathaway, Al Green. I always get overwhelmed when trying to list my influences 'cuz there truly are just too many to list.
Most Satisfying Experience: Singing "Woman In Me" with my band when we played the Waterfront Blues Festival last summer. This is a song about domestic violence, which I was experiencing when I wrote it. What was special was, that day was the first time I had dedicated it to women who have experienced abuse. After I performed it, it felt like I kind of broken through something; it touched people. It also helped me move on from that. Also, breaking through the fear of "can I bring it to this large of a crowd"? I'm used to singing in the clubs, now I have the confidence to do this.
Favorite Recordings: "Songs in the Key of life" - Stevie Wonder; "Blue" - Joni Mitchell; "The Absolute Best" - Al Green; "Aja" - Steeley Dan; "Best of Sade" - Sade; "Anthology" - Sly & The Family Stone; "Mis Education of Lauryn Hill" - Lauryn Hill; "VooDoo" - D'Angelo; "Purple Rain" Soundtrack - Prince; and "Baduism" - Erykah Badu.
Discography: "Love For Real," Gretchen Mitchell (2010) with Danny Barnett on keyboard, Tomo Maruto on guitar, Sean Foote on bass, Tyrone Hendrix on drums and Nick Moon on percussion. This CD is all original material. I've also done some independent studio work.
Gigs: Every Tuesday at The Candlelight; April 2: Rock Bottom Brewery; April 15: Gemini: April 30: Blue Monk; May 6: Arrivederci; May 28: Spirit Mt. Casino; May 29: Andina.
Future Plans: Getting another CD out this year. I've got enough material for another album. I'm excited to use my working group for the new CD. I've got a new drummer named Mike Snyder, and I have Ben Jones on bass (who was with the Neville Brothers). Lately, I've been using Haley Horsfall (Mike's daughter) too. I'd also like to tour more.
Other: I just know that when I started out I was following Linda Hornbuckle, Norman Sylvester, Richard Arnold, and all the people who established our music community here. Then, when I started doing my own thing, I noticed all these young people who want to come up on stage, it's neat to pass on all that sharing of the music.


-- by Rita Rega