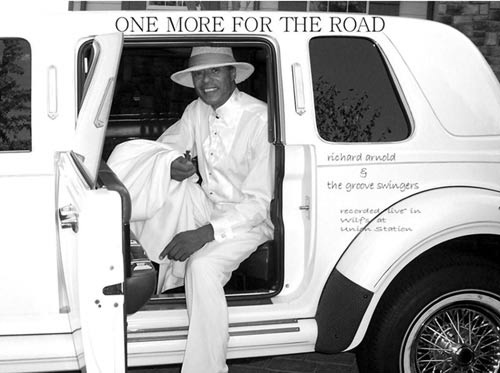 Name: Richard Arnold
Instrument: Vocals
Early Years/Education:
Grew up in Detroit. My brother, Allen, is a singer, my younger brother is a singer, and I have cousins that sing. My mother and father did not sing, but it was a musical neighborhood. Everybody in Detroit was out on the street corners singing "doo-wop" and trying to mimic "The Temptations" and all the popular acts of the '60s. I was singing Motown on the street corner. At first they wouldn't let me stand there, they told me to go home because I sounded like a girl. I was around fourteen at the time. I always wanted to sing bass, and after awhile my voice dropped and the guys would let me stay on the corner with them. The first one to run me off the corner was my brother, he got there first. He sang tenor like Smokey Robinson. When I was about fifteen or sixteen, we'd come home from church (we were altar boys), and mom would take over the record player. She said, "I let you guys use it six days a week, but on Sunday it's mine!" She'd play gospel, Billy Eckstine, Lou Rawls, Nat King Cole, Arthur Prysock, Johnny Hartman, and she'd say to us, "Now that's what you should be singing. They know how to sing to women, too." About thirty years later, I circled back around to it.
I formally studied music in Los Angeles and grew up playing the tenor and bari saxophone through high school. In Detroit all the high schools had jazz bands. We played Charlie Parker. When I joined the vocal group, I stopped playing the sax. Now, I'll sit home and play my recorder.
PDX: I moved to Portland in '82 because my brother Allen lived here. He moved here in '76 because of employment. I left Detroit in '73 and moved to Los Angeles. During that time I visited Portland a lot and really liked the music scene. You know what, you can't sing down there (in LA) if you're in a band. You have to pay to play. All the big stars live there; if you're a nobody, there's no place for you to perform.
My brother and I first started singing back-up vocals for different groups around Portland like Curtis Salgado, The Mayther Brothers, Calvin Walker. One day Calvin said, 'You guys should get your own band.' We became the Arnold Brothers and the Motor City Rhythm Section. That was around '87. We sang straight R&B and Motown. At that time in Portland there were clubs everywhere, all the hotels had music five nights a week.
My band now is the Groove Swingers: Donny Osborne on drums, Scott Gudger on bass, and Rick Slade on piano. Rick has been my right-hand man for 20 years, he's my main collaborator. When I add a guitar, I'll use Ralph Van Der Veen or Frank Tribble; on sax I'll use Tim Jensen. Tim is from Detroit, and he brings that Detroit attitude, he can blow some Motown! Occasionally, I'll sing gospel with the Rose City Gospel Ensemble. In Seattle, I'll sing with the Hot Rod Blues Review at the Highway 99 Blues Club.
Musical Influences: Lou Rawls, Billy Eckstine, Johnny Hartman, Arthur Prysock, Frank Sinatra, Nat King Cole, Joe Williams, Sam Cooke, Brook Benton, The Temptations, The Four Tops, etc.
Most Satisfying Experience: One of my most satisfying experiences was playing the blues night at the Mount Hood Festival of Jazz. My brother and I went on after Etta James and right before 'The Fabulous Thunderbirds'. We had a wonderful time, a great day, we had the place jumping. Another great time was when I was the guest vocalist with the Oregon Jazz Orchestra. We did Count Basie/Joe Williams swinging blues at the 2008 Waterfront Blues Festival on the 4th of July.
Favorite Recordings: The Temptations, "In a Mellow Mood"; Sam Cooke, "Change is Gonna Come"; Lou Rawls "Dead End Street," "I'd Rather Drink Muddy Water," "Stormy Monday"; Nat King Cole, "Unforgettable"; Johnny Hartman, "The Very Thought of You," "If I Had You," "Lush Life," "My One and Only Love" and "The More I See You"; Frank Sinatra, "That's Life," "One More For The Road" (that song means a lot to me); Brooke Benton, "Rainy Night in Georgia" and "It's Just a Matter of Time"; and Arthur Prysock, "It's Too Late."
Discography: I have some live recordings of what I've done on stage. I've thought about getting into the recording studio, I'll get around to it someday.
Gigs: Saturday, March 5, at Wilf's and Friday, March 11 at Arriverderci Wine Bar in Milwaukee. Other gigs can be found on the website www.grooveswingers.com.
Future Plans: I'd like to continue singing and doing what makes me happy. I would really like to do a tribute CD to Johnny Hartman, Lou Rawls and Joe Williams. I'd like to sing their stuff my way. I grew up admiring those guys.
Other: The positive thing about the scene here is, it's still happening! We don't have as much as in the past, but it still exists. The young guys are carrying the torch, there's an infusion of fresh talent here.
Yes, I do own lots of brightly colored suits ... red, yellow, royal blue, pin-striped Zoot suits, etc. Growing up in Detroit and seeing the Motown artists, they were dressed. That's where that came from.


-- by Rita Rega