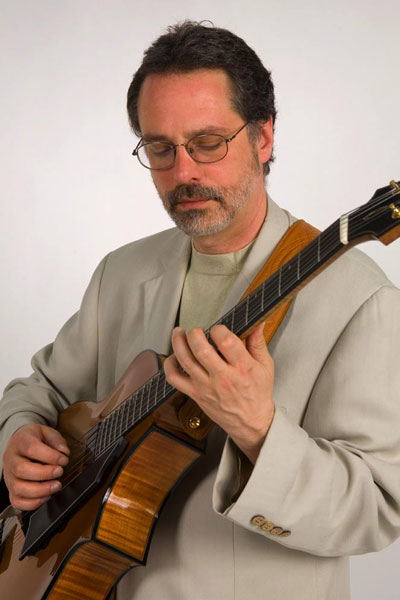 Name:Christopher Woitach
Instrument: Guitar
Early Years/Education: I've been in Oregon about 10 years. I come from upstate New York near Binghamton. Did most of my playing in Ithaca. My father taught statistics and computer science at the college, but he was a jazz piano player. He played with Slam Stewart in Binghamton. They had a trio together. When Art Tatum would come through the area, he'd call my dad and they'd play together, trading tunes. His name was Peter Woitach. At age 13, a friend showed me how to play chords on a guitar, and I literally said, 'This is me, I'm going to do this the rest of my life!' I studied in Ithaca with Steve Brown and Chad MacLoughlin and eventually studied with Jim Hall in New York. I called him up one day, and at that time you had to get vetted by his wife, Jane, who was a psychologist. I studied with him for about a year in my mid-twenties. Hall taught me as much about the philosophy of playing as anything else. What was strange was after each tune we played together, he'd stand up and walk across the room and shake my hand and thank me for playing with him. He had a Gary Larson cartoon in his guitar case that read, "Make musical sense." Every time he opened his case he'd see this cartoon.
Portland: In 1996, I followed someone to Bellingham, Washington. My younger sister lived in Salem at the time, and we moved there but realized Portland was a cooler place to be. I was lucky to meet bassist Dan Schulte early on. We've been each other's "go to guy" ever since. Early on I went to a jam session, and the guys were very cold; I don't need that. I teach at Western Oregon University, an adjunct professor of jazz guitar. I love teaching the college kids.
Bands: The Cathexis Orchestra — this group does all my original material and includes Tom Bergeron on also sax and voice; Tim Jensen on flute, bass clarinet, bari sax and voice; Keller Coker on trombone and voice; Dan Schulte on bass; Julian Macdonough on drums; and myself on guitar and v-guitar. When I do a concert of the music I write, some of it is pretty modern stuff, so I talk a lot and set the audience up for what's to come. I'm in a group called "The Unbande" with violist Danny Seidenberg (former violist with the Turtle Island String Quartet). He lives in Salem now, and the instrumentation is two violas, cello and guitar. We do a lot of improvisation. I also have a band with Dan Schulte (bass), John Moak (trombone) and Todd Straight (drums).
When I play in Seattle, I'm in various configurations with drummer Greg Williamson, bassist Larry Holloway, vocalist Carolyn Graye, vocalist Greta Matassa, and pianist Darin Clendenen. I do a jazz camp every year in Blaine, Washington, a Pacific Arts organization.
My new group is Dan Gaynor on accordion and keyboards, Marty Higgins on electronic drums, and me on the pedal steel guitar. We're doing everything from pop to jazz. I'm excited about playing jazz on the pedal steel. I occasionally go down to Dallas to study with Reese Anderson (one of the innovators of the instrument, a great jazz steel player). It's exciting for a jazz instrument. I haven't played it in Portland yet, but I've played it in Bellingham for The Jazz Project. When you play the pedal steel guitar, chords can sustain forever.
I also play solo. What keeps me alive is the fact that I can play anything. I love to play jazz and I play it all the time, but I love to play anything, I love to get paid — I'm a professional musician. I love all those other bags, too. I left home at sixteen to go to San Francisco to play Grateful Dead music on Haight Street. That was my first professional experience.
Musical Influences: Leo Kottke, Jorma Kaukonen, Jerry Garcia, Steve Howe, David Bromberg, Lowell George, Dave Van Ronk, Dave Evans (guitarist), J.S. Bach, Glenn Gould, John Dowland, Fats Waller, Art Tatum, Charlie Parker, Bud Powell, Joe Pass, Ted Greene, Joe Beck, Django Reinhardt, Tal Farlow, John Stowell, Bill Evans, Jim Hall, Ed Bickert, Bill Frisell, Krzysztof Penderecki, David Borden, Pat Martino, and Reece Anderson.
Most Satisfying Experience: I really don't know the answer to that. I've had these moments when it's all there ... one mind, the Gestalt thing. There are times when Dan Schulte, John Stowell and Dan Gaynor and I are able to get to that high point. I've done lots of gigs on big stages that sucked, and I've done small gigs that worked. Is that a high point? Some of the concerts I've done of my own stuff have been really amazing for me.
I divide my gigs into two categories: "art" and "plumbing." I've had "art" gigs that were exciting and really fun, and I've had "plumbing" gigs that I've really liked. I liked playing with Bernadette Peters. I used to go to casinos to do Grand Ole Opry impersonator shows, the ultimate "plumbing" gig. It pays well and the audience loves it.
Favorite Recordings: "Bird on Savoy" – Charlie Parker; "The Genius of Bud Powell"; Fats Waller – "The Essential Collection"; "The Art Tatum Solo Masterpieces"; "To Duke With Love" – Joe Pass Trio; "Threnody to the Victims of Hiroshima" - Krzysztof Penderecki with various artists; "Easy Living" – Paul Desmond (with Jim Hall); "Concierto" – Jim Hall; "The Goldberg Variations" by J.S. Bach – Glenn Gould (both recordings!); "Bass Desires" – Marc Johnson; "New York Eye" and "Ear Control" – Albert Ayler; and "The Last Waltz" – Bill Evans Trio.
Discography: "Guitar and Bass", Larry Holloway and Christopher Woitach, 1999, Pony Boy Records; "Live at Lucia Douglas Gallery", John Stowell and Christopher Woitach, 2002, Jazz Project; "Mood Swings", Stephanie Porter, 2003, Stephanie Porter Records; "Western Rebellion", Western Rebellion, 2003, Teal Creek Records; "Family", Christopher Woitach and the Cathexis Orchestra, 2004, Teal Creek Records; "Dead Men (are heavier than broken hearts)", Christopher Woitach and the Cathexis Orchestra, 2006, Teal Creek Records; "Alone Together", Lance Buller and Stephanie Porter, 2007, Monarch Records.
Gigs: I'm working all the time here and in Seattle. February 4 and 18 - Jazzy John's BBQ in Vancouver; February 11 - Brasserie Montmartre with Dan Schulte; February 21 – at the Secret Society Ballroom with the Carlton Jackson/Dave Mills Big Band (3rd Monday every month). The rest are private.
Future Plans: Want to play more steel guitar. I plan on putting together a jazz-swing, pedal-steel jam at John Moak's Jazzy John's in Vancouver. And maybe someday the Portland Jazz Festival will let me play; that would be nice, I've been sending them stuff for years.
Other: I think if someone can come to a concert, art show, or anything of that nature, and walk away feeling better about themselves or happy in some way, you've just done a "mitzvah" (a good thing). The problem is, some musicians will just sh** on the audience.

-- by Rita Rega