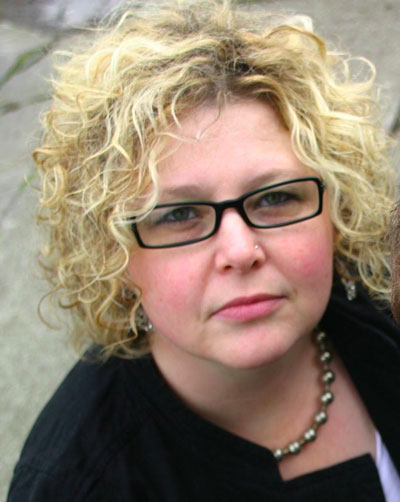 Name: Leah Hinchcliff
Instrument: Electric & Upright Bass
Early Years/Education: Grew up in Carbondale, Illinois in a musical family. Dad played sax and clarinet, Mom played piano and guitar (when she was pregnant with me). My aunt played guitar, and as a young child I thought the sun rose and set on her. I was in love with the guitar, and somehow my parents found a steel stringed guitar for a five year old. In high school I was in all the music stuff ... band, symphony, etc. I was trying to be the electric guitarist for the jazz band, but unfortunately, there were twenty other applicants. The band director saw something in me, and after the audition she sent me home with a bass. I fell in love with it. The next thing I knew I was going to music school at Southern Illinois University, which is in my hometown. I also played the bassoon and went there on a bassoon scholarship. I spent most of my time playing bass in the local jazz clubs and not practicing the bassoon. About half way through my second year, the bass teacher said, 'We'd like you to come over to the jazz department and play bass.' I had to give up my scholarship.
I never finished my studies there and came west touring on electric bass with a blues band called Swamp Mama Johnson. We had a lot of fun and did well touring for a long time. I moved to Eugene and eventually came to PSU to finish my studies on upright bass. When I went to PSU, I had not played the upright for twenty years. When I first started going out on the road after music school, I didn't really know how to play the electric bass, so I made it up. I figured out the easiest way to get around on bass. I thought I was making up my own patterns but later realized I was just reinventing the same stuff that everybody else already knew. I was really determined that other women (bass players) should not have to go through that. Boys and men seem to help each other find their way. I'd ask people and they'd respond [by saying], 'Go figure it out.' Now, most of my students are girls.
I took a course at PSU called "body-mapping" (based on the Alexander technique) and learned how to hold the instrument correctly. That really changed everything. Plus, I'm a Licensed Massage Therapist, and have been since 1989, so I've always been interested in how the body works. I've been able to bring that part of my life to the bass. I have a degree in jazz studies on the upright bass. I play an old Bavarian bass. Dan Schulte helped me find the right bass with a smaller body. I work at getting the sound big without the amp, the amp is just reinforcement.
Bands: I have a duo called Gravy with Andrew Maldarelli. He plays guitar and I play the big bass, and we both sing. We play acoustic blues, funk, soul, with lots of jazz elements and original music. I'm in Soul Vaccination, an eleven-piece band with a horn section, Hammond B-3, etc. It's just an amazing band. I'm also in The Quadraphonnes (an all-female group featuring four saxophones) that plays original music. Everyone arranges, and other musicians like Dan Gaynor and Andrew Oliver write for us. Another project I'm focusing on now is the "NW Women's Jazz All Stars." It's a co-op of women jazz players from throughout the Northwest. Ward Griffiths, Janice Scroggins, The Quadraphonnes, Katie Presley, and others comprise this group.
Teaching: The original way of teaching the bass was very rigid. You'd put your hand in the claw (position), which is very painful, and if you're small like me, it's nearly impossible. The way Glen Moore approaches it, it's about being relaxed and moving your hand more. That's how I approach the instrument and teach this way, too. Many of my students are young and smaller, and this works better for them. I've been working at the Beaumont Middle School, Beacock Music in Vancouver, and I teach out of my house too. I love teaching.
Musical Influences: Ella Fitzgerald, James Jamerson, Me'shell Ndegeocello, Rocco Prestia, Verdine White, Carl Kaye, Bernard Odum, Bernard Purdie, Glenn Moore, Paul Chambers and Charles Mingus.
Most Satisfying Experience: Getting to play with some really good jazz players in town like Mark Simon and the amazing vocalists here, too. It's been a wonderful experience finding musicians who see something in me, since I'm relatively new on the upright. And, getting embraced by the jazz community, by people like Dave Captein and Dennis Caiazza. Other satisfying experiences include playing at the Catalina Island Blues Festival in California, going to Bluestock in Memphis, playing B.B.King's Club, achieving my goal of playing with Linda Hornbuckle, and getting asked to join Soul Vaccination.
Favorite Recordings: Me'shell Ndegeocello - "Peace Beyond Passion"; James Brown –"Instrumentals"; Miles Davis - "Ascenseur Pour L'Echafaud (Lift To the Scaffold): Original Soundtrack; Marvin Gaye - "What's Goin' On"; John Coltrane – "A Love Supreme"; Aretha Franklin – "Greatest Hits"; The Beatles – "Abbey Road"; Charles Mingus w/Joni Mitchell - "Mingus Ah, Um"; Lucinda Williams – "Car Wheels on a Gravel Road"; Prince – "1999"; Sharon Jone s- "100 Days, 100 Nights"; Stevie Wonder – "Songs in the Key of Life"; and the Wood Brothers - "Ways Not To Lose."
Discography: The Quadraphonnes - "Music To Watch Girls By"(2009); Sour Vaccination – "Souled Out: Live at Jimmy Mak's" (20090; Swamp Mama Johnson – "Fresh, Raw and Live" '(1999); Grav - "Live at the Elzinga's (to be released early 2011); and w/Nicole Campbell – "Arm's Distance" (2005).
Gigs: w/Soul Vaccination at the Candle Light Room, 2/25 and 2/26; at Jimmy Mak's, 3/12,; w/The Quadraphonnes at the Blue Monk, 2/20.
Future Plans: I've always wanted to go on a big tour like to Europe, maybe with this NW Women's group or The Quadraphonnes; releasing my new duo (Gravy) CD and hoping to play the festivals with Andrew Maldarelli.
Other: Esperanza Spalding has changed the scene for me -- who else (female) is that famous who plays the upright bass? When I was her age, the only people I was told to listen to were Ron Carter and Paul Chambers; now, when my students come in, I can say, 'Listen to those guys, but also listen to Esperanza. Plus, she's your height and she has little hands and she started in high school.' Another change is when I started out, I was the only girl in the band, but now there are more female instrumentalists in general. I love the guys, don't get me wrong, but it's really nice to feel like I'm not the only one now.

-- by Rita Rega