Featured Musician - September 2010
Name : Joe Millward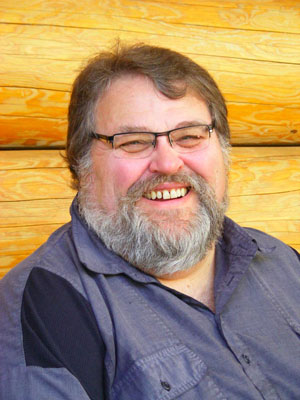 Instrument: piano, composer/arranger.
Early Years/Education: I was born in Idaho but did the high school years in Albany, Oregon. My parents were not really musical; mom could play the piano by ear. My older sister is a really good classical piano player but hardly ever plays. I had the classic little kid lessons, I could play that kind of music better in the third grade than I do now. My mom had this story about me. She said as soon as I could reach the piano I'd reach up and pound on it. To this day it's hard for me to walk by a piano without sitting down to play. I've always wanted to play. My parents were not at all into jazz but they had this one George Shearing record that I loved. I didn't know why I loved it. It was a live recording. When I was little kid I'd walk out into the living room and I could hear people applauding and I'd sit down at the piano and play. I was really influenced by it.

I didn't get into jazz until later in high school. A band teacher introduced me. I was going to be a teacher, so in high school I learned every instrument and could play scales on every instrument. Then I started getting interested in playing more, so as a junior in high school I was already gigging and making good money. At that point I was pretty much on piano. It was right around this time I met sax player Lee Wuthenow and really started getting into jazz. Back then, all we did was listen to jazz records from sun-up to the gig, and after the gig. I was about seventeen. Lee had come south to play with Bob James (singer and piano player who passed away last year). Bob James pretty much was my mentor. Bob inspired me to "kick bass" with the left hand. I get hired a lot to "kick bass"; most piano players don't like it, but I actually enjoy it. At one point I found myself listening to bass players more than piano players. A lot of electric keyboards now have a really great bass sound. Bob was my mentor but not a teacher. I learned how to play piano by myself using fake books. As far as college is concerned, I went to Mt. Hood Community College for two weeks, and I attended a jazz camp at Portland State for two weeks.

After high school I started playing around the state and then got a gig with guitarist Jimmy James (Bob's brother) in Seattle. We had a sit-down gig downtown at the Hilton. Here I was, age twenty-two and had three kids. We also had a sit-down at the Prima Donna in Portland. I was also in a show band that traveled back and forth across the country. When I'd come back to Portland I'd play with Ron Steen and Rob Thomas. I started branching off into McCoy Tyner stuff and really started to expand as a pianist. But I just could not make ends meet, so I stopped playing jazz and started playing in pop bands. That's why you don't see me in the jazz clubs.

Bands: The Swingline Cubs "R & B" band. Teddy Deane started the band in 1983, and I joined in 1993, then in 2000 I took it over. The band includes Paul Mazzio, Jeff Homan, Jim Solberg, Marty Higgins and two great vocalists, Michkael Baker and Tarshene Daugherty. We also have another quartet called Rendezvous that features Linda Michelet. My big project right now is the Linda Michelet Big Band. We have four horns and a rhythm section. We've got all these great Quincy Jones, Bill Holman and Marty Paich big band arrangements. I "lifted" them and pared them down to four horns, but you still get that sound. We put some live strings on some of the tunes. The horn section now is Paul Mazzio, Lars Campbell, Dave Evans and Pete Peterson. We started with mostly Peggy Lee material but now are covering Anita O'Day and Nancy Wilson. Something else I'm involved with — the city of Vancouver is putting together a big band. The Vancouver Big Band is made up of only Vancouver musicians, including Jeff Uusitalo, Gary Hobbs, Scott Steed, John Moak, Stan Bock, Tim Jensen, Dave Evans, Dave Mills, Greg Garrett and Doug Peebles, who is putting it together. It's going to be a great band, and we will be having a gig next year in association with the Vancouver Symphony.

Musical Influences: My biggest piano influences are Bill Evans and Oscar Peterson. Then there's Howard Roberts, Groove Holmes, Jack McDuff, Jimmy Smith, Chic Corea, Herbie Hancock, McCoy Tyner, Thad Jones, Mel Lewis, Charlie Parker, Gary McFarland (an arranger who died young), Claus Ogerman, Aaron Copeland, Bill Holman, Quincy Jones and Nelson Riddle.

Most Satisfying Experience: Backing Pete Barbutti, the comedian. It was so much fun. I did the same with George Goebel. This was in Seattle. Pete used music bits, he'd play the broom, he had a book. What I'm doing now (Linda Michelet Big Band) is almost the most satisfying thing. It's something I've wanted to do for a long time. It's all my arrangements, I'm producing everything, I'm controlling everything. I did that with Mike Winkle's stuff too, the arranging and producing. It's the very unheralded thing. Somewhere on the record it says arrangements by Joe Millward, and that's about it. But we don't really care either. All jazz players want is to be recognized by their peers. Very few jazz guys play for money, obviously! It's like any team sport, to be part of a group of really good players. I think jazz is more about that than anything. You want that guy in the band to like what you're doing, to have them turn around and say, "Yeah, Man."

Favorite Recordings: "The Bill Evans Album" and his live "Montreux II"; I like the recordings of Howard Roberts, Herbie Hancock and Chic Corea's "Now He Sings, Now He Sobs" and "Sweet Rain"; Mel Lewis's "Central Park North" and all the live stuff he did at the Vanguard; Oscar Peterson Trio recordings; "Charlie Parker with Strings"; the new Gretta Matassa CD with Darin Clendenin; anything from Dianne Reeves, and Joni Mitchell's jazz albums.

Discography: I've been on so many recordings I can't remember all of them. I work for Falcon Studios in Portland. With the Swingline Cubs we have two CDs: "On The Street" and "In Full Swing." I made two recordings with vocalist Mike Winkle, did a record with Neal Grandstaff called "Jonny Dark and the Wondertones," and I have a new CD coming out with the Linda Michelet Big Band called "One Kiss." The cover should look like an old Peggy Lee '50s kind of thing. In the liner notes I'm going to describe how some of the arrangements came to pass. When I was a kid listening to jazz records with Lee Wuthenow, we'd love it when there were hip liner notes talking about what the guys did and what happened in the studio.

Gigs: All my own gigs are private functions. You get them by networking. I basically work with the agents in town. The work is seasonal. The slowest months are March and November. Right now there's a lot of last minute bookings.

Future Plans: For my next CD I'd like to arrange for a full orchestra.

Other: I kind of picked up how to arrange music. In 1990 I had a company that did musical sequences with musical instrument digital interface (midi). I'd take all these pop tunes and take off note for note every part and put them in a midi file. That's where I honed my transcribing skills. You'd take eight to ten hours per tune, and we had a catalog with eight hundred tunes in it. That's all I did for ten years. Transcribe tunes and sell them all over the world. They were backing tracks for anybody, and they're still being used today. Now it's called virtual orchestras. They'd pay us four or five hundred dollars per arrangement, and they use it forever.

There are so many great players in Portland. For someone like me who does arranging, I can write something and it's played perfectly the first time. They can sight-read it, and they even get the gist of it. I don't even need to put the diction marks; they already know how to play it. It amazes me.
-- by Rita Rega