Featured Musician - October 2009
Name : LaRhonda Steele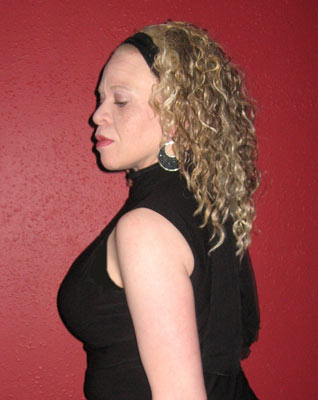 Instrument: voice

Early Years/Education: I grew up in a town east of Oklahoma City called Spencer, Oklahoma. I went to college there and soon after I graduated at twenty-three, I moved to Portland. I have family here, several aunts and uncles who live in Seattle and Portland. I sang in church in Oklahoma quite a bit but didn't work with live musicians until I came here. After college I wasn't finding a good job at home, plus I didn't have the freedom there I have here. What I'm referring to is the fact that I'm legally blind, and back home I had to rely on other people to drive me around. One of the beautiful things about Portland is the great public transportation. I think the third day I was here I got on the bus and went all over the city. I couldn't believe the freedom that allowed me. I knew at that point I just didn't want to go back.

My mother sang, she had this incredibly beautiful smooth tenor voice that we grew up listening to. My grandfather was a preacher, so my mom and her two sisters sang before he preached. My college degree is in business administration; I don't know why I didn't major in music. I guess I didn't think about a career in music. I just went with what was recommended at the time. Other than the people at my church, I have had very little support in music. When I was thirteen and sang my first solo in front of people, and I was hooked. I started directing the choir at church. In high school I had a little bit of training in choral contests, winning second place at a state competition. When I moved here, my Aunt Jean had been a volunteer for the MLK celebration Ken Berry puts on. She said, why don't you audition for the celebration? He had me audition on the phone. Before I could get out the third phrase, he said you got it, I want you to sing with my band. That was the beginning of my music career. My first gig was with his band, called Time Sound. I only got $50, but I had to spend $70 getting ready with the hair and shoes, etc. From there I met Norman Sylvester, who I worked with for seven or eight years. That eventually led to work with Obo Addy, Curtis Salgado, Linda Hornbuckle, Janice Scroggins, Louis Pain, and lots of wonderful musicians.

Bands: My current bands include my own La Rhonda Steele Band, which features my husband Mark Steele on piano, Jay Haser on bass, Tom Sandahl on guitar and Terry Cason on drums. At the Candlelight Room we have Pete Moss and Chris Stone sit-in as well as spoken word artist "Blaque Butterfly," among others. I'm also in the Ken DuRouchie Band. I've got the great pleasure of working with Linda Hornbuckle and Janice Scroggins in a gospel forum simply called "The Group." Mary Etta Wells and Ron Shoals are also in this band. We perform at the Waterfront Blues Festival, we do a gospel lunch at The Kenton Club, etc. I'm also choir director at the Portland Center for Spiritual Living Church. Our choir is called the "Friends Gospel Choir," and Linda Trotta is the music director for the church. Linda and I are there the second and fourth Sundays, and the choir performs on the fourth Sunday. The pianist is Ken Brewer. Linda chooses songs that we like: Whitney Houston's "The Preacher's Wife," Al Green's "Love and Happiness," Johnny Nash's "I Can See Clearly Now," and songs from the Staple Singers, Etta James, Dr. John, whatever fits.

Musical Influences: Juanita Johnson (my Mom), Jimmy Scott, Oleta Adams, Angela Windbush, Etta James, Aretha Franklin, and the beautiful a cappella harmonies I heard in church.

Most Satisfying Experience: So many ... one of the highest points for me musically is when I know the audience is connecting with a song I'm singing. It's most apparent when I'm singing at church. There's a feeling or an energy that comes over you that you're one with the song. You feel it in your soul and people are connecting. You know it by their reaction. That to me is what you always want to have when you sing. Another satisfying experience is when we do the Waterfront Blues Festival. That's one of the biggest things each year. We're in the trenches every week keeping the live music scene going here. The opportunity to be in front of our people on a large scale like that is awesome! I'm so honored to have been able to participate in it for these past ten years! When I was a teenager, I dreamed about things like that, and wouldn't you know, it's come true.

Favorite Recordings: "Embraceable You" by Jimmy Scott; "Get Here" and "Everything Must Change" from Oleta Adams; Bonny Raitt's "I Can't Make You Love Me"; John Raitt's "Lover's Will"; "Joe" (a tribute to Joe Zawinul my husband wrote) and "Be O. K." both from our new CD, "Artistic Differences"; Miles Davis's "Live Around the World" and the tune from it called "Human Nature"; "Hotter than July" by Stevie Wonder; The Canton Spirituals "Live in Memphis"; Aretha Franklin's "Bridge Over Troubled Waters"; Coco Taylor's "I Got What It Takes"; Carlinhos Brown, "Para Sempre"; and Donny Mc Clurkin, "Live in London and More."

Discography: We have a new CD coming out soon called "Artistic Differences." It was three years in the making. It features my husband/pianist Mark Steele and a variety of wonderful musicians like Curtis Salgado, Mike Doolin, Nancy Conescu, Drew Shoals, Terry Cason, Damian Erskine, etc. My daughters Lauren (12) and Sarah (7) Steele sing back-up on one of the tracks, "Sunrise Like This Morning." Other recordings I'm on include: "Love, Portland," Kimbal Ralphs and La Rhonda Steele;"Bootylyte," "Ocean 503, Y2KDB," Ken DaRouchie, and "Family Affair," Norman Sylvester. Most of there are available through CD Baby and itunes.

Gigs: Every Thursday LaRhonda Steele Band is at the Candlelight Room, 2032 SW 5th, 9:30 - 1:30. I'll also be at the Candlelight on Saturday 11/21 and 12/31 (New Year's Eve) with my band, and on 10/24 w/Norman Sylvester Band. I'm at Clyde's on Fridays 10/16, 11/13 and Saturday 12/12. The second and fourth Sundays of each month I'm at the Portland Center for Spiritual Living Church. And on Saturday, October 24, my choir, "Friends Gospel Choir," will be featured guests at the "Community of Welcoming Congregation" at the First Congregational Church, 1126 SW Park.

Future Gigs: I'll be in the Curtis Salgado Band for "The Legendary Blues Cruise" January 23-30. We depart Ft. Lauderdale, Florida and sail the Caribbean. Taj Mahal, Johnny Winter, Duke Robillard and Ruthie Foster are among the many artists on the cruise.

Other Comments: There's a new crop of young musicians coming up making great music, and what I admire about them is their sense of community. They go out and are really supportive of one another. They're working at their craft and are getting better and better. They are also seeking national gigs. Liv Warfield (who's touring with Prince), Gretchen Mitchell, Nafisaria Scroggins (Janice's daughter), Orietta Ward, drummer Tyrone Hendricks, and more. They jam on Wednesday nights at a club called The Calabash.


-- by Rita Rega