Featured Musician - January 2008
Name : Eli Reisman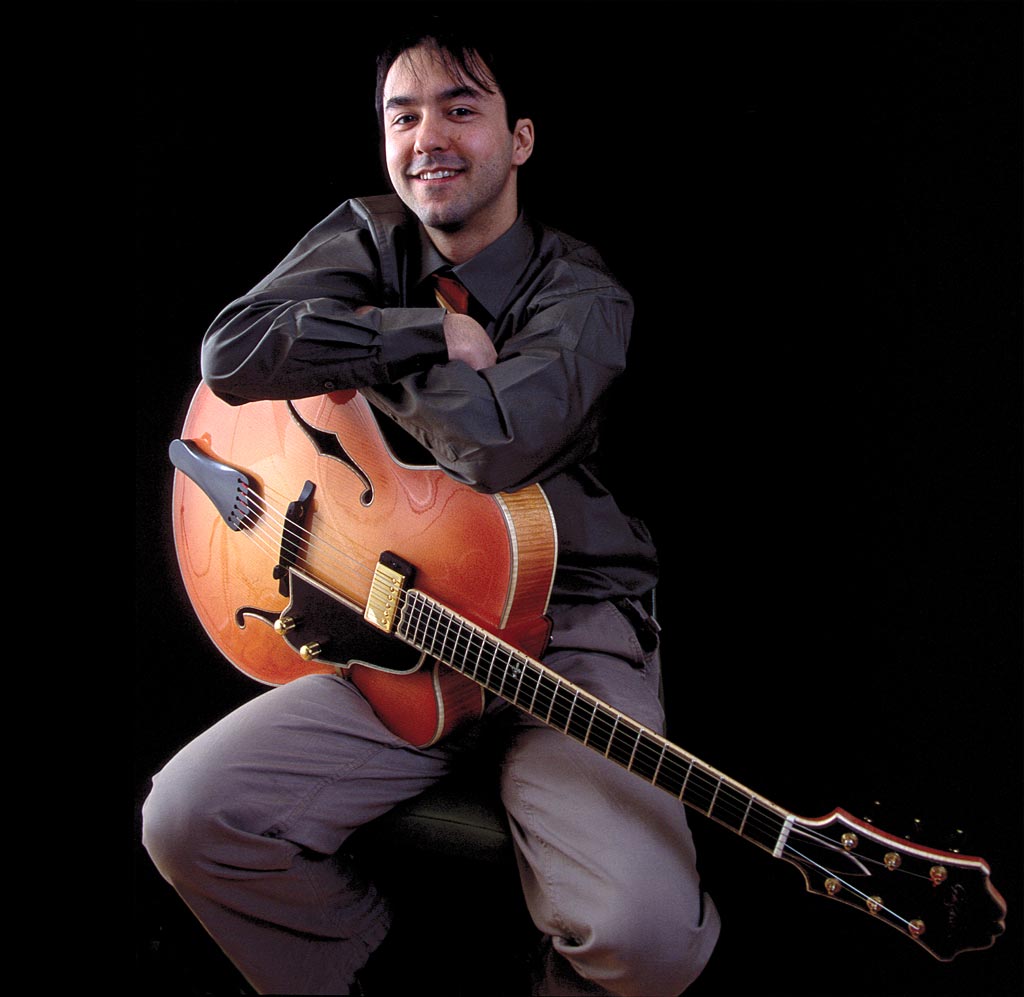 Instrument : Guitar.
Early Years/Education : Born in California , I grew up in various parts of Washington and ended up in Portland . When I was around 14, some friends of mine had a band and wanted me to play bass, but I ended up getting a guitar, so I started playing. In school I found out about jazz and got really into it. Since I was living in Washington , I decided to go to Western Washington University in Bellingham .
At WWU, I continued to play guitar, studied piano and became interested in composition. At the end of my freshman year I realized I was enjoying Jazz Band better than any of my other classes. Fortunately, I had the benefit of studying with legendary bassist Chuck Israels at WWU. There was also a good local scene in Bellingham with a lot of great players like bassist Larry Holloway to sit in with in the clubs. I started to do a little bit of that and got obsessed with it very quickly. I majored in Music and have a degree in Jazz Performance. While at WWU I started teaching guitar and directing one of the jazz ensembles. After graduation I taught there for a year. I studied jazz with some great teachers but not necessarily guitar teachers.
John Stowell was one of the first internationally regarded guitarists I actually took lessons from. Dan Faehnle was another guitarist I learned from and who also encouraged me to move to Portland . Portland has a varied group of guitarists all having their unique sound. I moved here in 2001.
Teaching : I don't like to heap more useless facts or practice routines on someone who hasn't already spent some time working with the concepts we're talking about. I like to progress in a linear way; I see it more like coaching as well as teaching. Making sure they're getting in there and tangling with each concept and actually working on stuff so that when they have problems I can help them in a practical way. Currently I teach classes and lessons at Clackamas Community College and lessons at Mt. Hood Community College . I enjoy the classes but prefer the one-on-one encounter.
I also designed an on-line class for beginning guitar students for Clackamas Community College . I see a lot of young people starting college who are suddenly exposed to lots of different styles of music through the internet, and sometimes [they] get overwhelmed. They don't spend enough time listening to one kind of music they love, and don't get a chance to decide on the style that represents their feelings and who they are. As a result they feel obligated to go off in hundreds of directions at once, and feel they should be proficient in lots of styles right away. Besides the two colleges I also have a private studio located in one of the "Activespace" buildings on S.E. 8th and Main . (Activespace buildings are filled with private studios for dancers, artists, writers, musicians, etc.).
Musical Influences : Miles Davis, Bill Evans, Cannonball Adderley, Thelonious Monk, Clifford Brown, Max Roach, Sonny Rollins, Wes Montgomery, Charlie Parker, Grant Green, Duke Ellington, Gil Evans, Chuck Israels, Ed Bickert, Kurt Rosenwinkle, Dave Holland, Dan Balmer, Dan Faehnle, John Stowell, John Butler, Chris Woitach, plus many, many other musicians who are not dead who influence me every time I hear them – too many to list!
Most Satisfying Experience : Last year I did a gig at the Multnomah Arts Center with saxophonist Harry Allen and Portland bassist Dave Captein that was just a wonderful experience! I used to love doing duos at the Brasserie with pianist Randy Porter, or with pianist Tony Pacini, I always love playing when I'm not sure exactly what's going to happen.
Favorite Recordings : Paul Desmond "Easy Living"; Sam Rivers "Fuscia Swing Song"; Cannonball Adderley "Somethin' Else"; Jim Hall "Live!"; Johnny Hodges "Everybody Knows"; David Evans "I Didn't Know About You"; Mick Goodrick/Joe Diorio "Rare Birds"; Tony Pacini Trio "Live At Jimmy Mak's"; Miles Davis "Miles Ahead"; Thelonious Monk "Underground:: Keith Jarrett "At The Blue Note "(boxed set); Nina Simone "In Concert" and John Gross/Larry Koonse/Putter Smith "Three Play."
Discography : Johnathan Swanson's "It's A Wonderful Time" (2002); Ellen Vanderslice's "Don't Look Before You Sing" (2003); The Swizzle Chick's "Shakin' Not Stirred" (2004); Matt Molnar's "Baggage" (2005) and "Random" (2006); w/Robert Moore, Carlton Jackson, Glen Moore and David Valdez on a television recording (2005); w/The Original Cats live New Year's Recording (2003-2004); Noah Peterson's "Live At Marylhurst" (2007); and Donny Osbourne "Live At Tony Starlight" (2007).
Gigs : I do constant sideman work in and around Portland with groups like Tall Jazz, etc. On Mondays 7 to 10 pm I alternate with Clay Giberson at the jam session at Clackamas Community College directed by Tom Wakeling. On Sundays I'm at the Benson Hotel from 5:30 to 9 pm in The London Grill playing solo guitar. Also play gigs at the Heathman Hotel in downtown Portland , Arrivederci on McLaughlin Blvd. in Milwaukee , and at the MAC club in Portland .
Future Plans : I'm to that point that I should think about writing and recording things under my own name. Ten years ago I was really rooted in be-bop and single notes; now I definitely like more space, a more lyrical sound; it's all about phrasing and texture and a lot more about chords and harmony. My basic future plans are to get much better at my craft.
Other Comments : None of the piano players in Portland sound alike -- none of the bass players here sound alike; I think that variety keeps people coming out to hear more.
Eli Reisman can be contacted at elireisman.com
-- by Rita Rega