Featured Musician - November 2007
Name : Andrew Oliver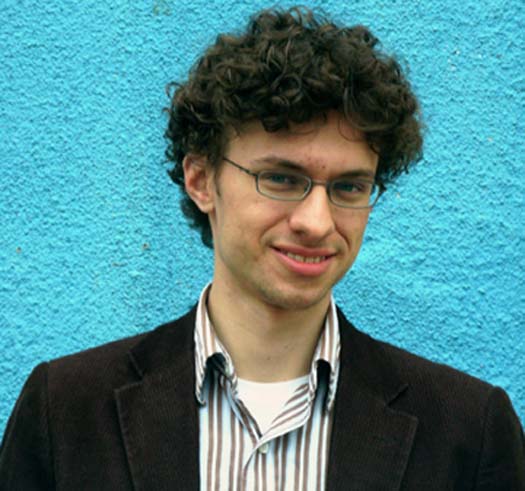 Instrument : piano, trumpet, composer/arranger.
Early years/Education : Started on piano at age three at a Yamaha music school, so I had ear training before I actually learned how to read music. I'm a big advocate of ear training, it really helps you if you want to play jazz. The first music I played was classical, but by age fourteen I became interested in early jazz and ragtime. My mom called up the Jazz Society to ask for names of teachers, and I chose Randy Porter. Went to Centrum (jazz workshop) in 2001, and there I met John Singer, a bass player, who recommended me to Ben Medler for the newly formed Portland Youth Jazz Orchestra. This group was in its first year and provided me with my first gigs. It also enabled me to meet a lot of other jazz players my own age that I still play with . I owe a lot to Ben Medler for creating PYJO. For college I went to Loyola University in New Orleans to major in Music and Philosophy. When Hurricane Katrina hit, I came home to Portland , so I was at Loyola for three years. I just graduated from Portland State University in June in Jazz Performance and French.
Bands: With the Andrew Oliver Sextet I'm on piano; Dan Duval guitar and composition; Mary Sue Tobin soprano, alto saxophones and clarinet; Willie Matheis tenor saxophone; Eric Gruber bass; Kevin Van Geem drums and composition. I'm in Devin Phillip's New Orleans Straight Ahead. When Katrina hit and I evacuated home to Portland , I started studying with Darrell Grant at PSU, and he suggested I meet Devin, who also came up after the hurricane. Devin also has a big band called the Oregon Jazz Orchestra which I'm involved with. Tenor player Gus Stayton and I started a big band called the Portland Composer's Orchestra. Our first gig will be in January at the Hollywood Piano Store. It's another vehicle for composition. I'm part of the Komenk Ethnic dance and Music Ensemble. We toured France and Poland in 2005 and 2007. I play trumpet in the Krebsic Ortkestar, an 11-piece brass band that plays Serbian gypsy music. I also play and compose for Sounds for the Organization of Society, a New Orleans-based large ensemble.
State Department Tour : We recently flew to New York to audition for the "jazz ambassadors" program organized by Jazz at Lincoln Center and the State Department. They're sending six jazz and three urban music groups out all over the world. We'll be touring West Africa starting in November. I hope to use my French and learn more about the music of Mali in particular.
Teaching : As part of the Devin Phillips Quartet I work at the Fernwood Middle School teaching jazz through the after-school program called Schools Uniting Neighborhoods.
Musical Influences : First and foremost is Jelly Roll Morton.To me he's the most innovative in jazz history simply because of his ability to blend influences of all the different music that was in New Orleans in the 1920's and synthesize them into a distinctive style, plus his rhythmic concept was far ahead of almost anyone else at the time except for Louis Armstrong. I really like Bud Powell and Wynton Kelly. Compositionally, Wayne Shorter; more recently John Hollenbeck, Dave Douglas; Duke Ellington; Tomasz Stanko; James P. Johnson; Brad Mehldau; Jaki Byard; Oscar Peterson; and James Booker. Also, I've recently been listening to the music of Mali . A lot of it seems simple, but it has great depth. I like Malian guitarist Ali Farka Toure.
Most satisfying experience : The most fun I've ever had on a gig was at the Crystal Ballroom with the Portland Jazz Orchestra in 2002. Everyone was swing dancing and having a good time. It was also the first time I'd played before a big audience. Another was playing with trumpeter Maurice Brown at the Portland Jazz Festival last year -- he brings a lot of energy. Learning lots of music by ear from Bulgarian musicians was a fun cultural exchange. Writing music and then hearing it performed is always satisfying. For example, I got to arrange all the music for the Oregon Jazz Orchestra last weekend in an all-Gershwin program. Also, during the jazz festival I played at the Blue Monk with my band, the Andrew Oliver Sextet, to a packed house.
Favorite Recordings : Alan Jones "Unsafe"; Jelly Roll Morton's 1926 RCA Victor Recordings and the Library of Congress Recordings, 1939-1940; Louis Armstrong's "Hot Five" and "Hot Seven"; the recordings of Benny Goodman's sextet w/Charlie Christian; early Dizzy Gillespie with Charlie Parker, "Groovin' High"; Bud Powell's Blue Note recordings; Wynton Kelly, "Kelly at Midnight"; Wes Montgomery's "Smokin' at the Half Note"; Wayne Shorter, "The Soothsayer"; Andrew Hill, "Point of Departure"; Oscar Peterson Trio; McCoy Tyner, "The Real McCoy"; Ahmad Jamal, "Live at the Pershing"; Brad Mehldau, "Art of the Trio, Vol. 4"; all the recordings of the Claudia Quartet, especially "Semi-Formal"; Keith Jarrett, "Belonging", and Jarrett/Garbarek "Personal Mountains"; Louis Sclavis, "Carnet De Routes"; Sonny Sharrock, "Ask the Ages"; Ali Farka Toure/Toumani Diabate "In the Heart of the Moon"; Salif Keita "Mbemba"; Oliver Mtukudzi; The Meters; James Booker's "New Orleans Piano Live"; anything by Tom Waitts and singer Joanna Newsom.
Discography : A self-produced CD, " Standing Still Mountain " (2005), mainly with New Orleans players; " India and Africa" (2006), a self-produced recording featuring musicians from Loyola University . There's a tune from each player; available from CD Baby. I'm with Devin Phillips on his "Wade in the Water" (2006) CD. Also in 2006 I did a recording with the group Sound for the Organization of Society. Coming in March, 2008, I'll have a release on Diatic Records, called "Otis Stomp," the first release for the Andrew Oliver Sextet.
Gigs : November 4, Andrew Oliver Sextet at the Someday Lounge; November 16, Krebsic Orkestar at Imbibe. November 17-December 17, " Rhythm Road " tour with New Orleans Straight Ahead, designed to foster cultural exchange in those parts of the world with limited access to American culture. We'll travel to five countries in West Africa , performing and conducting jazz classes. I hope to interact with local musicians.
Future Plans : I hope in the next few years to be able to work in other cities on the West Coast. For now I love Portland .
-- by Rita Rega