Featured Musician - July 2007
Name: Susie Jones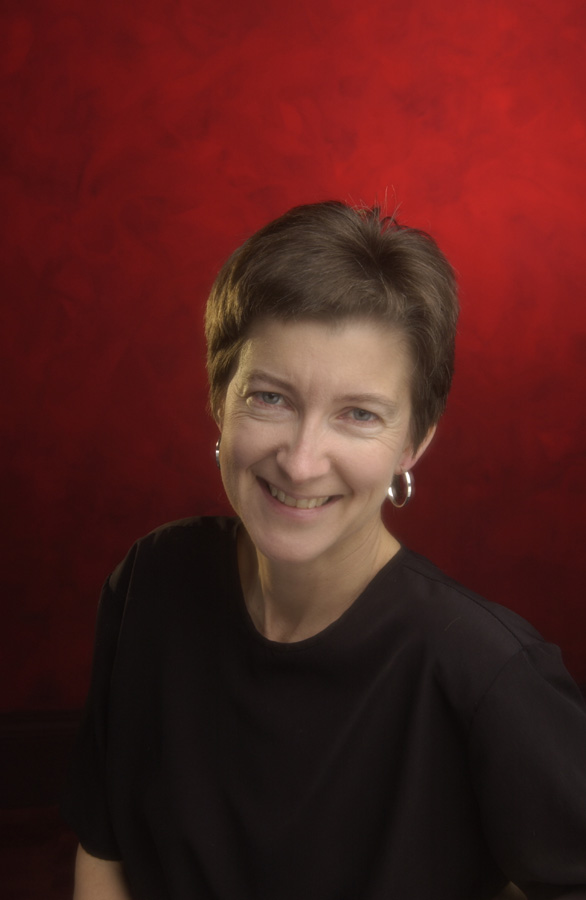 Instrument: Alto saxophone
Early Years/Education: Mom's side of the family were fairly musical; my grandfather was a barber shop chorus director who played sax in a dance band during the depression; that's how he fed his family for a time. I actually ended up getting his saxophone.
Growing up in Lebanon, Oregon, I started on flute in the 5th grade and added the saxophone in the 7th grade. At the high school we had a good strong band program. I started playing jazz around the 8th grade. I'm a sax player-woodwind doubler.
One summer our high school jazz band did a tour of Europe which was pretty motivating. I practiced more than the others in the band program in high school but when I went to college I found out I hadn't been practicing at all! I went to Mt. Hood Community College and was trying to be more of a science major but by my second year I knew I wanted to make music my career.
My Bachelors degree is in Music Education and my Masters is in Music Composition. Paul Mazzio, Tim Gilson and Ben Wolf were some of my classmates at the time so there was great music happening on campus. I completed my degree at the University of Portland and started teaching right away. I played for three years in the Kicks Band and subbed in the other dance bands of George Reinmiller and Woody Hite. I wrote primarily for big band but did some orchestral stuff, wrote arrangements for small groups, and wrote some fusion things.
Teaching: In my 20s and 30s, I did a lot of writing and arranging and got known for that but where I was able to make my mark is in the field of jazz education. Playing has taken a back seat to this right now. When I left college I went out and taught in several different school districts. I've come full circle and now teach here at Mt. Hood Community College.
Teaching is an art; you could have twenty-five years under your belt and still find new ways of teaching. I think it's a good thing that there are many different styles of teaching. What you don't want is to have everyone who comes out of your program to sound the same.
You have to respect the individual student, listen to what they want to do…who they want to be, instead of making them into what you want them to be. The other thing I've been involved with for quite some time is I'm the president of the Oregon unit of IAJE (International Association For Jazz Education) and because of that I sit on the board of directors of the Oregon Music Education Association as the Jazz Chair which means I'm responsible for the all-state jazz high school groups.
Mt. Hood Festival: This year I'm the president of the Mt. Hood Festival board, having served on the board for three years. The association with the college is geographic and historical. The festival is growing and turning back into a very respectable festival. The board is composed of nine members and we all work. We want to keep jazz alive and attract a younger audience. So we're a little bit "future" oriented. We also are taking a world view of the music.
An interesting note is that at the 1988 Mt. Hood Festival, I went into labor during the Grover Washington set.
Musical Influences: This changes all the time, but I guess I always go back to Phil Woods and Clark Terry. I tend to like the lyrical trumpet players like Chet Baker. Then there are Oscar Peterson, Monte Alexander, Sonny Stitt and Ray Brown.
Most Satisfying Experience: One was taking the Mt. Hood Jazz band to the IAJE convention this year back in New York. They got to perform and attend the convention. Another would be two years ago taking this same band over to Taiwan for a performance tour sponsored by the Portland-Kaohsiung Sister City Association. Both were such incredible educational opportunities for the students.
Favorite Recordings: I tend to favor the big band music because I was so into composing and arranging for them for so many years. In a big band you hear great jazz and good improvisation but you also hear musical arrangement and composition, which I like a lot.
My current favorite big band CD is Alan Baylock "Two Seconds to Midnight." I also like anything by Count Basie and anything that has a groove and makes me feel good.
Discography: In the mid-1980s, I wrote some fusion tunes for a few Dan Segal produced projects that got international distribution. One was called "Future Prospect" and another was "Collage" on Pausa Records and Optimism Records. I helped produce the Kicks Band CD "Alive and Kickin" and appeared on the first Kicks Band release called "The Kicks Band." Beyond that, as director of the Mt Hood Jazz Band, I've been involved with the production of the student jazz recordings which are now being produced on the Sea Breeze Jazz label out of California.
Gigs: Currently, I'm not performing very much because I've gotten involved in a lot of different activities on the organizational level. I've made my mark not so much as a player but as an educator and leader in the jazz education community.
Future Plans: I've come to a point in my life where I might have some time to start writing again.
Other: Here's what I'm hearing from all of the jazz entities I come in contact with, be it the festivals, the college, the Jazz Society, the clubs, radio station or the musicians themselves …they're all saying we really need to get an alliance going and all work together to help each other, promote each other and pool our resources.
I hope to see that come to pass, and keep the art form vibrant and moving into the future. The Jazz Society is the neutral umbrella organization that could take the lead.
-- Interviewed by Rita Rega