Featured Musician - March 2007
Name: Nick Gefroh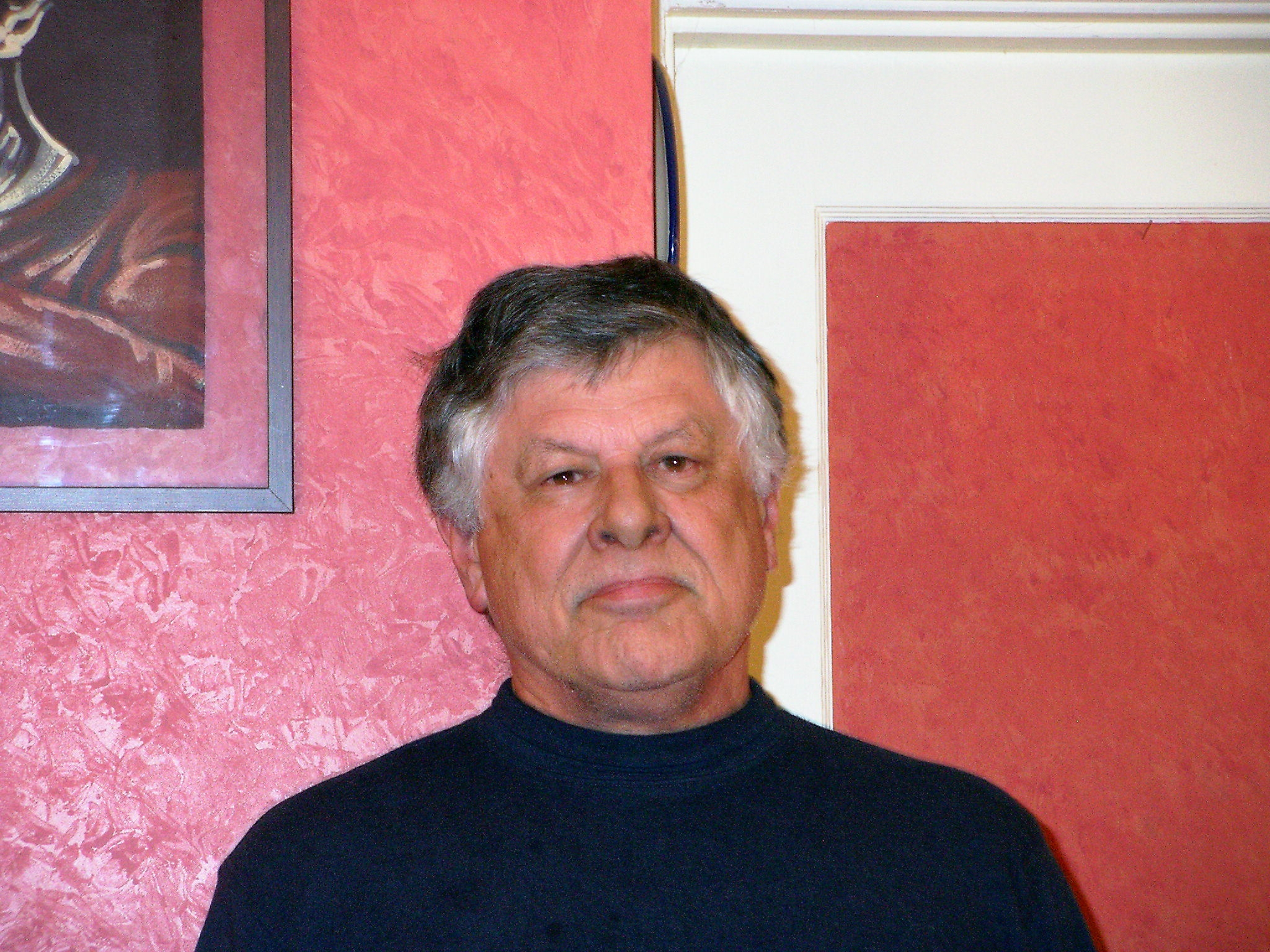 Instrument: Drums (Traps, Timbales, Congas, etc.)
Early Years/Education: Grew up here in Portland and got into jazz really young at age ten or eleven. This was in the mid '50's. I had a cousin who introduced me to jazz and he'd take me to the "Jazz at the Philharmonic" shows every year.
My first emotional "kundalini" jazz moment was seeing Oscar Peterson Trio with Herb Ellis. I saw Lester Young, Dizzy Gillespie, Buddy Rich, Gene Krupa, etc. I still have the programs! My parents wanted me to play accordion. I wanted to be a saxophone player but started beating around on things and picked up drumming. I was good enough to play with other young people around town. Back then The Oregonian had a competitor called the Oregon Journal and both newspapers had young people performing and touring around the state in a kind of vaudeville act. I was in the "Journal Juniors" and at the same time saxophonist Jim Pepper was in the "Young Oregonians." Our dads knew each other so we got together to play.
I was listening to Bird at the time so I turned Jim onto Charlie Parker…later he turned me onto Ornette and Trane. Pretty soon we were playing Monk tunes, Horace Silver tunes. We then formed a band together; it was a first for both of us.
Pepper and I were like musical brothers playing beatnik coffee houses, going to jam sessions at the Cotton Club, haunting the after-hours joints…basically Jim and I caught the tail end of the "golden years" of Portland jazz as described in Dietsche's book "Jump Town." I did study formally with Don Worth at that time but really learned from everyone I've played with over the years.
I liked everything but was always attracted to Latin music. Played around Portland until 1965 when I decided to move to New York. I got a loft which was a big thing at that time and people got wind of it. Players who were around would come up and jam. That's where Jim Pepper met Larry Coryell. They really hit it off. Bobby Moses was there, he was only 18 and killing! That's when I really got into Latin music. Rock had taken over everything so we were into jazz-rock.
We all lived in the same building… Larry Coryell, Pepper, Bob Moses, Chris Hills, Arthur Harper, and Joanne Brackeen, to name a few.
Salsa: Went down to Brazil in 1970 as a musician to play at an annual song festival. Ten years later I went there as a tourist and stayed for 10 years. Anyhow, when I returned to Portland around 1974 there was no Latin music here at all. I ran into percussionist Gerry Rodriguez and he wanted to start a Cal Tjader-style Latin group. At that time "salsa" came into vogue in New York so we started a "salsa" band and called it Montuno.
It was the first "salsa" band here. Gerry was the only Latino in the group; the others were young jazz players… Rich Halley, John Jensen, Lee Bradford, Mike Powers, and others. Our audience was composed of New Yorkers who were living here, granola free-formers, Blacks looking for their Caribbean roots and of course the few Latinos who were here at that time.
The next band we had was called Manteca, which ran from the late '70s to early '80's. We played a lot of the jazz venues, and special events like "The Bite" and "Neighborfair;" we emulated the New York "salsa" sound ala Tito Puente. Slowly we developed singing, chorus singing. My wife Molly came along toward the end of Manteca. Later, I wanted to scale back and so we formed the band Palente, which lasted a long time, almost fifteen years. At a certain point I got totally burnt out on being a band leader so we disbanded. No longer a leader, I started playing with guitarist Alfredo Muro's quintet Bossamba. Currently, I play for the Mc Menamins' brothers marching band; with a steel pan player named Chris Kern and also with a bluesy-funky- jazzy group called the Vaporizers. Also, over the years, Molly and I have gotten into the Afro-Cuban folkloric music … rumba and Bata drumming. Those rhythms are really coming into play now more than ever. It's really the "Age of the Drums" for me…I think over the past decade jazz has really gotten percussive. I like the fact that a lot of people can dance to it. Jazz and dance go together, it's a good thing.
Radio: We had a friend, photographer Carol Yarrow, who had a jazz show on KBOO. This was around 1986 and Molly inherited the show from her. This became the "Nick and Molly" show. We'd bring our kids down to the station and stick them in an air booth in their car seats and watch them as we did our show; this show lasted until last year. Recently, I've taken over Don Manning's jazz slot at KBOO; Don Manning is irreplaceable. Rather than inserting another kind of music I stepped up to continue the jazz in that time slot. Musical Influences: Elvin Jones, Idris Muhamad, Tito Puente, Billy Higgins, Ed Blackwell, and Miles Davis.
Most Satisfying Experience: Getting into a situation playing music when everything's going right. It's kind of a transcendental experience…really that's what it's always been about. As you grow older it's harder to achieve, you just get jaded. It happened much more when I was younger.
Favorite Recordings: For jazz there's Charlie Parker's Savoy recordings; Coltrane "Ole" and "Africa Brass;" "Sunnyside Up" with Dizzy Gillespie, Sonny Stitt, and Sonny Rollins; Miles Davis's "Cookin'," "Relaxin',", "Steamin'," and "Workin';" Nat Cole, Lester Young and Buddy Rich's trio; The Jazz Messengers w/Monk; Basie's "April In Paris;" Ellington's "Uptown;" Art Blakey's "Free for All;" Stefon Harris's "Black Out;" Trio Beyond (Jack de Johnette, John Scofield and Larry Goldings) "Saudades;" Christian Mc Bride's "Live at Tonic;" The San Francisco Jazz Collective volume one and two; Louis Armstrong "Live at Symphony Hall" "with the Hot Five" and "with his Hot Seven;" for Latin music: Tony Martinez "Maferefun," "Maraca Valle," "Havana Calling;" Tito Puente "Top Percussion," "Dance Mania;" Cal Tjader and Eddie Palmieri "El Sonoido Nuevo," "Bamboleate;" Cubanismo "Descarga de Hoy" "Mongo Yambu;" Ganzalo Rubalcaba "Live at the Museum of Fine Arts" in Havana; Bobby Sanabria "Live and in Clave;" Chu Cho Valdez "Live at the Village Vanguard;" for Brazilian there's Moacir Santos "Ouro Negro," Trio Da Paz "Café;" Duduka da Fonseca "Partido Out." Discography: I am on one cut with Carl Smith called "What's New" that'll be on Bob Dietsche's CD that will accompany his book, "Jump Town;" PALENTE is on the latest KMHD compilation. The cut is listed as Nick Gefroh's Latin Band; I did something with singer-songwriter Eric Anderson on Warner Brothers called "Avalanche" many years ago; and I helped put together "Rock and Other Four Letter Words" on Columbia, recorded in New York in the 1960's.
Where Playing Currently: Nick is semi-retired from the scene but you could catch him at Jax or the Crystal Ballroom with the Vaporizers or his other small group Latin outfits. As a disc jockey hear him on "Jazz Lives" on KBOO 90.7 FM Wednesdays from one to three in the afternoon and on KMHD 89.1 Monday nights with his Latin show Descarga.
Future Plans: I'd like to have more gigs and just enjoy my retirement.
Other: Cuban music and jazz were together from day one. New Orleans was as much Spanish as it was French; it's always been an influence in jazz.
Interviewer's note: Nick has consistently delivered the highest quality radio. Now that his shows are heard world-wide on the internet his fan base is global. We in Portland are really fortunate to have had the opportunity to tune in this world-class disc jockey for over twenty years.
-- Interviewed by Rita Rega