Featured Musician - December 2006
Name: Greg Goebel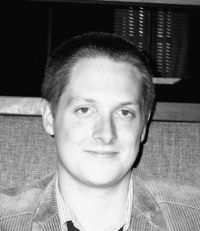 Instrument: Piano
Early Years/Education: My parents started me on piano when I was four. They like jazz but it was my peer group in high school who really got me into this music. We'd go after school to buy jazz records and sit around and listen to them. I'd transcribe and try to copy great recordings. My first gig was in a coffee shop in Eugene at age 14.
One of my friends I played with back then I still play with here in Portland and that's drummer Randy Rollofson. He's in my trio; it's really nice to have that kind of rapport. As a freshman at South Eugene High School I occupied the piano chair in the big band because the guy ahead of me graduated.
In the summer I'd attend the jazz camps at the University of Oregon which is where I met Steve Owen. As a senior in high school I played in the Oregon Ensemble which was the University's top group. I've been writing ever since I was a little kid and took arranging at the U of O.
While there I got to study with Gary Versace for two years and then after he left I studied with Randy Porter for a year. When I moved to Portland after graduating in '03 Randy was very helpful in getting me gigs. When he couldn't make it he's send me. While still in Eugene I played with drummer Alan Jones. He had started a new quartet with me, Rob Davis on tenor and Andrea Niemiec on bass just before he moved to Europe. I learned a lot from him. I have a BA in Music with a specialty in Jazz Studies. (Greg was named "Outstanding Overall College Musician/Pianist" three years running at the Reno International Jazz Festival. In 2002 he won an award for composition in "Downbeat Magazine" and his combo won "Outstanding College Combo" twice at Reno.)
Bands: I have my own trio with Andrea Niemiec on bass and Randy Rollofson on drums. We've played together for years. I play with Ron Steen a lot who is a real inspiration to me. I first met him when he showed up at a gig I was playing at the Blue Monk with Chris Brown (Mel's son). I really like playing with him, he always hires great bass players, and it's really cool. I got to play with John Handy because of Ron, I have a lot to thank him for; lots of players in town do.
I also play in David Friesen's trio which features mostly David's original music. I'm having a lot of fun in a quintet called PDXV with Dick Titterington on trumpet, Rob Davis on tenor, Dave Captein on bass, and Todd Strait on drums. I've also just joined a trio with John Gross called Blema Bii with percussionist Israel Annoh. I play Fender Rhodes with a band led by trumpeter Bryant Allard and am also in Art Abrams' big band. I've been working quite a bit since moving to Portland in groups lead by really creative players, I feel very fortunate, I don't take it for granted.
On teaching...I use a method that integrates improvisation, composition and ear training to very young beginning students. It makes for a better well rounded musician. I currently have a six year old student who can transpose anything in all the keys. These young students don't know it's supposed to be hard!
Musical Influences: Like most people my influences probably run the gamut. I did a bunch of transcribing of Bud Powell, Charlie Parker, Keith Jarrett, Herbie Hancock, Chick Corea, and Bill Evans. But any good music inspires me and influences my playing. I really like Kurt Rosenwinkel right now; also the band led by Andy Milne called "Cosmic Dapp Theory." Wayne Shorter and Joe Henderson are a couple of my favorites.
A lot of influence comes not always from recordings but from people I am fortunate enough to play with. People like David Friesen and John Gross are very unique and inspiring. Playing a lot with Alan Jones was a big influence as well as working with Ron Steen, both of whom have helped me grow as a musician. I got to study a little bit with Gary Versace and Randy Porter and their styles are definitely something that I tried to absorb and then make my own.
Most Satisfying Experience: Playing with Dick Oatts at the Oregon Jazz Festival last year in Eugene. We had Gary Hobbs on drums and Phil Baker on bass, it was great. Also, having the University bring me back as a "guest artist" with my trio which includes Andrea Niemiec on bass and Randy Rollofson on drums.
Favorite Recordings: Oscar Peterson Trio + One, Clark Terry- (this is the first jazz album I ever bought and still one of the most swingin' that I own); Miles Davis "Nefertiti;" "Live at the Plugged Nickel;" Keith Jarrett "Standards Live;" "My Song;" Glen Gould "Goldberg Variations;" Chick Corea "Now He Sings, Now He Sobs;" "Live in Montreux" (w/Joe Henderson, Gary Peacock, Roy Haynes); Elliott Smith "XO;" "Either, Or;" Kurt Rosenwinkel "Deep Song;" Brad Mehldau "Anything Goes;" Joe Henderson "Double Rainbow;" Bill Evans "Explorations;" Bobo Stenson "War Orphans;" Radiohead "Hail to the Thief;" John Coltrane "Dear Old Stockholm;" "A Love Supreme;" Herbie Hancock "Empyrean Isles;" ....these are just some of the many that I really enjoy.
Discography: There are some thing in the works but as yet have no published recordings.
Where Playing Now: Every Tuesday at the Kenton Station on N. Denver in Portland with trumpeter Bryant Allard starts at 7pm; 12/1 Koji's on Barber Blvd. w/David Friesen at 9pm; 12/2 at Abou Karim w/ David Friesen starts at 8:30pm; 12/4 w/Ron Steen at Produce Row starts at 9pm; 12/9 at PCC with Terrell Stafford at 7pm; 12/16 at Jimmy Maks w/ Devin Phillips at 8 pm; 12/31 with the Art Abrams Swing Machine at 10 pm in Portland.
Gigs Coming Up: 1/5 and 6 at Koji's w/ David Friesen starts at 8 pm; 1/10 PDXV in Sisters, Oregon 8 pm; 1/19 Jax Bar w/David Friesen starts at 8:30pm; 2/9 at Jimmy Maks w/PDXV starts at 8pm; 2/16 w/PDXV as part of the Portland Jazz Festival starts at 10pm; 2/17 w/Art Abrams Swing machine starts at 8pm; 2/23 w/Bryant Allard at Jax Bar starts at 8pm; 2/24 at Abou Karim w/David Friesen starts at 8:30pm; 4/ 6 and 7 at Koji's w/David Friesen starts at 9 pm; 5/4- 5 at Koji's w/ David Friesen starts at 9 pm.
Future Plans: I'd like to get a CD released featuring my own music playing with my own trio. Every once in a while I think about going back to school and getting my Masters. And somewhere in the back of my head I think about moving to New York and playing there.
Other: I'm playing so much as a sideman but I think I'd like to have a working group doing my material.
A quote from drummer Ron Steen: "Greg is one of my favorite piano players ...I've used him more in the past year than anyone. He is the best of the young guys in town, just phenomenal...a brilliant musician!


-- Interviewed by Rita Rega