Clubscene

The Blake Lyman Trio
March 6, 2009
Vinideus
(www.vinideus.net)
NE 48th & Fremont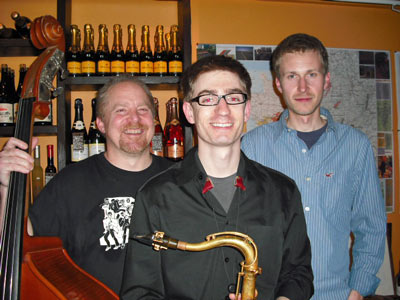 The Players:
Blake Lyman, sax
Dan Schulte, bass
Jonas Oglesbee, Drums

A very welcoming neighborhood wine bar is the scene for this fabulous trio. Owned by Dominque Vidal, Diane Pierce and Patricia Raclot, who all happened to be present this evening, this venue is warm and inviting - charming even - with terra cotta colored walls, contemporary art and soft lighting, as well as a wonderful and reasonably priced menu. My friend and I ordered a bottle of French wine and a salad that I can't pronounce the name of, but loved every bite of. The staff was very attentive to all of their guests, and there were quite a few of us. The music started at 7:00 and the crowd grew until it was a packed house at 9:00, full of happy people, enjoying the atmosphere and the live jazz.

The band started off with a lively arrangement of "All or Nothing At All". It's not every day that you hear a trio that doesn't include piano or guitar, but it lent itself to an openness and freedom for the sax and bass solos. On this particular song, Dan delivered his customarily spirited offering on his acoustic bass. So fun to watch and listen to. Dan is the seasoned professional, committed to the artistic elements of performance-- nothing out of the can from this guy! Watch for more from him at the Cathedral Park Jazz Festival, Silverton Wine Fest and the Vancouver Wine and Jazz Festival.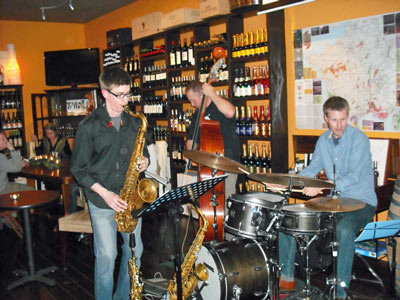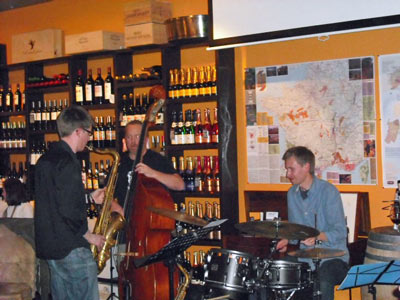 Blake is a very concise band leader, providing charts for his original tunes (and there were many of them), as well as an easy bantering with the crowd. His sax solos were smooth and soulful. "But Not For Me" and "Green Dolphin Street" were two of my favorites. One of his impressive originals was introduced as "Natalie's Song". She had dark hair, a red scarf, a shy smile…the melody moved between tenderness and passion, and had all the girls wishing someone would write a song like that about them. Since he finished Art School in 2007, he says he's been "working to reconcile what I've learned with what I want to do." When I asked him about his trio, he said, "These are 2 of the finest musicians I've heard. If you get a chance to hear them, by all means, do it. You won't be disappointed." The 3 of them obviously loved what they were doing, and played off of each other quite nicely. Blake was right.

Nice brushwork and very tasteful accents characterized Jonas' style. I'm always impressed when I can see that the drummer is listening to what is going on around him…he provided the support and creative dynamics that took this trio to the next level. Sensitive to the ebb and flow of each song, he played energetically without ever overpowering. Jonas studied at Cal Arts in L.A. as well as at Indiana University.

I hope you'll take the time to check out this great spot that supports live jazz, and to catch these guys next time they play. And OMG---the chocolate cake!

Linda Daiber