Clubscene

Jazz Stories & Beyond the Border: Stories of the Latin World
Lynn Darroch
The Cave
December 5, 2008



Lynn Darroch has performed his Jazz and Latin American stories in many venues; bookstores, libraries, Jimmy Mak's, and the Mt. Hood and Portland Jazz Festivals, among others. The Cave is a perfect setting for his stories; low-ceilinged, warm-hued and intimate.

Accompanying Lynn are some of Portland's finest musicians, Randy Porter, David Evans, Carlton Jackson and Alfredo Muro. The audience settles in, knowing they're in for a special treat. Lynn is a knowledgeable jazz writer and storyteller, and the accompanying music delicately weaves itself into his stories, bringing them to life.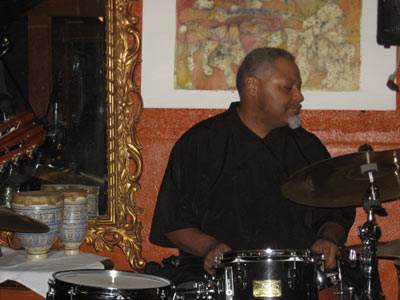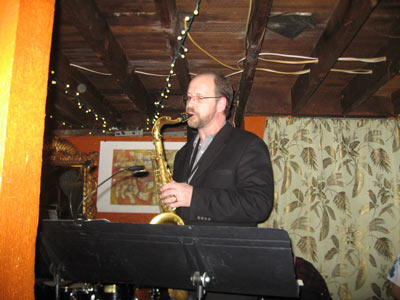 Randy, David and Carlton begin with an instrumental,

I Hear a Rhapsody

. Then it's pared down to just piano and saxophone and Lynn begins his history of Portland jazz through stories.

Lynn mentions how urban renewal in the 40's and 50's decimated the thriving jazz scene on Portland's east side. To me, his story,

Crows

, evokes the tragedy of it. David and Randy alternate between Randy's composition, the gorgeous, melancholy

Dark Sky

, and the up-tempo

Cheesecake

. "Squads of crows descend, flapping and cawing….." "They swagger, they steal, and in summer they wheel down on Portland and enter our dreams….. we feel something precious is slipping away."

Lynn tells us Warren Bracken lived here from 1950 into the 90's, until he died.

Hungry Heart

is his story of living in a world corrupted, and loss was always draining his heart. He lost his wife, and lost his friends to drugs. Tired of traveling with Billy Eckstine's band, he moved to Portland where there was a lot of work on "The Avenue." But by '58 most black clubs had closed.



Falling in Amsterdam

is a story about Chet Baker. Lynn says that when he visited Amsterdam, one of his goals was to find the place where Chet Baker had died, saying, "The story of his death is the story I'm about to tell. It's not only about Chet, Baker…. I guess these stories are all like dreams in which all the characters are me. Biographies are very tricky things…. especially here in The Cave. If you have ever read Plato, you know how what we really see are only shadows, and not the real things at all. And so my stories are the shadows the light casts. There are no essences, there are only stories. Some are more convincing than others." The musicians open with an instrumental and Lynn asks us to imagine Amsterdam streets and canals, with trees hanging over them, suggesting that maybe some of these trees are willow trees. As Lynn begins his story, David and Randy play "Willow Weep for Me."



The Widow Faulkner: the Past is Never Over

, is a story inspired by Glen Moore's visit to Estelle Faulkner's place in Charlottesville, Virginia. Lynn explains he's taken a lot of passages from Faulkner's

Fox Hunt & the Bear

. While traveling with the Paul Winter Consort, Paul and Glen were invited by the author's daughter to ride in a fox hunt. While Paul did just that, Glen visited with the tragic, lonely widow Faulkner in "the big house."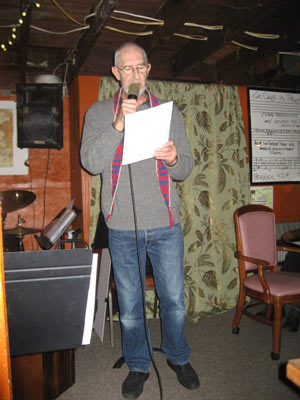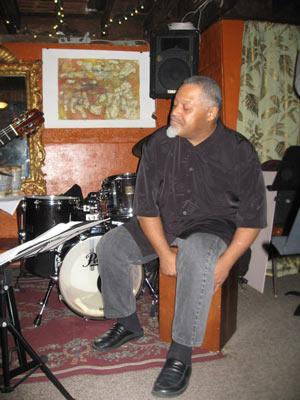 Lynn's next set is his Latin stories accompanied by Peruvian guitarist, Alfredo Muro, and Carlton Jackson on Cajon. They are gorgeous, seductive pieces, making you feel as if you are there, or wish you were.



Man on the Corner

tells of a life destroyed by loss, the busy streets of Lima, and the clash of civilization and the indigenous, traditional way of life. "Elections are coming…." "Over again they defeat the vote of hope, with fear."



Tango Suite

begins with a milonga beat. This is the story of Astor Piazzolla, the Tango composer and bandoneon player. Astor grew up in NYC, but his return to Buenos Aries ignited a Tango revolution.


Sebastian Zombrana's story,

Los Paraguas de Buenos Aries

or

Umbrellas of Buenos Aries

, a story of lost love, is told to an Astor Piazzolla tune,

Verano Porteno

. "I don't want to sell my music; I just want to stay inside the notes, thinking about music itself."



Alicia in Spain

conveys women's empowerment in dance. "Women, without men; they dance and snap castanets, stomp, and clap, shriek, twirl…"

Lynn begins

El Brujo de Beaverton – Gregorio Martinez

, "This is the music of Gregorio Martinez. Spanish guitar and song, African rhythm. Where romantic ballad fused with the beat of Cajon. The sound of mixed race; Indians, Creoles and Africans."

There were other stories this evening and the piece I especially loved was about Jim Pepper. Lynn says, "There are too few folk heroes to take his place in the local pantheon. His legacy to us all was Witchi-Tai-To."

Storytelling is becoming a lost art and fortunately for us, Lynn continues the tradition, preserving history, and reminding us what a pleasure it is to be told a story.

Lynn has recorded many of these musical stories on CD and is recording a new one, as well. Find out more at http://lynndarroch.com/

The Cave
636 SW Jackson St.


Pam Jones