Clubscene


John Keyser's CD Release Party
CD: "Compasino" on the Saphu label
Wilf's
Saturday evening, April 26th, 2008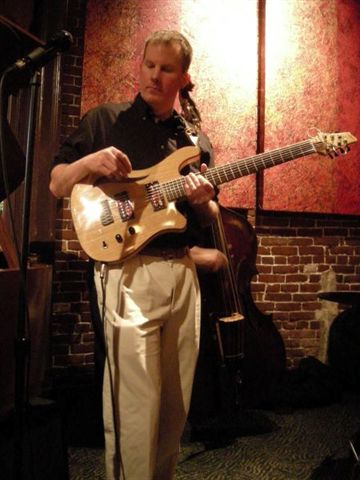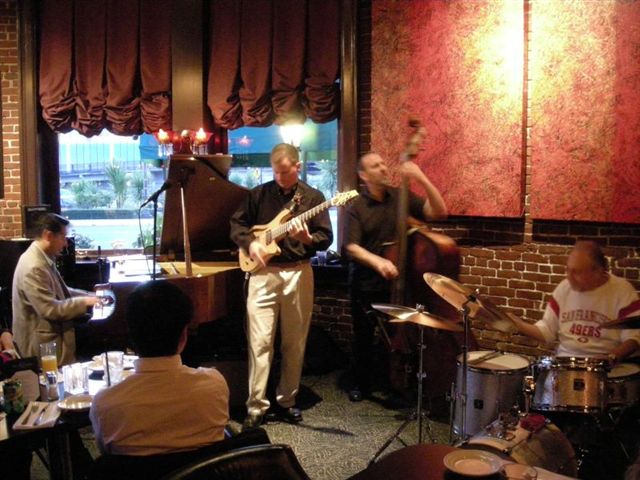 Maintaining a strong yet understated presence for a very pleasant musical evening of both originals and standards, jazz guitarist John Keyser did himself and his music proud at his recent CD release party at Wilf's.
The CD, entitled, "Compasino," features nine of Keyser's compositions, and just one jazz standard, the beautiful, "Autumn Serenade," a Peter DeRose composition. The recording was released on Ed Bennett's local Saphu label.
There was a nice showing for the event, a respectful listening audience who showed appropriate enthusiasm for the highly palatable jazz which Keyser created with skillful support from highly inventive pianist Tony Pacini, the gentle yet firmly rooted bass of Ed Bennett, and the effortless-sounding yet highly intricate rhythms of the masterful Dick Berk on drums.
Wilf's hosts CD release parties regularly and it is easy to understand why this venue is the choice of so many musical artists. The room, with its vibrant red pallet, brick walls, tasteful lighting, and oversized, modern paintings, exudes posh intimacy, inviting guests to relax and linger over drinks, fine food, and music. Some of Portland's best jazz artists appear at this venue Wednesday through Saturday. Among these are the Ron Steen Trio, Tom Grant, the Tony Pacini Trio, and a variety of vocalists. Check the Wilf's website for the current schedule.
The music was particularly special this evening, thanks to Keyser's fresh and varied approach to his art form, and superb choice of fellow musicians.
Keyser's music is intellectually challenging enough to keep a seasoned jazz listener engaged, yet accessible enough to hold the attention of the non-jazz aficionado. This valuable balance serves as an asset to any jazz artist, and John appears to come by a propensity for this balance naturally. He has a strong melodic sense and mixes this with just the right amount of inventiveness to please a wide variety of listeners.
The set list included several contemplative and refreshingly underexposed ballads, among them "Autumn Serenade," "I Fall in Love Too Easily," "While We're Young" and "Too Late Now," all of which allowed Keyser to feature his strong sense of melody in his soloing, and his sweet sound, warm and round. His relaxed and non-flashy approach to playing is appealing and comforting, and he creates thoughtful, lovely alternate melodies when he solos which are well constructed enough to be singable. Keyser and his fellow musicians put a new spin on another standard, "Besame Mucho" by playing it in 5/4 time and, amazingly, it actually swung!
Keyser writes much of his material himself, and displays plenty of variety in his efforts. His original material, much of which is on his new release, was sprinkled throughout the program. Each of Keyser's pieces establishes its own satisfying groove. For a few of the night's selections, he composed a new melody over the changes of rather shopworn standards such as "All of Me," "Come Rain or Come Shine" (untitled original) and "Fly Me To The Moon" (Convivienza, which is on the CD), breathing freshness into each. The fast tempos of these selections showcase this guitarist's ability to play a single line with squeaky-clean facility. His self-penned melodies transform these familiar cornerstones into burning bebop tunes, energizing, and challenging to the ear.
One of the standout originals of the night was the pensive, poignant Pat Metheny-like "Settling Down." It is not on the CD, so be sure to request it next time you hear Keyser play. Also delightful was, "How to Be A Friend," again, slightly reminiscent of Pat Metheny crossed with Lennon and McCartney, with a funk beat and a subtle country twist. Another highlight was "The Coaster," an energizing and unpredictable blues dedicated to the Oregon Coast, with unexpected intervals, clean guitar runs, and fast double octave work. "Curb Feelers" puts forth yet another unpredictable but appealing melody, and the upbeat, minor swing "Keepin' Pace" has a melody which is downright catchy.

This was a musical night to remember, and if you missed it, "Compasino" is available for purchase at www.saphurecords.com.

John Keyser will be appearing at Wilf's again on Friday, June 13th with the fabulous Tony Pacini Trio. Don't miss the chance to hear this wonderful music live!

John will also be performing with John Stowell at Riverplace, June 6th.


Carolyn Joyce