Clubscene

John Nastos & E4
March 3, 2008
Jimmy Mak's



John Nastos – Alto and tenor saxophones
Clay Giberson – Keyboards
Drew Shoals – Drums
Damian Erskine – Electric bass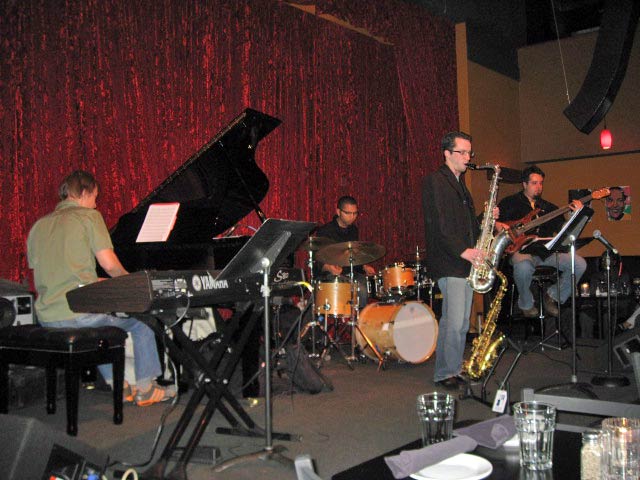 If you're worried about the future of jazz, get out to hear John Nastos and his peers and you'll be reassured that it's in good hands. John is one of our own, having gone off to the prestigious Manhattan School of Music and, fortunately for us, returned to Portland.
He was selected by Darrell Grant to be this year's Leroy Vinnegar Institute's featured young musician during the Portland Jazz Festival. For the LVI concert he brought his musical colleague, pianist Sam Harris, from Manhattan, to perform with local luminaries, bassist Dave Captein, with Alan Jones and Drew Shoals alternating on drums.
John has been filling in for Warren Rand since high school. Now he's leading his own bands. John is a poised bandleader, a skilled straight ahead player and he composes, as well. It's truly a breath of fresh air to hear his compositions and arrangements.
In his E4 band is Clay Giberson, Drew Shoals and Damian Erskine. They open with a delightful Softly as in a Morning Sunrise with John on Tenor. It is full of surprises, which I like, tender and melodic, then John has something to say, and it's funky. Clay's playing is initially lush, then abstract, and John brings the melody back. Up in the Air has a great back-beat which Drew handles with élan. Then they do a ballad, which Clay begins with a pretty melody. John is expressive and Drew and Damien provide subtle support. John tells us he wrote the next tune a few years ago and that it has a funny name, Weasel Socks. It's super fun and funky, with John on alto and Clay on electric keyboard. Legacy is lovely, with John on tenor. Next is Drew's tune, Equal To or Greater Than and they invite Ben Darwish to sit in. He's on the electric keyboard and Damian keeps the baseline funky. John's alto is beautiful on Prism. Drew takes a powerful solo on The Last Chief and John soars. It doesn't get much better than this; fresh arrangements and original tunes.
There's a whole cadre of young talent in Portland, right now. I hope you'll get out and support these outstanding, young musicians and make them feel rewarded for carrying the torch.
Check out John's jazz website. It's the best one for what's going on in Portland! www.jazzpdx.org