Clubscene

Karla Harris
November 20, 2007
Tony Starlight 's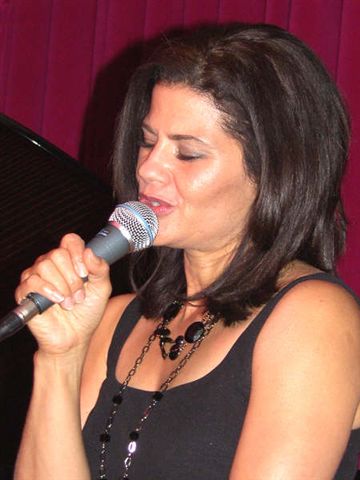 Karla Harris– vocals
Mark Simon – piano
Karla Harris is an engaging performer with stage presence and a stellar voice. Lucky for us she's relocated here, bringing her St. Louis style of swing with her. Her repertoire includes jazz, pop, soul and show tunes. She sings Ain't Misbehavin ' with panache, and tells a story of how Fats Waller came to write it, when he needed money to get out of jail. She engages the audience and makes us happy to be sharing the evening with her.
Don't Explain, a haunting love song by Billie Holiday, is sung unhurriedly and with emotion, " Hush now, don't explain, you know I love you. You are my joy, you are my pain …." Karla lightens the mood with Deed I Do, a show tune by Walter Hirsch and Fred Rose.
I feel taken back to my high school days, with Carole King's It's Too Late. Karla makes us laugh, describing her "voluminous" bell bottoms (with lace insets!) she wore to Tony Starlight 's 70's Night, recently. A perfect lead-in to the song.
Next, from the 40's, is Harold Arlen's Between the Devil and the Deep Blue Sea . Karla scats, trading 4's with pianist Mark Simon. With a bluesy segue, they continue with Come Rain or Come Shine. Then, Like a Lover, a pretty, tender song by Brazilian composer, Dorival Caymmi. Next is Etta Jones' How I Love my Gentleman Friend, and Seals and Croft's pretty, Summer Breeze.
Karla tells of Fats Waller writing Honeysuckle Rose from a gin joint, over the phone, with his lyricist, Andy Razaf. And what delightful lyrics they are.
Every honeybee fills with jealousy
When they see you out with me
I don't blame them, goodness knows
Honeysuckle Rose

When you're passin' by, flowers droop and sigh
And I know the reason why
You're much sweeter, goodness knows
Honeysuckle Rose
Don't buy sugar
You just have to touch my cup
You're my sugar
And it's sweet when you stir it up

When I'm takin' sips from your tasty lips
Seems the honey fairly drips
You're confection, goodness knows
Honeysuckle Rose
Karla closes the set with, what she tells us, are novelty tunes by Rosemary Clooney, In the Cool, Cool, Cool of the Evening and Mambo Italiano. Really fun!
There are only a few people out tonight, so Karla starts the second set with The Late, Late Show, saying, "Be wild, go out on a Tuesday night!" Next is a sweet Gershwin brothers' tune, I'm a Little Jazz Bird. Karla really swings with Cole Porter's, It's Too Darn Hot , from Kiss Me Kate. She slows it down with the beautiful Lennon/McCartney ballad, In My Life, " There are places I remember …." Then a cheery, I'm Beginning to See the Light.
I never cared much for moonlit skies
I never wink back at fireflies
I'm beginning to see the light ….
Karla tells us Willow Weep for Me is usually a blues, but Mark's arrangement is up-tempo and fun. Then the plucky, Pick Yourself Up, Dust Yourself Off .
Again, I'm taken back in time with the achingly beautiful You are so Beautiful, which I remember Joe Cocker singing in the 70's. Mark's accompaniment is gorgeous. Karla jumps easily from there, back to the 30's & 40's, with Tuxedo Junction, "There's a Place in Birmingham , there's a place in Alabam…". Karla luxuriates in the lyrics to Peel Me a Grape, and closes with a bouncy Sweet Georgia Brown .
If you haven't heard Karla sing, yet, watch for her and get out to hear her! "Be wild."