Clubscene

Noah Peterson CD release – DUOS & TRIOS
November 03, 2007
The Old Church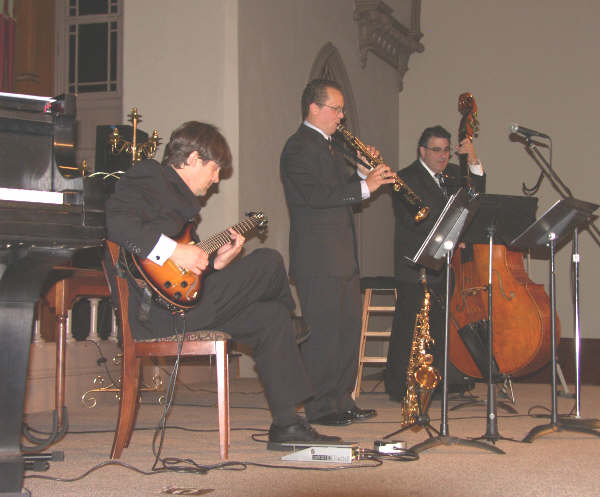 Noah Peterson - Alto & Soprano Sax
Jay Stapleton- Guitar
Janice Scroggins - Piano
Dennis Caiazza - Bass
Noah Peterson may not be a jazz household name, but he should be. He has broad musical talent, performing anything from jazz and soul to marimba. Noah is a dynamo, and enterprising, and he makes things happen and finds places to perform; Biddy McGraw's, Iorio, Bugatti's, benefits, farmers markets and private events. He leads his own duo, trio, quartet, quintet, his funky Soul-Tet and performs in others' bands, as well.
This night was a celebration of his new CD Duos & Trios , recorded with Janice Scroggins, Jay Stapleton, Dennis Caiazza and Dave Captein. Dennis was the bassist for the evening.
Noah and Janice start with America the Beautiful, playing it straight, then Noah makes his alto squawk and starts swinging, while Janice starts on piano with a soulful, gospel groove, switching to stride. Next up is a joyful Kenny Baron/Stan Getz arrangement of Rogers & Hammerstein's Surry with the Fringe on Top. On Harlem Nocturne Noah is soulful and Janice's keys, lush. Noah gives Hoagy Carmichael's Georgia a sweet interpretation on soprano sax, and Dennis's deep sound on bass, gives it a warm feel.
Guitarist Jay Stapleton was visiting from the Bay Area and he and Noah are long-time collaborators. They co-wrote A Sweet Piece of Candy and perform it as a duo, with Noah on alto. It is a fun, joyful piece. They step out of the jazz genre with Neil Young's Sugar Mountain , a gentle melody, with Noah again on soprano. Noah says he wrote My Name is Burns, "a cool little ditty for a cool cat," for a guy named Burns who used to hang out at Jazz de Opus. And it is cool. Next up is Stanley Turrentine's Sugar. It's a feel-good tune and Dennis digs in, receiving applause mid solo.
The second set opens with Noah on soprano, and Jay and Dennis, on a tune that was very, very pretty and Jay plays an enchanting solo. Noah wrote It's a Bossa Thing, a tune with a beautiful melody, and demonstrates fleet fingering on soprano. Jay wrote You'd Never Know , a slow waltz, and it's performed with lilting soprano, captivating guitar and strong, gorgeous bass.
They play three from Noah's CD Noah Peterson, Live at Marylhurst Drive , with Noah on alto; One Summer Day, a sweet bossa, It Takes Two to Tango, a dramatic tune, and Waltz for Tom, a soulful waltz!
Noah composed Coming Home to You for his sweetheart, explaining how hard it is to spend evenings away. It's a melancholy tune, slow and sad. Noah on alto, sounds heartfelt, sweet and tender. Jay continues the mood and Dennis provides one of the most beautiful bass solos I've ever heard. They closed with One Bad Mother, a fun, bluesy tune and went out swinging.
I highly recommend Noah's CD Duos & Trios. It can be purchased at www.cdbaby.com .