Clubscene

Tony Starlight 's Supperclub – Lounge, October 26, 2007
King Louie & Sweet Baby James
Tony Starlight 's Supperclub – Lounge www.tonystarlight.com
NE 37 th & Sandy Blvd
Historic Hollywood District
Portland , Oregon
Band: Louis Pain- Piano & Keyboard, Sweet Baby James- Vocals & Conga, Renato Caranto- Saxophone, and Jeff Cumpston- Drums.
Tony Starlight 's Supperclub, in the historic HOLLYWOOD district of Portland, hosted two of Portland's much loved duos, King Louie & Sweet Baby James.
Louis Pain, lacking his Hammond B-3 performed with a portable keyboard on top of the piano, keeping that organ funky soul alive. Baby James with roots in the blues, delivered songs with intense emotion.
Songs "Lady be Good," "I Want A Little Girl," and "It Had to be You," melodies that are old yet beautiful, and the harmonies are intricate and intriguing. While a soulful sax voices its own emotional touch. The drummer swings hard, laying down a solid foundation.
"Round The World" is a light-hearted monologue of a traveling man, to all those lesser known exotic locations in the state of Oregon . Baby James resuscitated Ray Charles' "Georgia" and "Gee Baby, Ain't I Good to You," here a fine line between jazz and blues.
An invitation issued to Toni Lincoln, with her sultry voice sings an old gem "Misty".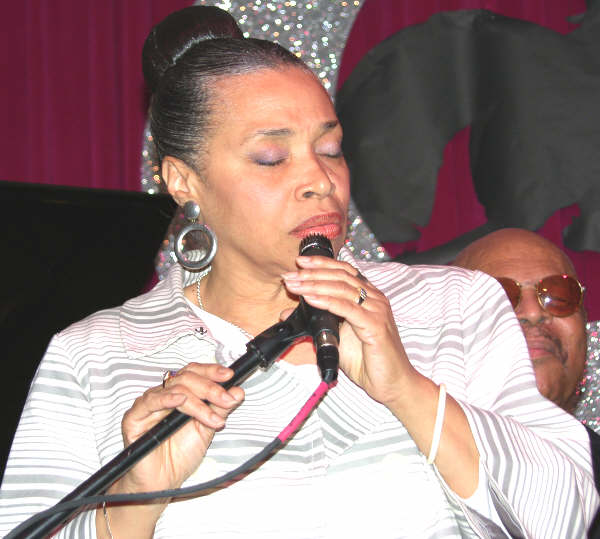 The interpretation of "Big Fat Mama" and "Gonna Move to the Outskirts of Town," was imbued with the blues.