Clubscene

Sandy Dennison-Her success train has arrived at the station!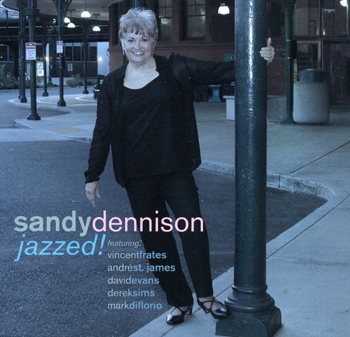 The evening of Saturday, 02.10.07 marked this writer's first musical rendezvous with local jazz chanteuse, Sandy Dennison. Wilf's Restaurant & Bar (800 NW 6th Ave at Union Station) provided a warm, cozy backdrop for Sandy's stellar song stylings assisted by an able trio of jazz stalwarts. Donny Osborne on drums, George Mitchell on piano and Ken Anoe on standup bass provided an elegant musical backdrop for Sandy's vocal magic.
Superb voice quality, savvy phrasing and just enough vibrato, provide some jazzy musical ear candy sweetened with her considerable verve and energy. This musical angel has just enough of the devil in her to make her song stylings fun & frolicy. She sings and she swings!!!
Her play list included old standards such as "Lovers & Friends," "Stella by Starlight," "Goody, Goody," "Since I Fell for You" and her closing number, "Night & Day". Sandy Dennison creates an ambience of welcome and warmth which makes for easy listening during her musical outings which this writer will be eager to reprise regularly in the future.
Sandy grew up on the East coast listening to the music of jazz greats such as Ella Fitzgerald, Lena Horne, Doris Day and Shirley Bassey. She started singing with her own jazz band in her twenties and received some invaluable stage and vocal experiences as well as top flight coaching during her fledgling performer years. Following an eight year stint as a performer Sandy took time out to raise a family, eventually moved to Portland with her husband and has been performing again locally/vocally for the last six years.
Her discography includes "Sandy Dennison, Love you Madly" (2003) and her most recent offering "Jazzed" (2007). Her CD release party will take place at Wilf's on Saturday, March 3rd from 8:00-midnight and promises to be a vocal jazz fest par excellence. You won't want to miss this jazz celebration!
Sandy will be a part of the Jazz Festival, holding forth at Wilf's on Friday, February 23rd from 8:00P-midnight. Her upbeat musical offerings are sure to be a tasty musical dish on the jazz festival smorgasbord.
rl