Clubscene

Kenton Station -- January 30, 2007
Phil Hatton's Jazz Dingoes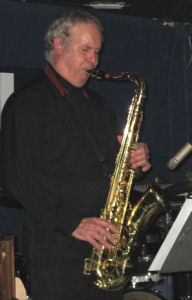 Phil Hatton – Saxophones & Clarinet
Wade Kirtley – Keyboard
Marc Lamdin – Guitar
John Walling – Bass & Trombone
Bill Franklin – Drums
Garner Pruitt (for Rick Homer) – Trumpet & Flugelhorn
Kenton Station is a neighborhood pub that hosts the music of The Jazz Dingoes every 1st & 3rd Tuesday. It is spacious, with pool tables on one side and booths on the other. It's a comfortable place for live music, with good pub fare and cheerful service.
Phil Hatton, leader of the Jazz Dingoes, grew up in Perth, Western Australia, and says he learned the "older styles" of jazz from his father who was a working musician. Phil said, "Growing up in Australia, jazz of the 60's and 70's wasn't available on the radio." The early influences gained from his father are reflected in Phil's musical taste and style.
Before they started the evening, there was a set by a group of young musicians, some of whom Phil teaches through M.U.S.E. (Musical Understanding through Sound Education) http://www.museband.com/. The members of the Phil Hatton Youth Jazz Band are Central Catholic and La Salle high school students, Curran Carlile, bass; Ryan Shanley, saxophone; Sean Kollman, clarinet; Charlie Harrington drums; and Jack Stringer on keyboard. I was told that Jack is also a good drummer. Johnny Rice usually plays saxophone with them, but had injured his hand, and their guitarist, Anthony Stewart, wasn't able to be there that night. They did a nice job handling Blue Moon, Girl from Ipanema, Afternoon in Paris, Sugar and Oleo. These kids have been performing together since middle school and obviously have rapport with each other. Under Phil Hatton's tutelage, they will have a strong foundation in jazz.
The Jazz Dingoes play a variety of music, but specialize in the older swing and early bebop typified by groups such as The Benny Goodman Sextet, The John Kirby Sextet and The Dave Pell Octet. The set I heard started with the buoyant swinger, Shivers (Charlie Christian). Guitarist, Marc Lamdin was featured on Do You Savvy (Charlie Shavers). John Walling put down his bass and played trombone on Louisiana (Phil's arrangement), while Garner Pruitt's trumpet was swinging and Bill Franklin sounded Krupa-like on drums. Phil's clarinet was well-suited to the lively Krazy Kapers (Benny Carter/Phil's arrangement) and Wade Kirtley got to stretch out on keys. The set continued with Mike's Peak (Shorty Rogers) and Dance for Daddy (Dave Pell/Marty Paich arrangement). Bill takes an extended drum solo, then John takes a turn on bass, and Phil's clarinet swings. They performed a Dixieland styled, That's a Plenty (Pollack/Gilbert), and a more contemporary piece, the pretty Blackbird (Lennon/McCartney), which was given an orchestral treatment, with Garner playing flugelhorn.
The music was highly professional and great fun. This is hot jazz! Even the pool players were listening and bobbing their heads. You can hear the Jazz Dingoes every 1st & 3rd Tuesday. There's jazz at Kenton Station every Tuesday 7-9pm. All ages, no cover, smoking allowed. 8303 N Denver Ave. 503-286-9242.
The Phil Hatton Youth Jazz Band plays at Kenton Station monthly and is scheduled to perform March 20, 2007.
Phil is also running a Traditional Jazz Jam at Tony Starlight's Supper Club on Thursday's 7:30-10:30pm. $4 cover. Non-smoking. Musicians do not pay a cover, and receive a free drink if they play. Tony Starlight's Supper Club is at NE Sandy Blvd. @ 37th.