Clubscene

Wilf's at Union Station, Thursday, January 25, 2007
Patrick Lamb Band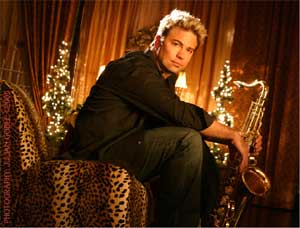 Patrick Lamb - Saxophone
Brian Ward - Piano
Dennis Caiazza - Bass
Tim Paxton - Drums

I had the extremely good fortune to be in Portland recently on business and had the opportunity to stop in at Wilf's to catch Patrick Lamb's Band. I came in during the break between the first and second set from the JSO Board Meeting which was held at Wilf's earlier in the evening. I had listened to the first set through the doors separating the meeting from the lounge and was anxious to enjoy the music first hand.
The first song after the break was Dave Brubeck's Take Five. The previously very crowded room had dwindled to a few true jazz lovers and we were treated to a rousing rendition of this wonderful jazz standard—a favorite of mine.
The next tune, Cherokee, is a lively tune often connected to Charlie Parker, although it was written by Ray Noble. This tune was a favorite of Charlie's and is considered seminal in the annals of jazz for the transformation that took place in this art form as a result of Parker's interpretation of this tune in 1939. Patrick's performance was no less rousing and energetic. We were all mesmerized.
While in the Charlie Parker mood, Patrick's next choice was My Little Suede Shoes—a pleasant number with a bossa nova beat. Patrick and group kicked it up a notch or two and we were all swinging pretty good by the end of the tune.
This was followed by Cole Porter's I Love You and Have You Met Miss Jones—which he sent out to JSO's very own Pam Jones (and Clubscene writer) who was also in attendance.
During the break, Patrick graciously spent time chatting with his fans and signing autographs. He is a true gentleman and while he is becoming relatively famous, it is nice to see he is keeping both feet firmly planted in terra firma. He is very excited about his new CD's. Let the Good Times Roll--NW Tribute to Ray Charles is a collection of northwest blues artists and is absolutely wonderful. I highly recommend it. His newest CD, Soul of a Free Man, is about to be released (March 3, 2007, Aladdin Theatre) and is a collection of vocals by Patrick. This was a surprise to me as I didn't know he sings—but sing he does. And quite well.
Wilf's is a lovely, lively venue where Portland's best jazz artists perform on a regular basis. Wilf's is open for lunch Monday through Friday and for dinner Monday through Saturday; they are closed on Sunday. Music is available Tuesday through Saturday. Come join the fun—you never know when you might be rubbing elbows with national artists or be lucky enough to have them sit in on a set or two.