Clubscene

Jax Bar & Restaurant -- January 13, 2007
Gene DeNardo Trio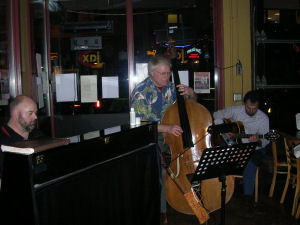 Gene DeNardo - Guitar
Gordon McDonald - Piano
David White - Acoustic Bass
It was evident that it would not be a normal evening at Jax, which is located downtown on SW 2nd between Yamhill and Taylor. Jax Bar is, for all practical purposes, split in two . . . the "family friendly" restaurant side and the bar side. Both sides are cool, but usually the band is in the larger, restaurant side, which was on this occasion filled with happy people at a private party dining at a long group of tables that almost filled up the room. (Jax also hosts a pretty dreamy rooftop environment during the warmer months . . . make a note of that, all of you fresh air fanatics and hopeless romantics . . .)
Tonight the Gene DeNardo Trio was inside (to the left as you walk in the front entry) . . .providing a very nice atmosphere for the good folks dining and hanging out at the bar . . . and the blend of guitar, piano and bass playing everyone's favorite jazz standards gave the place a comfortable ambiance. With the added bonus of a friendly and attentive staff, this felt like someplace you'd want to just hang with your friends for a few hours until all your worries moved downstream.
The trio was well balanced, the audience was appreciative and the set list was interesting.
Their second tune was On a Clear Day, and Gene's beautiful vintage Guild provided a very mellow tone to the mix. (I'm afraid I don't recall the first tune, but I do remember thinking, "Ahhhh . . . this is nice . . ." as I was perusing the menu consisting of a good variety, which made it hard to choose!) Speak Low offered a tasteful bass feature with a hint of It Might As Well Be Spring thrown in, and Girl Talk highlighted the artistic chemistry between the musicians as they each enjoyed a turn at telling this whimsical story with their instruments. Blue Bossa featured Gordon McDonald on the piano and percussion at the same time (Gordon has quite a collection of percussion instruments and adds those special touches at all the appropriate moments . . . how he plays piano AND provides that syncopated undercurrent is a mystery to me.)
In between sets, the guys filtered out into the room to sit with friends and fans. When asked how long this group had been together, someone quipped, "Oh, about 20 minutes!" That's one of the greatest things about jazz . . . it's very much like a language we can learn to speak, and each musician's phrasing and form gives a voice to the message of every song.
I learned that Gene was the first musician ever booked at Jax by Dennis Hipes, and he has quite a lengthy list of experiences that have shaped his playing. To learn more about this jazz guitarist, visit www.myspace.com/genedenardo, you'll find some great samples to listen to. Keep your eye on the JSO Calendar for future bookings!