Clubscene

BeBop Coffee House, Saturday, January 13, 2007
Bend Jazz Quartet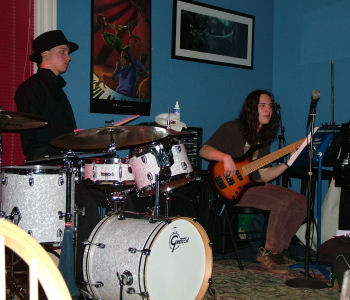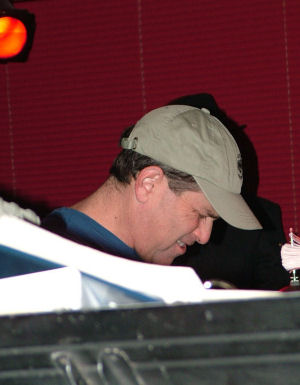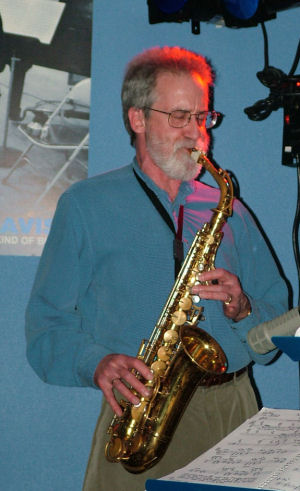 Andy Armer - Piano
Adam Carlson - Drums
MacKenzie Hatfield - Electric Bass
Rich Feldman - Saxophone

Sarah Holmes - Vocals
Georges Bouhey - Drums
Tom Freedman - Trumpet
Randy Jeffers - Saxophone

Bend. The fastest growing city in the state—and quite possibly the entire Northwest. A recreation destination spot and a haven for escapees from California. It only follows that jazz should find its way to Bend. As I have only recently moved here myself, I was thrilled to discover a great, cozy coffee house and jazz club only five blocks from my house—but dismayed to find that it is struggling to the point of extinction.
The good news is that the jazz supporters in this community are rallying and working to keep the club open long enough to find new buyers who will maintain the jazz venue. So, word is spreading and tonight the place is packed with jazz lovers and musicians hoping to get a chance to play in the weekend jam.
BeBop is owned by Sarah and Michael Holmes, and is located at 1900 N.E. Division, just north of downtown Bend. The club actually closed New Year's Day but the hue and cry raised by the locals is allowing the club to be open on weekends only while we try to figure out a way to keep the club open for good. It is a cozy place with big, overstuffed couches and small tables scattered throughout the slightly L-shaped room. They currently serve coffee, naturally, and BeBop Biscotti, beer, wine and soft drinks. From time to time, they have brought Portland jazz musicians to Bend for memorable performances. Some of them are Dave Friesen and the Ben Darwish Trio with Drew Shoals and Zach Wallmark.
All this brings to mind the days of Delavan's in Portland, circa mid-1980's. It was a great club in an old firehouse and was in the same boat. A wake was held on the last evening--the place was packed to the rafters and the joint was jumpin'. The house band was the Ron Steen Trio with Phil Baker and Peter Boe and somewhere along about midnight Ron took the mike to announce that a buyer had come forth allowing Delevan's to continue. And continue it did for quite some time after that. It later morphed into Remo's, also a jazz club and was a very popular spot for jazz in Portland.
So there is hope for BeBop. There is also a new buyer interested, but we need to keep BeBop open while the decisions are being made so we don't lose the tenuous hold of jazz supporters in the community. This is the ONLY venue that has only jazz in Bend. We are fighting mightily to save the BeBop Coffee House.
Andy Armer, the leader of the Bend Jazz Quartet, was born into a musical family in Los Angeles. He started playing piano at age 6 and hasn't stopped since. In 1979 he wrote the song "Rise" which was recorded by Herb Alpert and became a worldwide #1 selling single, earning a Grammy nomination. He has been producing and recording records ever since. Andy and his family moved to Bend in 1995, where he currently directs the Central Oregon Youth Jazz Band and he continues his teaching practice and records in his home studio.
Another local musician here this evening who has made his way in the professional jazz realm is Georges Bouhey. He studied percussion at the University of Oregon, University of Utah and privately with Ralph Humphrey. He has played, recorded and toured the U.S. with Sal Marquez, the Fowler Brothers, Mason Williams (Classical Gas) and Byron Berline.
Tonight, Andy Armer is making the now familiar announcement from the mike that donations are welcome and then chooses Dave Brubeck's In Your Own Sweet Way to start off the set. And what a set it is! Andy kicked it up a notch or two and created his own "sweet way" with the tune. Rich Feldman rose to the occasion and I was thoroughly enjoying myself in no time.
For the next tune, Mercy, Mercy, Mercy, the group was joined by drummer Georges Bouhey and trumpeter Tom Freedman. Visions of Cannonball Adderley floated in my head as Rich took off and made it his own. The interplay between Andy and Rich was mesmerizing and McKenzie Hatfield, a talented young musician, proved his mettle in this group of prodigious jazz giants.
The third and final set of the evening brought back the original quartet with young Adam Carlson on drums and a surprise guest artist. Andy had closed the previous set with a tease and now we were to find out who the mystery guest was.
The snow was falling softly outside and a few latecomers came in shaking off the cold as Sarah Holmes, co-owner of BeBop, took the mike and started to sing one of my favorite Billie Holiday tunes, God Bless the Child. Her husky, sultry voice lent a beautiful dimension to the already robust evening of jamming at the BeBop. She followed this with The Nearness of You and Alice in Wonderland.
Because all of the regulars were surprised by Sarah taking the mike, I asked her about this at the end of the evening. While she and her husband, Michael, have owned BeBop for about 2 years, she had not taken the stage before to sing. She obviously is no newcomer to performing and explained that she used to sing some rock and jazz many years ago. She promised she would be singing again, and I can't wait to hear her!
The evening closed with the quartet performing the familiar Route 66 but I'm tellin' you—they COOKED! It was a stupendously rousing performance for the end of the evening, which did, indeed, end far too soon.
So, if you find yourself in Bend soon on a Friday or Saturday night—be sure to drop by. You will be glad you did!