Clubscene

Jax Bar and Restaurant - January 12, 2007
Centerpiece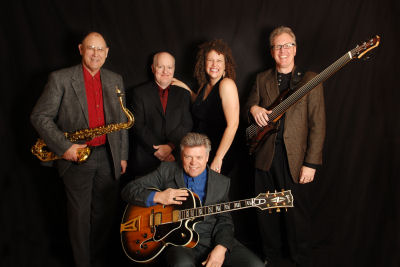 Claudia Knauer, vocals
Kenny Franklin, bass and vocals
Rouke Van Der Veen, guitar and vocals
Jeff Jones, drums and vocals
Al Zion, sax
The room was already filling
an hour early
and a certain electric charge
was building
an undefined buzz
that kept the senses alive
the radar pitched way up
eyes darting
casting shallow nets
to catch other eyes
the clubsters look good
casually riche
sleek
start buttons on

as she came into the room
the buzz elevated a few dBs
curly hair piled high
motor thrumming
tall
smooth
eyes dancing
spotting friends
taking in the house
she notices me
smiles
nerves starting to show
ready to light it up
the room is packed
sardines have it better
servers move
at lightspeed to take orders
wonderful aromas fill the air
the mixture of food
and subdued perfume
blending with the ions
to create the scent of jazz.

Jax was alive this Saturday evening. Claudia Knauer and Centerpiece have that ability to create excitement, and their audience is loyal, as well as exuberant. The band opened up with an instrumental version of In a Mellow Tone, everyone taking solos and giving us a good idea of the musicianship to come. Next, vocalist Claudia Knauer took the stage, showing her chops right off on an upbeat take on Cole Porter's Night and Day. Claudia sings with absolutely fearless abandon, giving the audience one exciting ride after another. Their signature tune Centerpiece, followed, with the guys joining Claudia in some nice harmonizing...I was looking forward to more of that as the night carried on.
One of several Dave Frishberg tunes, Peel me a Grape in this instance, was the group's next choice. Ms. Knauer put some nice spin on this whimsical classic, showing off her voice and wit. Then a real surprise and treat for me, Harlem Nocturne, with a wonderful sax solo by Al Zion. Al has been playing in numerous bands, large and small, over the last 50 years and has a beautiful tone. His solos were a high point all night long. This piece by Earle Hagen is a favorite of mine and the group just nailed it.
To lighten the mood, Claudia followed up with the delightful I Feel So Smoochie. Other numbers included Choo Choo Chaboogie, with guitarist Rouke Van Der Veen taking the lead - Rouke has been a member of Johnny Limbo & the Lugnuts for over 25 years, and his rock and roll roots were showing big time in this number, also featured were How High the Moon, At Last (with local blues legend Margo Tufo sitting in on vocals), Angel Eyes, and Jump, Jive & Wail to round out the first set. Nice variety, great musicianship, with Jeff Jones and Kenny Franklin, a couple of Berklee College alums, holding down the bottom end with style and verve. We all needed the break between sets, just to cool off.
The final two sets were highlighted with such crowd pleasers as Walkin' After Midnight, Fever (a real scorcher), Skylark, Sunny, Ain't Necessarily So, I Thought About You, Blue Skies, Wave, Blue Moon, and another Frishberg delight, My Attorney Bernie. This was an absolutely marvelous evening of entertainment. Even with the large crowd, the food and service were exceptional (Barb Davis - one of the owners - was even working her tail off to keep the service at peak level), and Dennis Hipes is to be commended for having the foresight to book Centerpiece and the good sense to book them again for February 9th. There was also some talk of getting them on the roof this summer for an outdoor do under the stars. So stay tuned...