Clubscene

Portland Jazz Singers Showcase - December 29th and 30th, 2006
Performing Arts Center - Newport, OR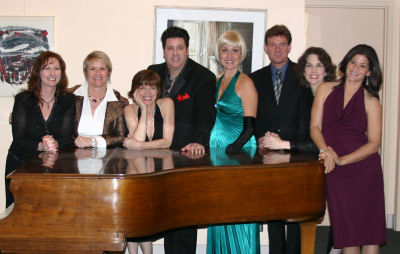 "Jazz in the Holidays"
The Singers:
Mitzi Zilka
Linda Michelet
Linda Daiber
Barbara Lusch
Karla Harris
Carolyn Joyce
Tobaj
Mike Winkle

The Band:
Mark Simon - piano
David Evans - saxophone
Dennis Caiazza - bass
Larry Bard - drums
The drive to Newport on the Oregon coast was beautiful, serene, and I was excited about watching a vocal jazz extravaganza that I had seen built from the ground up by Portland songstress and producer of the Portland Jazz Singers Showcase, Mitzi Zilka. The idea started as a "Wouldn't it be great if..." and became a great program through her vision, energy and willpower.
Mitzi wouldn't tell me much about what the program would be, other than who the performers were, and a few tunes she let slip out during the weeks beforehand. She wanted it to be a totally fresh experience for me. The Performing Arts Center in Newport, just a bare block off the beach, is a wonderful facility, with exceptional sound quality, and features year round music under the artistic direction of Frank Geltner. There are a plethora of wonderful hotels within walking distance, almost all with ocean views.
As the program started, my excitement level rose...it was finally happening. Once the band was settled on stage, five singers filed up, dressed to the nines, each taking a mic, and the band broke into Little Jazzbird with all five singers taking a couple of lines each and then all joining together to bring the song home. The opening singers were Mitzi Zilka, Linda Michelet, Linda Daiber, Barbara Lusch, and Karla Harris. It was a cute start and got us all in the mood to be entertained - like we weren't already. From there it moved into spotlight singing by each of the five singers, with each singer doing three numbers by a specific composer/artist. The singers all got to choose their own composer and the tunes they would do, with a stipulation, fairly well adhered to, of two livelier tunes and one slow one.
The first singer was Linda Michelet, who had chosen Peggy Lee tunes and did a pretty good look-alike of the diva as well. Linda kicked it off with a solid rendition of It's a Good Day, moving into the Lee classic, Fever, and then capping off with I Don't Know Enough About You. Clubscene columnist, Richard Lazere, has a wonderful interview with Linda that will tell you plenty, but suffice to say, I truly enjoyed Linda's free and easy style - and "style" would be the operative word here.
Next up, newcomer Linda Daiber - along with Karla Harris, one of the new kids on the block, but sure to be a name you'll recognize in years to come. Linda, who's been singing with a big band, has recently moved to the small group format and takes to it like a fish to water. Her composer of choice, Johnny Mercer (nice choice) - Day In Day Out got us in the Mercer groove as Linda showed us the pipes that one develops singing with big bands. A touching Midnight Sun followed, and her set ended high with Something's Gotta Give.
Next, it was Mitzi's turn in the spotlight, delivering a tight set of Cole Porter songs, beginning with the achingly soulful Every Time We Say Goodbye, showing off her delicate phrasing, pulling us into the song, and then transitioning into I Concentrate on You with the ease that she exudes. A great capper, Just One of Those Things, finished the set with a style and panache appropriate to the composer.
At this point, I should mention the band and in particular, Mark Simon, the Musical Director and master of the keys. Mark is the regular accompanist for Portland Singers Showcase and has worked with all of these singers. The comfort level between performers was obvious throughout. Dennis Caiazza and Larry Bard, along with Mark, often form the foundation of Mitzi's Green Dolphin Street Band, while David Evans was the new guy. David is one of the finer tenor players in the northwest and his solos added a classy addition to many of the songs this weekend. The solos he and Mark traded were elegance itself...never too much...always just right...never taking away from the singer's performance...always enhancing it. Bassist Dennis Caiazza is an exciting East Coast transplant whose wit on the upright matches his wit after the gig (a very fun and funny guy). And Larry Bard is truly a singer's drummer, and we've all heard those who aren't and we know the difference. Larry's abbreviated, but tasty solos and even tempos rounded out the perfect band. It was amazing how well these people worked together to put on a fabulous show.
Back to the singers, our fourth soloist for the evening was Barbara Lusch, a petite ball of energy in her interpretations of Bobby Troup's music, including a provocative Girl Talk, a flirty Daddy, and all wrapped up with Troup's legendary Route 66 that had us all swinging in our seats.
And finally, powering somewhere out of the Midwest came Karla Harris to thrill us with a Harold Arlen trio of tunes, A Sleeping Bee, Between the Devil and the Deep Blue Sea, and a killer Come Rain or Come Shine. Karla tends to take the stage by storm and doesn't let go till it's all over. This seemed like an entire night's performance, but was really only the first of three sets. Talk about getting your money's worth...
The second full set featured chanteuse Carolyn Joyce. Carolyn once told me that Mel Torme was her all-time favorite, and I would bet Mel would have been proud of Carolyn's set, delivered with heat, passion, and excitement. Songs included I Only Have Eyes For You, Is You Is or Is You Ain't My Baby, A Little Tear, Nice and Easy, When I Fall in Love, a marvelous rendition of Clare Fischer's Morning (a personal favorite), Love You Madly, I Ain't Got Nothin' But The Blues, I Just Found Out About Love, and Just Squeeze Me. Carolyn's rich alto was pure honey. And we still had one to go.
Tobaj! I have no idea what that name means, but I can tell you, this guy can flat out sing. A natural performer, Tobaj blasted onto the stage with a stunning Take Five, mixing a blend of scat and lyrics that kept you glued to the performance. Tobaj is the fifth instrument on stage, giving his opening number double meaning, and the band was incredible in their support, filling in perfectly, never letting the tune drag. I couldn't wait to hear the next tune...or the one after that...it was a tour de force as he took us through tunes like My Favorite Things (at a Coltrane pace), Centerpiece, When Sunny Gets Blue (a spot on arrangement of Kenny Rankin's dynamite version), Four, What Are You Doing The Rest of Your Life, Black Orpheus, and a sensational version of Night in Tunisia. One wonders why we don't hear more from this guy on the stages in Portland. His slightly Latin accent seems custom-built for the fast paced vocalese that works its way throughout Tobaj's performance. What a stellar evening.
I wondered how Saturday night could compare, but moments into Mike Winkle's stylish set and all doubt disappeared. Mike's great voice, somewhere between the land of baritone and tenor, is such a pleasure to listen to. Tunes like You Make Me Feel So Young, Blame it on My Youth, Nature Boy, Fool on the Hill, If I Only Had a Heart, I've Got You Under My Skin, and I Don't Like You No More kept us begging for more. Mike is a charming person and the audience was surely charmed by his singing.
Mitzi Zilka had the next set and wowed us with a collection of jazz standards and one C & W classic, Patsy Cline's Walkin' After Midnight. Mitzi told me later that when the sheet music for one of her tunes mysteriously disappeared, Walkin' made its way into the cut. It was a crowd pleaser with Mitzi's jazzy rendition. Other tunes included a gorgeous Lazy Afternoon, reminiscent of June Christy in her glory years, Let Yourself Go, Time After Time, Lullaby of the Leaves, another crowd fav with its catchy middle section that runs the scales, Where or When, in a distinctly different 5/4 arrangement, I'm Old Fashioned, done in a waltzy 3/4, I've Never Been In Love Before, and a wonderful You Smiled at Me (with Mitzi's own lyrics to the familiar Blue Bossa, which is one of my favorites). Mitzi showed great range and control at all times, turning in a fantastic performance, after fearlessly surrounding herself with great talent. We were ready for the big finale.
After a final break, all eight singers came back on stage for the last set. This was to be the final showcase for each singer, with each choosing a final song. Carolyn Joyce got the first shot and did a sensational One Note Samba, followed by Linda Michelet doing All Right, Ok, You Win and moving the mood to a decidedly frolicking one. Linda Daiber surprised us with a very upbeat The Way You Look Tonight - actually, I wasn't surprised because she had told me earlier that she was doing it, and to prove the arrangement's merit, she said Mike Winkle told her he was going to steal it. Every Night was Barbara Lusch's choice - a great tune that I wasn't very familiar with (am now). Karla Harris was next with a powerful Lover Come Back To Me, then Mike Winkle sang a marvelous Summertime, followed by Tobaj doing It Don't Mean A Thing, and Mitzi ended fittingly with Stompin' at the Savoy, but that wasn't the end, as the entire ensemble joined together to do Just In Time, enjoying the finish of an absolutely great weekend of singing.
There was much talk of doing this again sometime in the near future. Be sure to encourage these artists, if you see then, and you often can on Wednesday nights at Abou Karim with Mitzi's Portland Singers Showcase, featuring Mark Simon on piano. This is a show that deserved to be on the Portland stage, but was splendid in the Newport setting. I'm so glad I was there to see it.