Clubscene

Interview with Annie Madison - November, 2006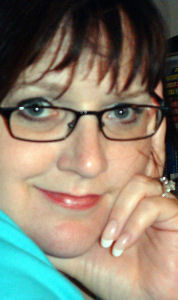 Madison Avenue - The place to experience the best in jazz on KMHD.FM
Annie Madison, KMHD (89.1, FM) radio on air personality is proof positive that going out on the town to hear jazz pays big dividends as does listening to Stumptown's favorite jazz, blues & NPR news radio station. Finally, after several years of tuning in faithfully to hear Annie Madison's dulcet tones on the airwaves, this writer met Annie face to face at JAX (826 S.W. 2nd Ave, PDX ) while attending a midweek jam session. Her sensitive and beautiful eyes along with her sweetness & sincerity combined with our mutual love of jazz to create an instant connection between Annie and this writer. Since that first meeting almost a year ago we mourned together the passing of up and coming local jazz singer Armonica, shared several additional jazz performances and have kept in touch about matters jazzy.
This writer was delighted when Annie agreed to be interviewed in connection with our launch of the Clubscene "On Air Personalities" series featuring the local ambassadors of jazz who bring jazz to the airwaves. During a Halloween lunch gabfest, we had a chance to yak deeper and wider about Annie's love of jazz music and her music meistering mission as she spins jazz platters on KMHD for the music hungry masses.
Annie was born in Portland, into a musically interested family in which she was the youngest of three siblings with an older brother and older sister preceding her. Her father was a high school musician (trombone) and her older siblings were also involved in jazz bands. Annie recalls being bathed in music at home supplemented by her parents taking her to hear live jazz performances often shepherded by her mom. The family enjoyed listening to "big band" music supplemented by classical and folk music interests. Annie began ballet lessons as a preschooler and later on added piano, trumpet and voice lessons to her musical tool kit. She has performed in chorale performances in the past and for the last seven years has performed vocal jazz at local Portland jam sessions.
Annie's career as a D.J. arose out of people frequently commenting to her that she had a pleasant voice that would play well on the radio. She called KMHD, inquired about a broadcast position, submitted demo tapes and received the green light to populate the announcer's booth some ten years ago.
Annie reveals that she obtains satisfaction from picking music that people like and feels that she has a knack for it. She enjoys music that is passionate and helps people to feel and experience something meaningful. Annie asserts that music is often a nostalgic present experience, which helps people to relate to emotionally meaningful past experiences. She favors performers who evoke emotion and especially enjoys singers Kurt Elling and Jane Monheit. Annie suggests that music appreciation is a very personal experience and she sees it as part of her mission to help listeners enjoy jazz both intellectually and emotionally as well. This intelligent and deep feeling individual enjoys it when people call in and tell her that they appreciate the music she is spinning. Annie feels especially passionate about the importance of on air personalities informing the audience about live music opportunities in the community and urging their attendance at and support of live music in our listening area. She urges listeners to invite a friend to share live jazz performances and it was fun discussing her "each one reach one" philosophy of growing the local jazz audience. Annie practices what she preaches by going to local jazz performances frequently and singing and swinging at jam sessions. She feels strongly that it is important for KMHD DJs to share information with the listening audience about musical events and opportunities around town. She believes fervently that a jazz radio station should do all that it can to inform and encourage listeners to show up and support the music scene, if live music in Portland is to survive and thrive.
Annie reflects nostalgically on her emotional connection to the late Armonica who served as muse and source of inspiration for her, musically. Annie feels that an important part of Armonica's legacy is about the need for denizens of the local jazz community to encourage each other and work hard to polish their musical chops as did Armonica during her all too brief career. She is starting a jazz vocal workshop in Armonica's honor, which she intends to fashion as a safe place for singers to refine their craft. Annie is also investigating group medical insurance possibilities for musicians and by doing so continues to express her compassion for the players who make the music, which enriches all of our lives.
This writer left the interview feeling that the story of Annie Madison is well worth sharing for the love of jazz. Her passion and advocacy for the local jazz scene coupled with her sweetness and sincerity about her musical mission combine to make Annie a sterling example of the best in jazz ambassadorship. Thanks for the memories Annie.