Clubscene

The Blue Monk - Wednesday, November 15, 2006
Wade Kirtley Quintet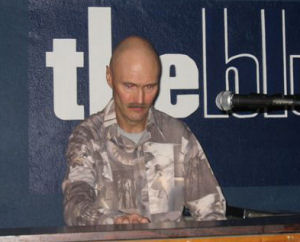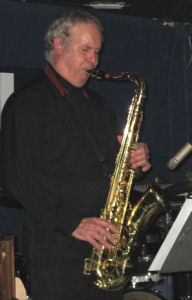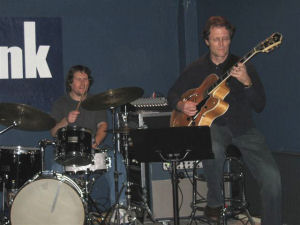 Wade Kirtley - Hammond Organ
Phil Hatton - Tenor Sax
Mark Lamdin - Guitar
Klaus Ferguson - Drums
Rick Homer - Trumpet

I'd seen Wade Kirtley's name at the Blue Monk Wednesday nights for quite a while and had never heard him, so I was curious. Finally, the night I decided to go it was cold, rainy and blustery and I was tempted to stay in, but I really wanted to see this group. I walked in about 9 pm and they were already playing. It turns out they start at 8:30, which is good because it's hard to get people out during the week. The few who were there were obviously fans.
The first song Wade announced was Horace Silver's Gregory is Here, a pretty samba, which he says is from In Search of the 27th Man. Then Jimmy Smith's funky Back at the Chicken Shack. Guitarist, Mark Lamdin was featured on Wes Montgomery's Road Song. Duke Pearson's Jeannine was swift and sweet. Saxophonist Phil Hatton chose the classic Body & Soul to be featured on. Wade announced Liberated Brother, as a "cha cha cha" adding that Horace Silver is one of his favorite composers. Mine too. Then, Salt Song. Wade later tells me it was composed by the Brazilian poet/singer/songwriter Milton Nascimento, originally titled in Portuguese Cancao do Sal (sal meaning salt in Portuguese). He said both Stanley Turrentine and Stan Getz recorded it.
One of their fans calls out, "Hey Kirtley, is it gettin' 'Round Midnight?" Wade complies, saying this was perhaps Thelonious Monk's most famous composition. Drummer, Klaus Ferguson tastefully uses brushes, then mallets on cymbals.
They closed with a surprise. The lyrics came to me, "I'm just mad about Saffron, Saffron's mad about me..." Donovan's Mellow Yellow. And it was funky! What fun. Next time I'm going to get there when they start. I don't want to miss a thing.
Wade tells me that trumpeter Rick Homer is usually in his band. Wade, Rick and Marc are members of Phil Hatton's Jazz Dingoes and have a regular gig at Kenton Station every 1st & 3rd Tuesday (& 5th if there is one), 7-9pm. Mark Lamdin also plays in the So Called Blues Band at the Green Room, Thursday's.
The Wade Kirtley Quintet is scheduled to play at Jimmy Mak's May 4th, 2007. In the meantime, check them out at the Blue Monk! The Blue Monk is one of my favorite clubs. They have excellent food, too. I love their halibut tacos, giant meatballs, and chicken parmesan with penne and beautifully prepared vegetables. The Blue Monk is located at 3341 SE Belmont St. It's non-smoking and there is usually a $5 or $6 cover charge. http://www.thebluemonk.com