Clubscene

Percussion Drum Clinic, October 27, 2006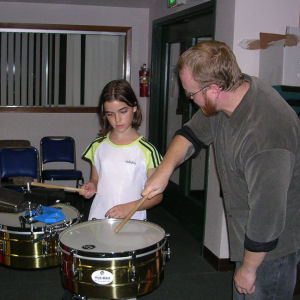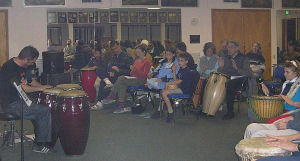 For the quiet town of Sandy, having 40 people show up for anything on a Friday night is rather remarkable, but to see them packed into the upstairs Auditorium of the Community Center was AMAZING. Ranging from 4 to nearly 70 years old, we were all there for the Percussion and Drumming Clinic by Doug Smith, a professional percussionist based in Portland who has traveled extensively playing drums, percussion, and vibraphone with Portland's Pink Martini.
The first hour was filled with performance by Doug and his colleague and students (Tofer Towe, Jesse Brooke and Tara McCallom.) Various rhythms from Cuba, Africa and Brazil were demonstrated such as Makuta, Iyesa, Mozambique and Comparsa, using bongos, congas, timbales, bells, drum set, as well as various smaller hand instruments. We were caught up in the intricate rhythms, each instrument layering its own voice into the mix. Doug said that it's great to play with other drummers. "It's like having a conversation rhythmically in a language you've studied together...it's fun and exciting!" The listeners agreed with spontaneous applause throughout the evening.
The second half of the Clinic was more interactive, as the attendees were invited to play along while being encouraged to count and read the rhythms as they played. Many in the crowd had brought their own instruments, but our Instructor shared his gear with the rest of us, as well as providing copies of his tablature form of notation for reading rhythms. (For more information go to http://www.therhythmlab.com/ .) The importance of learning to read and understand music was emphasized by personal stories of college auditions and experiences with other musicians. Several good resources, written by industry professionals, were also introduced to further motivate the room full of students.
After getting permission from Carol (the event's coordinator) to go past the "quit" time, we concluded our evening with a jam/drum circle that everyone participated in. All in all, it was a highly educational and entertaining time. We had FUN learning, and the whole bunch of us came away feeling as if we "have what it takes to do this" (there's the mark of a good teacher!) As each one left the Auditorium, we added our names to the list of people to contact for the next event, which hopefully won't be too far off!
May I encourage you to check your local music store, or listen to your local radio station (featuring jazz, of course!)...to find a workshop or clinic near you...and then go learn something new! Take someone from the next generation with you. You'll be glad you did! And the beat goes on....