Clubscene

The Red & Black Café -- Thursday September 28, 2006
The Andrea Niemiec Quartet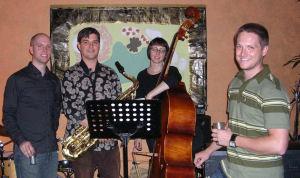 Andrea Niemiec, Bass
Greg Goebel, Keyboards
Tim Willcox, Tenor Saxophone
Randy Rollofson, Drums
Thursday nights at The Red & Black equals a great jazz evening. This funky little southeast café is featuring some of the most creative, innovative, and entertaining live jazz in Portland. Many of the musicians that play here are younger, but certainly not inexperienced or lacking in talent . . . just the opposite, in fact. These artists play their hearts out for the "sliding scale" cover dollars that listeners toss into the jar on the way in. Now that's a labor of love.
This evening's quartet, headed by the gifted Andrea Niemiec on bass, epitomizes the high level of talent that can be seen at the Thursday night session here. Keyboardist Greg Goebel is one of the more recognizable faces around town, often playing with the likes of David Friesen and Ron Steen, to name a few. Tenorman Tim Willcox is also showing up on the radar screen more often and was recently seen at Jimmy Mak's with international jazz drummer and alto player, Chris Brown. Randy Rollofson, a graduate of the U of O jazz studies program, was new to me and as such, a wonderful surprise.
The first set opened with an original by Niemiec, aptly named No Stars Tonight But My Own, a beautifully creative piece with a slow pace, almost a dirge, not quite a ballad, staying just this side of country and blues--in other words, indefinable, but definitively captivating. Goebel does a nice job filling out the simple melody line, then Tim takes his turn re-inventing the tune, taking it just a bit outside and then back again--nicely done. The bass solo is smooth, refined, as Andrea silently mouths words as she plays. Later she told me there are no lyrics. Great start to this set.
The next tune, penned by Greg Goebel, is titled As It Ends. This is a bit more of a ballad than the first tune, but until I found out later, I thought these first two numbers might have been written by the same hand. As Greg solos, it takes on a swinging, lively bounce with strong drum and bass support . . . very pleasurable.
The third tune, I Wish I Knew, sounded very familiar, but it took me a while to place it. The tenor opens with a hot solo--a complicated beat makes you pay attention, as Rollofson is very active and inventive, becoming a third voice . . . the bass solo is solid . . . accompanied by silent scatting. Andrea is fun to watch play, she is so into the tune. This number was followed by I Loves You Porgy, and Gershwin appeared to fit right in at the Red & Black. It featured a sweet sounding tenor solo that seemed to bring back memories from before birth and was the perfect set up for a lively Out Of Nowhere, featuring a searing piano solo and very creative drum solo. A great way to end a perfect set!
These musicians are wonderful together and I have high hopes of hearing them again, soon. The Red & Black Café is at 2138 SE Division, right on the corner, very accessible, and offering up tasty food, craft beers and Fair Trade coffee. I highly recommend it.