Clubscene

JAX - Sunday, September 24, 2006
Tall Jazz with Eli Reisman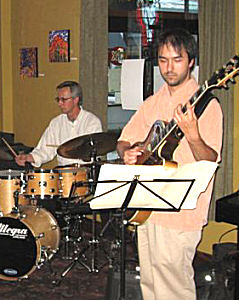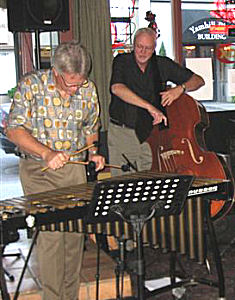 Dan Presley, String Bass
Mike Horsfall, Vibes, Piano
David Averre, Drums
Eli Reisman, Guitar
Every final Sunday of the month, Jax hosts a special concert, sponsored by Bridgeport Brewery and The Jazz Society of Oregon. On this early evening, the very talented group of musicians known as Tall Jazz was the featured group. They invited the wonderful young guitarist Eli Reisman to join them in delivering a bundle of jazz tunes, including both standards and originals. Tall Jazz was formed in 1989 and has been a cornerstone of the Portland jazz scene ever since.
When I walked in, the crowd was sparse, but very attentive. A light bossa nova filled the room and bassist Dan Presley was just going into a lovely solo, reminding me why Dan is one of the busier bassists in the community. As I took a seat and settled in happily for a solid set, I felt right at home - Jax is a comfortable listening environment. With the sun hanging low in the sky, the musicians were naturally backlit and appeared in mostly silhouette to me, making the music a bit more ethereal - very nice. I wondered who arranged for that.
Webb City, a Bud Powell tune, was up next, starting with an upbeat melody played by both Mike and Eli, then Eli took the first solo. His guitar virtuosity was evident instantly. A lush bass solo followed, and then a very creative vibes solo by Mike Horsfall. Mike's solos often were the ones pushing, but not quite outside the box, and showed extreme inventiveness, which is distinctly the sound of Tall Jazz that comes to my mind. Newest group member, Dave Averre carried the tune along with a smooth and tasteful drum solo that really capped the number well. Really a fine tune all the way.
Averre got to show his stuff as a writer with the next offering, Waltz of the Rainbow, and as a drummer with a beautifully melodic solo toward the end of the piece. Everyone worked well together to make this a thoroughly enjoyable number, full of exquisite solos. The band next offered up the great Leo Robin/Ralph Rainger tune, Easy Living, one of my personal favorites. It opened with Eli playing the gorgeous melody line, doing it absolute justice - very romantic - and followed by Mike's vibe solo which notches up the tune from romantic ballad to swinging ballad and it's like getting two songs for the price of one. Then, back to guitar and the couple in front of me is holding hands as the vibes gently play underneath - a truly charming tune.
Blues for the Game, a Horsfall original is a bouncy, bluesy number giving the vibes a nice workout. Not to be outdone, Eli slammed out a hot solo showing nice chops, and then a bass solo allowed the audience to grab a breath before the rest of the band jumped back in. Great drum soloing near the end left you thumping the table.
Another favorite ballad for me, You Don't Know What Love Is, featured a haunting guitar solo, although this is no dirge and has a nice little upbeat tempo. Mike's improvisation in the follow up solo bounces all around the melody, never losing sight of it, brilliant. The couple is back to holding hands as the bass comes in for a solo, while the smallish crowd is hanging on every note - these listeners obviously came for the jazz and aren't disappointed one bit. A very nice use of the toms by Averre with minimal cymbal work seems perfect and the guitar comes back in for a final strong finish. I'm a happy camper.
The final tune of the set, Ellington's Take the Coltrane, starts off with vibes and drums doing a vaguely "march" tempo that is completely re-invented with the addition of bass and guitar. Great solos along the way and this has been a fantastic set by one of the better working groups anywhere - and I'm sure we'll be seeing more of Mr. Reisman with this trio, as well.
Be sure to catch Tall Jazz in their fantastic holiday concert series: Astoria (Clatsop Community College), Nov. 25th; McMennamin's Kennedy School on Dec. 3rd; Willamette Valley Vineyards (south of Salem) on Dec. 10th. This is one of the best shows you will see all season long.
Jax is located at 826 SW Second in downtown Portland, and features a fine menu of full dinners and great bar food. Prices are very reasonable, drinks are done right, and service is friendly. Jax offers live music Wednesday through Saturday each week, featuring fine young musicians, as well as seasoned professionals, with a nice range of styles. Don't miss their jazz jams each Wednesday night, sponsored by KMHD.