Clubscene

Catch & Release -- Brian Ward Trio CD Soiree
Saturday, September 9, 2006
Halibut's Fish, Chips & Chowder House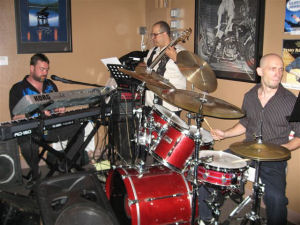 Brian Ward, Keyboards
Al Criado, Bass
Reinhardt Melz, Drums
There is a new star rising over Alberta in the form of Halibut's Fish, Chips & Chowder House located at 2527 NE Alberta. This fresh, non-smoking venue sports an intimate atmosphere, friendly service folks and an always-hearty welcome from owner Dave Mackay. The seafood is to die for with every dish sure to please, including fish & chips, chowder, salmon, codfish, Dungeness crab cakes along with other yummy dishes, which are sure to satisfy courtesy of Chef Jay. "Big Mack" is sincere about providing a home for good jazz and blues music as a result of which we have enjoyed many magical musical moments at this venue, which feels like a home away from home.
This evening, the Brian Ward Trio consisting of Brian Ward on keyboard, Al Criado on Bass and the always wonderful Reinhardt Melz on drums, debuted Brian's newest CD," Wonderbread." This ensemble fueled by superb seafood and an appreciative crowd created excitement and awe with their superb renditions of the tunes from the CD and left the crowd hungry for more when the hour of 11ish arrived too soon. The CD, not yet available in stores can be purchased for $15.00 online at CD Baby. This CD musical offering is truly a mélange of flavors as tasty as Halibut's chowder. There are shades of Afro-Cuban rhythms, funk and gospel as well as fusion and straight ahead jazz grooves. These superb musicians know what to do and are infectiously enthusiastic about the music they shared with their adoring audience. Featured on the CD, the first for Ward as a leader, are Willy Barber and Al Criado on bass, Melz on the drums, Eric Hailstone on guitar and Priscilla DeVold on vocals. The album was produced by Criado and recorded in his studio.
Ward grew up in a musical family in Salem and is now ensconced in Portland after experiencing mentorship from guiding lights such as Leroy Vinnegar, Mel Brown, Eddie Wied, Bobby Torres, Obo Addy and Curtis Salgado with whom he toured. He earned a BA in music from Portland State in '99, an MA in teaching in '01, and currently serves as the assistant minister of music at the True Vine Baptist church. Brian has been teaching applied jazz at Portland State since 2002. He is married to Vanessa, singer Marilyn Keller's sister.
Ward is already writing music for his next CD. This writer urges readers to hop on board this musical train and add "Wonderbread" to your musical collection. This musical rising star has created a treat for the senses that you won't want to miss. Catch this release!