Clubscene

Mississippi Pizza - August 22, 2006
Portland Jazz Jam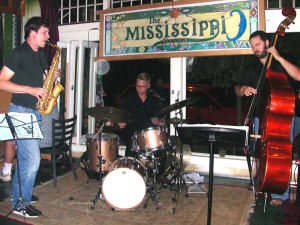 Tim DuRoche - Drums
Reed Wallsmith - Alto Saxophone
Joaquin Toler - Bass
What an intimidating assignment I gave myself. I'd been wanting to write about drummer, writer, artist Tim DuRoche for quite some time, so when I saw his name appear at Mississippi Pizza I decided to go. It would give me an opportunity to tell the jazz community about the cool thing Darren Littlejohn is doing there with his jazz jams, too. He's providing an opportunity for non-professionals and young musicians to perform with professional musicians. Also, Darren is compiling a database of jazz musicians, which is a great resource. When I introduced myself to Tim, he said he was hosting the session since Darren was away, and that Darren should be given a lot of credit. Also, Tim was excited because the legendary Beat generation poet, John Sinclair, stopped by to sit in. I found Tim to be completely disarming.
I had another motive on this particular evening. I recognized Reed Wallsmith's name, the sax player for the session. I wondered if he was the Reed Wallsmith that went to high school with my daughter in the mid '90's. And he was. They had done MUN (Model United Nations) together and he went on to get a degree in South American Studies at Carlton College. He told me he's spent time in Nicaragua, Argentina, Brazil, Cuba and Chile. Remarkable. I didn't know Reed played saxophone either, and was delighted to hear how good he is. He also has a band, Blue Cranes.
Bassist, Joaquin Toler told me he graduated from ACMA, the performing arts high school in Beaverton, in '95 before they had a jazz program. He has classical training and has started jazz studies at PSU.
The trio started with Charlie Parker's Segment, an up-tempo piece I hadn't heard before. Then Four Winds by Dave Holland, another one I hadn't heard, which I later find out, was on his '72 Conference of the Birds. Tim's drumming is impressive and he drives the unique rhythm. Joaquin's bass is fast-paced until the piece ends in a waltz. Next is Crane, an original by Reed. He plays the beautiful melody, while Tim uses brushes and mallets. In the end, Tim creates an interesting sound, running his drumstick along the edge of the cymbal, sounding kind of like a train slowing on train tracks. Reed announces a piece by Silvio Rodriquez, a Nicaraguan composer, Pequena Serenata Diurna. I soon realize I'm getting an education from these young musicians. Then they perform Carla Bley's lovely Ida Lupino.
John Sinclair takes the stage, quick, tall and slender, belying his 64 years, announcing he's here with his friend, a local photographer, he met in Amsterdam. He performs his poetry piece, Monk in Orbit in front of Monk's Straight no Chaser. John Sinclair really is a big deal. A counterculture icon, and former MC-5 manager, White Panther leader, jazz promoter, founder of the Rainbow Multi-Media Corporation (an alternative music company), correspondent to Downbeat and Jazz Magazines, and founder and member of many artistic organizations and literary journals.
After the break the trio performs standards, 'Round Midnight and Well, You Needn't, inviting players to join in. Tenor player, Jef Brown, stands out on Wayne Shorter's Footprints. The talented sax player, Shoehorn, has a lovely extended solo in All the Things You Are. Marc Hutchinson, another tenor player drops in for the last two tunes, and in the end, there are five saxophonists on stage!
I highly recommend the jazz jam at Mississippi Pizza, for players and listeners alike. 3552 N. Mississippi Ave. 503-288-3231. Tuesday's 8-11pm. $3 cover, but you'll want to give them more for showing you such a good time.