Clubscene

The Heathman Hotel - Thursday, August 17, 2006
The Johnny Martin Trio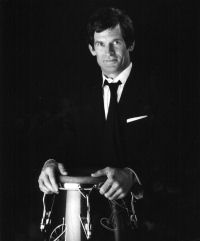 Johnny Martin, Vocals, Conga
John Fresk, Piano
Dave Averre, Drums
For those unfamiliar with the Heathman Hotel's elegant lounge, think rich wood, lavish floral display, fine art, soft carpeting, winding staircase, quiet, resourceful servers, ceilings that go up forever, and a rich outpouring of jazz all week long. This evening, it was my mission to seek and hear the highly reputed stylings of Johnny Martin.
Mr. Martin has been making a name for himself as the Portland area's answer to a long lineage of male vocalists, starting with Old Blue Eyes, himself. Johnny's style is certainly inspired by The Chairman and his vocal chops often have you thinking, "Frank," but he is definitely his own man and has his own sound.
As I walked into the room and wormed my way into a comfy seat right up front, Johnny was swinging with an up tempo tune (think it was Come Dance With Me) and I was immediately taken into the groove. As Johnny crooned out the lyrics, he held the mike in both hands, emoting a sincerity not often seen with singers. John Fresk's strong piano solo would be just one of many that evening.
Next, Martin gave us his rendition of Old Man River with a nice conga lead-in, creating a vaguely Cajun beat that fit well with the theme. His voice moved cleanly within the Sinatra range, somewhere between baritone and tenor, and kept you caught up in the current, as he segued nicely into They Can't Take That Away From Me and on into Moonlight in Vermont - really nice arrangement of a great medley. I was there early enough that the hotel crowd still dominated the room, often ignoring a tremendous talent right in front of them, but as the night wore on, the music crowd began to take over, as did the applause.
Johnny's clever rendition of Clementine showed his best chops and I love anything that reminds me of Bobby Darin anyway. A beautiful Rod McKuen tune, I've Been to Town, followed - nice, relaxed tone, accompanied by a gorgeous piano solo filling the middle and leaving me hungry for more. Dave Averre's drum work was decidedly laid back, allowing the piano and vocals to hold the spotlight. This is a very live room with hardwood walls and an over-zealous drummer can quickly bury the other instruments. Dave stayed back, but was always present and always right where he needed to be. Averre's work with Tall Jazz has helped to bring his skills to a larger audience and he was a perfect fit for this fine combo.
Another high energy medley of South of the Border and What a Wonderful World, a strange mix that worked incredibly well, had bodies swaying and hands tapping the tables. Johnny's blend of songs included A Kiss to Build a Dream On, I Left My Heart in San Francisco; If That Isn't Love, medleyed with Makin' Whoopee and sliding into Ain't Misbehavin', often using unique time signatures and sounding like Sinatra, without giving you the sense that he is trying to imitate Frank. The whole gig was very enjoyable and I will get out to see this singer more in the future.
The Heathman, located at 1001 SW Broadway in the heart of downtown Portland, serves an exceptional menu of bistro and small plate entrees, most between $6 and $12 - dropping to less than half that from 4:00 to 6:00 and from 9:00 to close. This is a great place to get dressed up and hear tasty jazz, but this is Portland and casual is acceptable as well.
Click here to read about Johnny Martin as JSO's Featured Musician of the Month for December, 2005.