Clubscene

Abou Karim - August 11, 2006
Nancy King & Dan Gaynor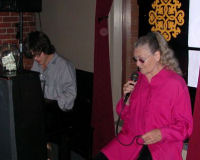 Nancy King - Vocals
Dan Gaynor - Piano
We arrive at Abou Karim, filled with anticipation. Excited because my friend Alice Brown has never been there, and she and Nancy King, whom we're going to hear, are long-time friends. We realize, as we approach the door, that the dining room is full but Gus, the gracious proprietor, makes us feel welcome. He seats us in the back room, promising to move us to the front when a table opens up, knowing we're there to hear the music. Apparently, since Marty Hughley's wonderful article about Nancy's recent concert at the Aladdin Theater, Abou Karim has been busy whenever she sings there. Gus follows through on his promise and we squeeze into a little table by the wall, just in time for the music, and we are happy.
Nancy King is an absolute delight to listen to. It appears she can do whatever she wants with her voice. Very much like improvising on an instrument. Her voice is sure, yet filled with fragile, delicate beauty. She can be soulful or playful. And she is renowned for her scatting. She exemplifies voice as first instrument.
Dan Gaynor is a perfect accompanist to Nancy. He is creative and intuitive. Nancy starts off with the lovely Aura Lee, recorded with Glen Moore on King & Moore. "Love me tender, love me sweet," and it is tender and sweet. Dan's Poinciana gets funky, and Nancy performs her trademark scatting. My Foolish Heart is beautiful. Achingly so. Dan is in no hurry, leaving space between his notes. Nancy says she performed this in '66 with Bill Evans, Eddie Gomez, Philly Joe Jones and Roland Kirk. Wow! Nancy engages the audience with asides like this, making you feel like you're a guest in her living room. What a treat. Nancy ends the set with her take on Day by Day, with Dan adding a Latin rhythm at the end. As always, he's full of surprises. Nancy appreciates him and acknowledges him with a smile. They possess a lovely simpatico relationship.
Abou Karim is at 221 SW Pine Street. 503-223-5058. Non-smoking and no cover charge. Wine, full bar and fine Lebanese fare. Live jazz every Friday and Saturday nights. Gus will make you feel welcome!