Clubscene

Augustana Lutheran Church, Sunday Evening, July 9, 2006
Augustana Jazz Quartet
2710 N.E. 14th Ave
Portland, OR
Rev. Mark Knutson, Pastor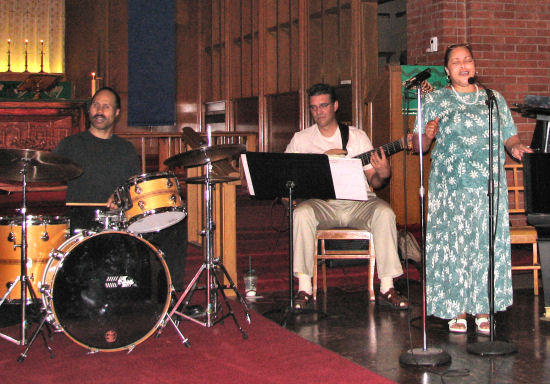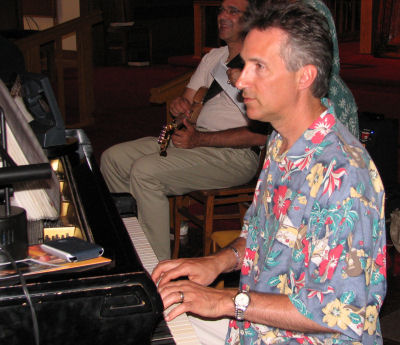 Ron Steen - Drums
Kevin Deitz - Guitar
George Mitchell - Piano
Shirley Nanette - Vocals
The image of Jesus is aglow as a diffused shaft of light passes through stained glass windows to illuminate an ornate sanctuary. Lit candles flank the altar and the cross just beyond, casting shadow on a white laced curtain hanging below the organ pipes that go up to a vaulted ceiling.
A bell tolls the hour. Jazz lovers, united within the glow of spontaneous creation. The evening begins with Light as a Feather, a timeless melody, a smooth and seductive bridge between the material and spiritual world. This was followed by Beautiful Lovers--it's here that the connection between music and spirituality emerge.
Announcement of the events to come, two short readings of the scripture, both unembroidered and read with a certainty.
Jazz vocalist Shirley Nanette gives an appreciative audience a double serving of soul and sensitivity, first with I've Got It Bad and That Ain't Good and then Do Nothing Till You Hear From Me.
Under a banner that read "STIR US TO DEEPER DISCIPLESHIP" Pastor Knutson spoke briefly of how God dispatched an emissary with messages about peace--"My Grace is sufficient for you."
Once again the seductive voice of Shirley Nanette with an impeccable sense of swing does That's All and What a Difference a Day Makes. Next, a closing prayer and an individual request from the congregation. A rousing rendition of The Night Has a Thousand Eyes bought the evening to a close. Walking out the door someone utters the phrase:
"PEACE BE WITH YOU"